Most YouTubers wonder to know whether they can upload a new video to YouTube to replace the existing video. Do you have the same doubt? If yes, come and read the post. The post explains why you cannot do that but shows you how to redirect viewers from your old video to the new video.
Why Can't Replace Video on YouTube?
Some YouTubers think about replacing their existing videos on YouTube for certain reasons.
Why is it that YouTube hasn't implemented a feature to replace an existing video? I have some videos that have glitched in the upload process and I can't replace them with the same URL.

yttalk.com
YouTube doesn't allow creators to replace the videos that they uploaded. Millions of videos are uploaded every day on YouTube. If creators want to replace most of these videos, it might result in huge chaos. Avoiding potential abuse could be another reason.
Although there is no way to replace your uploaded videos on YouTube, there is a trick to redirect viewers from your old video to the new video. Scroll down to see what the trick is.
Tip:
Want to download some audio or video files from YouTube? You can try
MiniTool uTube Downloader
. It is free and 100% clean.
How to Redirect Viewers from Old Videos to New Videos
The trick is using annotations. How to use it? Please refer to the following tutorial.
Step 1: Upload your new video to YouTube and note down the video link.
Open YouTube, click the Create icon at the top right corner, and choose Upload video. Then, input a name and description for your new video. Lastly, upload the video. When the uploading process, copy the link of this video.
Step 2: Add an annotation to the video that you want to replace.
Find the video that you want to replace. Click the arrow next to the Edit option for this video and choose the Annotations from the menu.
Click the Add annotation option. You will see five annotation types in the drop-down menu: Speech bubble, Note, Title, Spotlight, and Label. Choose one from the five types.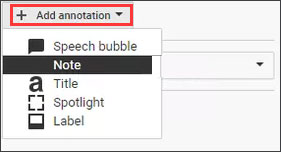 Here take Note as an example. This annotation type is a pop-up box containing text, which you can use to add information, and it is linkable.
Edit a note directing viewers to click to see your new video.
choose the font size, font color (only black and white available), and background color to make your message stand out.
Paste the link you have noted down in Step 1 in the box under Link.
Drag the annotation where you want it.
Drag the right edge of the annotation on the timeline to extend its duration (the duration should be at least several seconds so that viewers have time to click it).
Apply these changes.
After these steps, you can play your old video and check if you have successfully added an annotation to this video.