Music video is one of the most-watched content on YouTube. If you are just looking for the best music YouTube channels to follow, you have landed in the right place. In this article, we compiled some of the best music channels on YouTube for you.
YouTube is an incredible place that gives opportunities to emerging artists. As viewers, we can enjoy massive music online for free. If you want to download these music videos, you can try the free and safe YouTube video downloader – MiniTool uTube Downloader.
MiniTool uTube DownloaderClick to Download100%Clean & Safe
As we can see, there are numerous music YouTube channels, you need much time to look through and see which one suits you. To simplify the process, we sorted these channels into different music genre categories namely:
Country music
Electric music
Hip Hop
Pop
Rock
Soul/Blues
If you want to download music from YouTube for free, find the solutions in How to Download Music from YouTube for Free.
Country Music YouTube Channels
Grand Ole Opry
Subscribers:772K
This channel has made country music increasingly popular among people with its reach. It shed to light the new stars and underground country artists from different places in the world.
Country Library
Subscribers: 485K
This channel is home to the best country music from all over the world! The category of the Top Country Songs is attractive enough to keep you hooked on this channel. Just dive into any top curated list and become a fan now!
Taste of Country
Subscribers: 615K
The Taste of Country cannel is the best platform if you want to taste the convincing magic of country music and become a fan. You can watch many of your favorite country artists steal the stage here.
Electric Music YouTube Channels
House Nation
Subscribers: 3.77M
The House Nation channel is for you to free your spirit from the madness of house music. Just jump into the crazy groovy mixes of this channel and levitate to this amazing quality house music! It uploads a video daily and maintains a clean visual look to experience real music.
Ultra Music
Subscribers: 28.3M
This YouTube music channel has covered the entire electronic music genre. As one of the most subscribed music YouTube channels, it allows you to groove to the beats of your favorite artists like Steve Aoki, Kygo, Deorro, Era Istrefi, Flosstradamus, and more.
Hip Hop Music YouTube Channels
WORLDSTARHIPHOP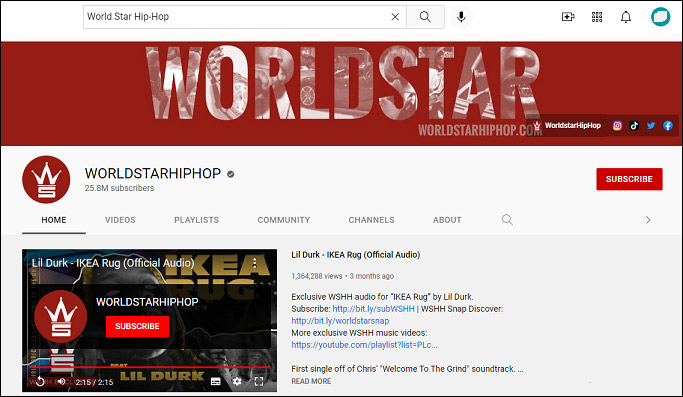 Subscribers: 25.8M
This YouTube music channel is the stop-station for all hip-hop music lovers. It comes with music video premieres, rap freestyles, exclusive artist content, behind the scenes, original series, and more. They also work with the best music artists, collaborators, and projects.
Also read: YouTube Premiere: How to Use It to Get More Views [Full Guide]
Rap Nation>
Subscribers: 2.97M
This channel is for you to discover amazing Rap music. You can dive into this YouTube channel for classy rap-style music. This channel uploads daily rap music videos.
Pop Music YouTube Channels
Pixl Networks
Subscribers: 4.12M
This channel enables you to keep in touch with the hottest music trends in pop culture. Being among YouTube's leading music distributors, Pixl Network is the driving force behind the third-party promotion of popular music on YouTube. For more than half a decade, they have contributed to popularizing the music and they are yet to stay as favorites of pop music lovers.
7clouds
Subscribers: 15.9M
The 7clouds channel promotes the finest pop music for music lovers. They team up their lyrical videos with beautiful wallpapers for the ultimate music experience. If you want to release your music with 7clouds, you can send an email to them.
BANGTANTV
Subscribers: 66.3M
BANGTANTV is the official YouTube channel for BTS. This is the music channel that is run and supported by team BTS and its loving fans. It is a Grammy-nominated South Korean group that has been capturing the hearts of millions of fans globally since its debut in June 2013.
Rock Music YouTube Channels
Pink Floyd
Subscribers: 3.11M
Pink Floyd, one of the most successful and influential groups, formed in the 1960s when Roger Waters, Nick Mason, and Richard Wright were studying at college in London. They got together and changed the face of the rock industry.
Loudwire
Subscribers: 1.89M
The Loudwire channel may be the number one source for heavy metal and rock music here. Just subscribe to this channel and get amazed by the huge variety of musicians they have!
Soul/Blues Music YouTube Channels
NRP Music
Subscribers: 6.79M
The NPR Music channel is the official music YouTube channel for NRP Music which was founded in 2007. It is an independent, non-profit organization meaning to create an informed public. This channel features Tiny Desk Concerts, live shows, documentaries, and much more.
Majestic Casual
Subscribers: 4.32M
This channel serves music discoveries for curious minds. If you are a music enthusiast who does not care about big hits and music trends, this is the channel of your choice! Just like the name suggests, this channel has the ability to turn casual music into a majestic piece. It values authenticity and diversity to the core.
Conclusion
To sum up, this article compiled some of the best music YouTube channels for different music genre categories. I do hope you found your companion from our YouTube music channels list.