The live streaming wars aren't really about streaming at all. They're about the future of live television. Twitch and Mixer have begun to seriously compete for the dominant position of streaming media. What's the impact of their competition on YouTube?
In order to get a place in the live streaming war, the competition between Mixer and Twitch is becoming more and more intense. However, what's interesting is that they seem to overlook the internet video tycoon setting in the audience: YouTube,
YouTube, an American video-sharing platform, allows users to upload, view, rate, share, add to playlists, report, comment on videos, and subscribe to other users. You can try MiniTool software to download YouTube videos or playlists.
Mixer vs Twitch
Twitch is currently the undisputed king of online streaming platforms. The Amazon-owned site, which started out as Justin.tv, now has more than 15 million active daily users. While most Twitch streams feature popular games, the platform also caters to art and music channels, along with talk shows and live vloggers.
Pros:
Stream on every platform or device.
Powerful community and chat tools.
Amazon Prime users get a free channel subscription.
Con: Huge user group makes it hard to stand out.
Mixer, originally called Beam, was bought and rebranded in 2016. In August 2019, Ninja, one of the most popular streamers in the world, switched from Twitch to Mixer. This action has helped Mixer gain a significant foothold. Much like Twitch, Mixer stream focuses on gaming. It is ideal for using with Xbox and Windows 10 players due to their compatibility with Microsoft.
Pros:
Easy to use for Windows and Xbox One users.
High level of viewer interaction with MixPlay.
Cons:
No native PS4 support.
Smaller user group may mean a long way to financial gain.
Not many opportunities for non-gaming streams.
Mixer vs Twitch – YouTube Is the Winner
Above are the two major participants of the live streaming war. However, none of them won. Why?
Because most of the live streaming on the internet also post their streams to YouTube, which gives YouTube extra revenue without making YouTube do more work. This means that YouTube is indeed the real winner for streamers. Twitch and Mixer spend a lot of money on talent, but YouTube is still gaining the benefits.
YouTube is a natural home for those top creators from other big streamers. Turner "Tfue" Tenney, who has more than 7 million followers on Twitch is currently the site's most followed active channel. Meanwhile, he has 11.3 million subscribers on YouTube, which makes him one of YouTube's top stars.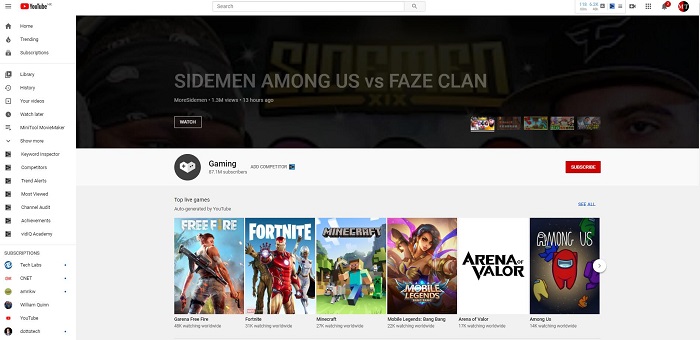 See also: 8 Simple Ways to Increase YouTube Subscribers in 2019 (The Definitive Guide)
Currently, online influence has nothing to do with the platform. Although you can start your own name on one platform and then transfer your fans to other platforms, there is no reason to believe that this trend will continue.
The other day, YouTube announced it had struck an exclusive live-streaming deal with Lachlan, a Fortnite YouTuber who has 12 million subscribers on the platform. During Fortnite's "The End" event a couple weeks ago, he attracted 198,976 concurrent viewers, which dwarfed Tim "TimtheTatman" Betar's stream the next day, which brought 100,000 viewers to Twitch.
To be frank, the current situation will be changed dramatically once YouTube decides to enter the live streaming wars in earnest.
See also: How to Do YouTube Live Using a Computer or Mobile Phone
Bottom Line
Mixer vs Twitch, no matter which one wins, YouTube is certain to benefit from it. If you have any questions or suggestions about it, please let us know via [email protected] or share them in the comments section below.