If you are encountering Microsoft Edge YouTube errors on Windows 10, don't worry. This post offered by MiniTool will help you to fix these errors. You can try to use UR Browser to replace your current browser, disable SmartScreen feature and more.
Microsoft Edge YouTube Errors on Windows 10
Microsoft Edge is the latest browser from Microsoft. It is designed to replace Internet explorer. Despite the many features of Microsoft Edge, Microsoft Edge may give you an error while watching YouTube.
How to Fix YouTube Errors in Microsoft Edge?
If you want to find a quick solution, you can try to install UR Browser. Video stream errors will not affect this browser. Once you install it on your computer, you can watch your YouTube videos. If you still want to use the current browser, follow the solutions below.
Solution 1: Check Use Software Rendering Option
Web browsers tend to use the graphics card to process video. However, if something goes wrong with your graphics card or web browser, you can't use the GPU processing. In most cases, this will result in an error.
Luckily, you can try turning on software rendering option to fix problems with Edge and YouTube. Here is a quick guide on how to do this.
Step 1: Type internet options in the Search bar and choose Internet Options from the menu.
Step 2: When the Internet Properties window opens, go to the Advanced tab and check Use software rendering instead of GPU rendering*.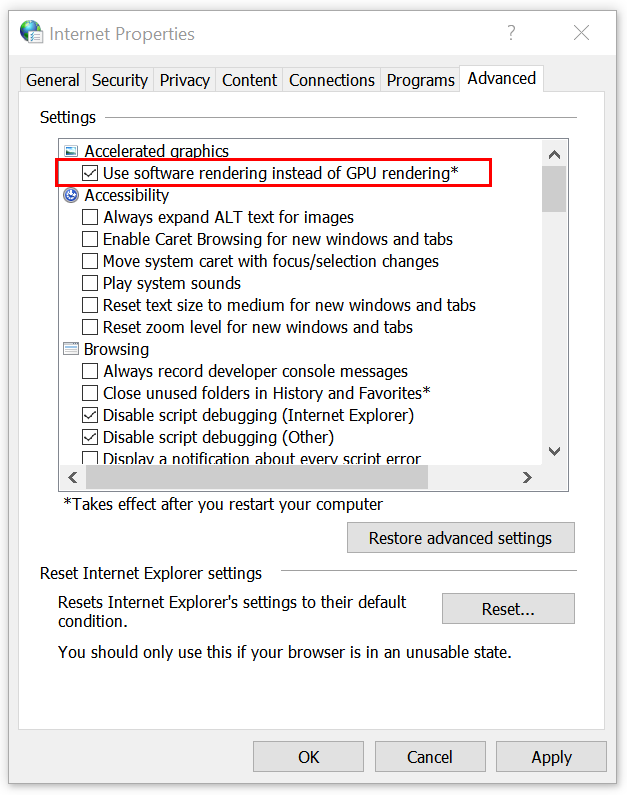 Step 3: Click Apply and OK to save changes.
Step 4: Restart your computer.
After that, check if the problem is fixed.
Solution 2: Disable SmartScreen Feature
Before you open URLs, SmartScreen feature helps scan them to protect you from malicious websites. This feature is quite useful, but it sometimes interferes with Edge, resulting in YouTube errors.
Luckily, you can avoid this problem simply by disabling SmartScreen. The following part will show you how to do that.
Step 1: Press the Win key + I key to open the Settings app.
Step 2: Go to the Update & Security section.
Step 3: Click Windows Security on the left and click App & browser control on the right.
Step 4: Check Off under SmartScreen for Microsoft Edge to disable it. If you want, you can also disable all SmartScreen options in the same window.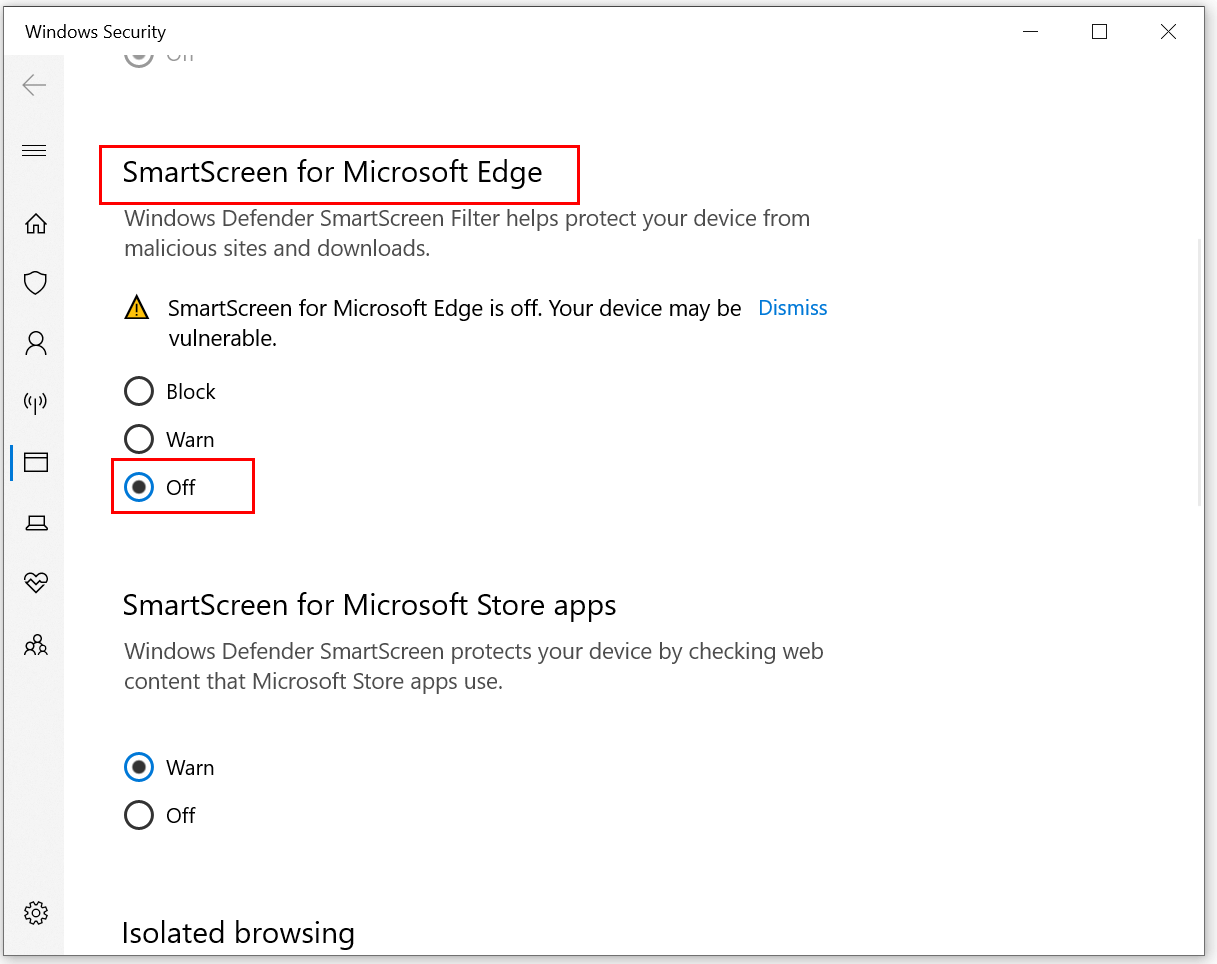 After that, you should be able to watch YouTube videos without any problems.
Solution 3: Disable and Remove Flash
Before HTML5, Flash was responsible for web video, but now Flash is almost replaced by HTML5. If you want to fix Microsoft Edge YouTube errors, you can try removing and disabling Flash. You need to uninstall Adobe Flash firstly. After that, do the following:
Step 1: Type Control Panel in the Search bar and click Control Panel to open it. Next, select Flash Player.
Step 2: In the Storage tab, click the Delete All… button.
Step 3: Then, check Delete All Site Data and Settings and click Delete Data.
Now, you should turn off Adobe Flash Player in Microsoft Edge. Follow the following instructions to do that.
Step 1: Open Microsoft Edge.
Step 2: Click the 3 dots button in the top right corner and select Settings.
Step 3: Navigate to the Advanced settings section and click View advanced settings.
Step 4: Find the Use Adobe Flash Player option and turn it off.
Step 5: Restart your computer and start Edge again.
Check if the problem with YouTube is resolved.
Bottom Line
This post has shown you 3 workable methods to fix Microsoft Edge YouTube errors. If you are still experiencing the same YouTube errors in Microsoft Edge, try these methods. Hope they are useful to you.