Who is the best makeup artist on YouTube in your opinion? This post by MiniTool uTube Downloader collects the top 8 most popular makeup artists on YouTube. Read on to find your favorite makeup artist.
Some people like to wear makeup, while others don't. This is simply a matter of personal choice. Many people now earn their daily income by sharing the latest makeup trends and related tutorials on their YouTube channels.
The following is our recommended list, in no particular order.
1. Desi Perkins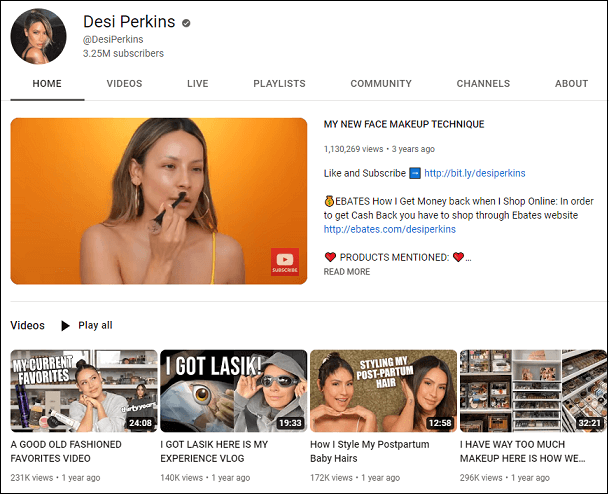 Desi Perkins first appeared on YouTube on August 18, 2013, with her tutorial titled "Soft Warm Sultry Eyeballs" and she quickly took over the channel. She specializes in weddings, parties, and casual makeup, and her YouTube videos "Everyday Makeup Tutorial" and "Eyebrow Tutorial" have helped her gain popularity.
2. Tati Westbrook
Tati Westbrook is an OG beauty YouTuber and a successful YouTube makeup artist, joined on November 8, 2010.  On her channel, "Tati", which she rebranded from "GlamLifeGuru" on November 7, 2010, makeup lovers can find tutorials, lifestyle vlogs, product review videos, and makeup challenge videos. Her popular videos include "Testing Low-Rated Amazon Makeup", "Magic Color Changing Blush & Lipstick", "Siri Picks My Makeup" and more.
3. Bunny Meyer
On December 3, 2010, Bunny Meyer made her debut on the platform as "grav3yardgirl", a paranormal experience sharer turned makeup artist on YouTube. Her lively personality and quirky nature are the reasons why viewers (especially the "Swamp Family") love visiting her channel.
In addition to teaching unusual beauty makeup tips, she also posts reviews on cosmetics. Her eccentric approach and successful partnership with Tarte Cosmetics have helped the Swamp Queen gain a lot of views on YouTube.
4. Michelle Phan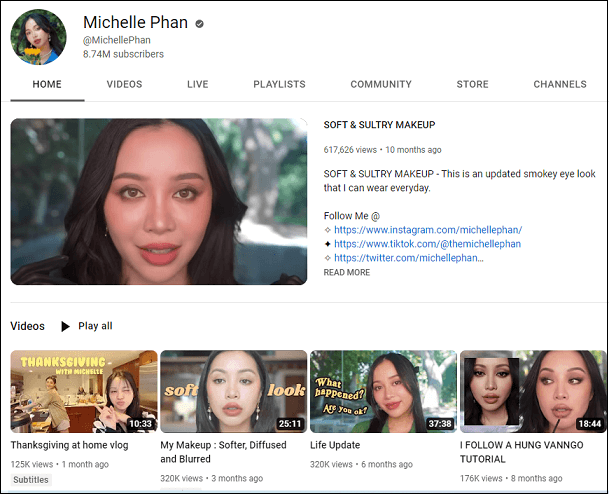 Simply calling her an entrepreneur and voice actress might be an understatement, as she is also a well-known American makeup artist on YouTube who joined the YouTube community on July 9, 2006. Her YouTube channel, "Michelle Phan", features a series of transformative beauty tutorials and beauty product reviews. You can watch her videos for basic beauty tips.
Here are some trending makeup videos from her YouTube channel:
Soft & Sultry Makeup
Natural Soft Definition Makeup For 30s & Up
Cherub Cheeks: Innocent Looking Makeup
Sultry Venetian Rose Makeup
My Healthy Glowy Skin Routine
Full Face of Prototypes I Passed On
Natural Looking Makeup Tutorial
5. Rachel Claire Levin
The internet celebrity is best known for her YouTube channel "RCLBeauty101". A Philadelphia native joined the channel on December 14, 2010, and has managed to amass millions of subscribers from around the world.
In addition to DIY makeup tutorials, her channel includes a variety of videos on life hacks, skits, comedy, and other topics. As of July 2020, her YouTube channel has amassed 3.71 billion video views, showing how quickly she can reach people looking for beauty advice.
Also read: Top 8 Influential Female YouTubers You Can Subscribe in 2023
6. Huda Kattan
Huda Kattan is an Iraqi American makeup artist on YouTube. Huda Beauty is the brand name for her line of cosmetic products. In addition to being the company's founder and CEO, she presents beauty tips and DIY makeup tutorials on her eponymous YouTube channel.
Her status as a beauty influencer has also helped her acquire millions of subscribers. If you're really into her channel, check out her popular videos like "My 22-Step Beauty Routine", "Lift Your Face with Blush Using Cheeky Tint Blush Stick", and "Huda Beauty Rose Quartz Palette & Collection".
7. Nikkie de Jager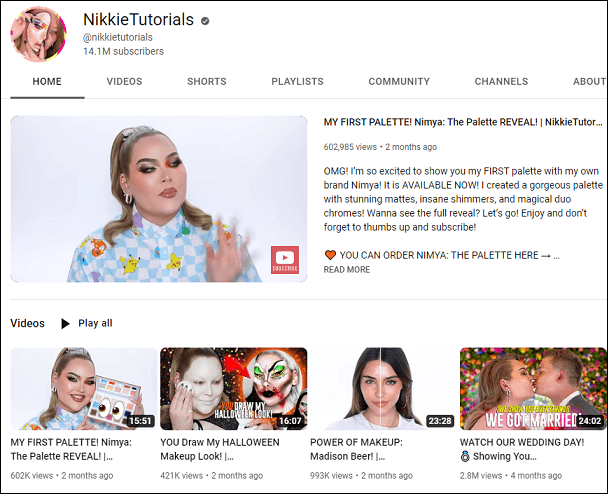 How could we forget about the Dutch YouTube makeup artist who has a YouTube channel called "Nikkie Tutorials"? She has become a sensation on YouTube, with around 14.1 million subscribers and more than 1.33 billion views.
In 2015, when she posted the "The Power of Makeup" video on YouTube, her success touched her feet and inspired people to open up to both makeup and no-makeup faces. Her YouTube channel has featured celebrities such as Drew Barrymore and Kim Kardashian, who have helped her channel gain popularity.
8. Zoe Elizebeth Sugg
Also known by "Zoella", Zoe Sugg's YouTube channel is the result of her successful career as a blogger, which led her to start her career and join YouTube on September 4th, 2012. Since then, she's cemented her reputation as a leading beauty influencer and internet fashionista. Her success has been further boosted by collaborations with some of the best beauty brands, such as ColourPop.
Conclusion
That's all there is to know about YouTube makeup artists. Who is your favorite makeup artist on YouTube? You can subscribe to any of the above channels to stay updated with their live updates.