YouTube has created a new page on How YouTube Works to explain how YouTube works. You can learn, get information, and improve yourselves on this page. In this post, Minitool uTube Downloader introduces the new page.
YouTube has 2 billion users worldwide. Everyday people watch one billion hours of videos on this platform and generate billions of views. Not only is YouTube a source of humorous information, but it can also solve problems in daily life. Now, YouTube comes up with a new refresher on how YouTube platform and policies work. Let's take a look:
A New Page to Explain How YouTube Works
YouTube official blog answered questions asked by users and the media every day. The most common question is "how YouTube works". Besides, some social media platforms propose new policies. So, YouTube created a whole new website, called How YouTube Works, which offers an in-depth look at all components of the YouTube platform.
How YouTube Works aims to explain everything about YouTube. That is, all policies, strategies, terms, conditions, products, and more of YouTube display in this page. If you want to know some newest policies or measures about YouTube, you just need to enter and look through the page. After a few minutes, you will get the answer.

New Measures of YouTube
New Tool for Parents to Keep Kids Safe
YouTube discloses rules in its policy section about its monetization policy, recommendations, or suggested videos, privacy, and appearance of Ads.
As we all know, YouTube provides another child-friendly version called "YouTube Kids". In this case, YouTube will strictly check the uploaded content. So that children will not be exposed to inappropriate content. YouTube provides parents some new tools and resources to help them guide your kids' exploration of the digital world.
New Measures to Make YouTube More Secure
YouTube introduces 3 new measures to make YouTube more secure. These teach you how to protect your user data, safeguard your copyright, and promote your digital wellbeing.
In the policy, they also emphasize how to make YouTube safer. They explain what type of content should be uploaded and what type of content users should avoid uploading. As a responsible video website, YouTube does not support harmful and offensive content. Any content that violates YouTube's policies will be deleted. In addition, YouTube also rewards trusted creators.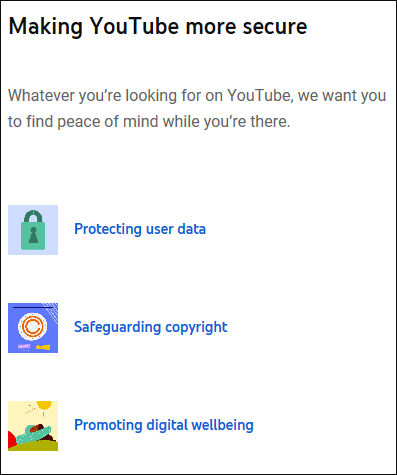 New Standard for Deleting Videos
New measures further explain how to evaluate what must be deleted. Here are evaluation methods:
Automated Flagging
Specific Trusted Flagger
Non-governmental Organization
Government Agency
User
Trusted Flagger is the YouTube trusted source that includes NGOs or government agencies that are committed to playing their vital role in stiffing the genuine content among the policy-violating ones.
What's more, if there are no views or fewer than 10 views, YouTube sometimes deletes the video.
Bottom Line
This article introduces you to the new page – How YouTube Works. If you have any questions, please leave a message in the message area below.