YouTube offered a messaging feature that directed private messages to other users. However, this platform removed this feature in 2018 due to its unpopularity. So, how to message someone on YouTube? Check MiniTool Solution.
Can You Send Someone on YouTube?
Before 2018, YouTube users were able to send message to someone on this platform by activating the messaging feature.
With this feature, you could contact someone on YouTube with a few steps:
log in your YouTube account;
click the username under any video;
navigate to About and then click Send message;
input what you want to say in the box you receive and click Send.
If you wanted to view the message you have sent, you should click your avatar and then click the Creator Studio button > the Discussion or Community tab.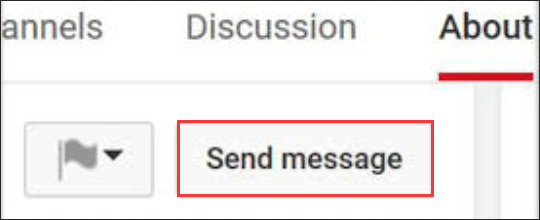 However, YouTube users cannot find this feature on YouTube but lots of them want to message someone on this platform. The feature is unavailable because the feature is so unpopular that the company disabled it in July of 2018. Without this feature, can you message someone? Yes, you can but the process becomes a bit complicated.
How to Message Someone on YouTube After 2018?
Luckily, there is still away to send message on YouTube if you want to stay in touch. That is using business inquiry emails and you can connect YouTubers (click here if you want to become a YouTuber) and viewers on YouTube. There are two things you need to pay attention to:
Business inquiry emails are only visible on the desktop version of YouTube.
You can use business inquiry emails for messaging on YouTube if the creator of the channel has enabled this feature.
Now, let's see "how to message someone on YouTube" with business inquiry emails.
Step 1: Open a browser on your desktop or laptop and then go to the YouTube site. Log in your YouTube account if necessary.
Step 2: Go to the account you want to message and navigate to the ABOUT tab.
Step 3: Under the About tab, click the VIEW EMAIL ADDRESS if you see it. If you won't see this option, it means the person you want to contact has not enabled the business inquiry emails feature.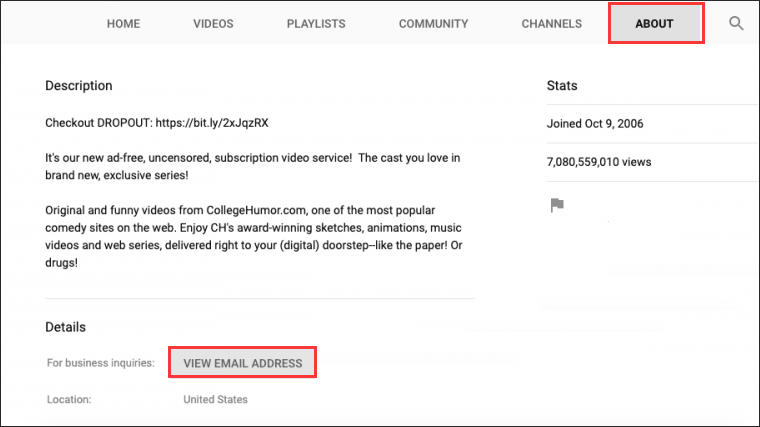 Further reading:
If you are also a YouTube creator, you can enable this feature because the message you receive from your viewers could help you generate original video ideas. How to enable this feature? You need:
Click your avatar and then select Your Channel;
Select CUSTOMIZE CHANNEL > About.
Click + Email which is next to For Business Inquiries.
Enter your email into the text box and click Done.
Step 4: Copy the email address, then type up and send your message through your personal or business email account.
Bottom Line
Have you successfully sent message to someone? If you have not tried the mentioned ways, please free feel to have a try if you want to get in touch with the personal. If you still have some questions related to "how to message someone on YouTube", please leave them in the comment zone and we will reply to you as soon as possible.