There are many ways for creators to interact with subscribers and increase the audience's engagement. Making a poll is one of them. If you are new to this, you may wonder how to make a poll on YouTube? How many subscribers do you need to make a poll on YouTube? After reading this article, I believe you can find the answers!
The content below will break things down to what a YouTube poll is, YouTube poll requirements, and how to make a poll on YouTube. By the way, if you'd like to download YouTube videos for offline watching, you can try the free and safe YouTube downloader - MiniTool uTube Downloader.
MiniTool Youtube DownloaderClick to Download100%Free & Clean
What Is a YouTube Poll?
A YouTube poll is a post created by content creators containing a voting system that their audience may participate in. It is a good way to share viewers' opinions and responses. Results can be shown in real-time to the creator and the audience.
To make polls, there are a few requirements creators must fulfill. For content creators, firstly, the channels must have over 1000 subscribers to access Community posts. It will take up to one week to see the Community tab appear. Secondly, the YouTube channel shouldn't be set for kids.
Want to increase the subscribers? You can check out 8 Simple Ways to Increase YouTube Subscribers (Guide).
How to Make a Poll on YouTube?
Making a poll on YouTube is very easy. If you are eligible, you can make a poll on your desktop or mobile devices. Depending on your devices, follow the steps below:
On desktop:
Step 1. Log in to YouTube Studio.
Go to YouTube Studio (https://studio.youtube.com/) and log in to your YouTube account. Once you have logged in, click on Create in the top right.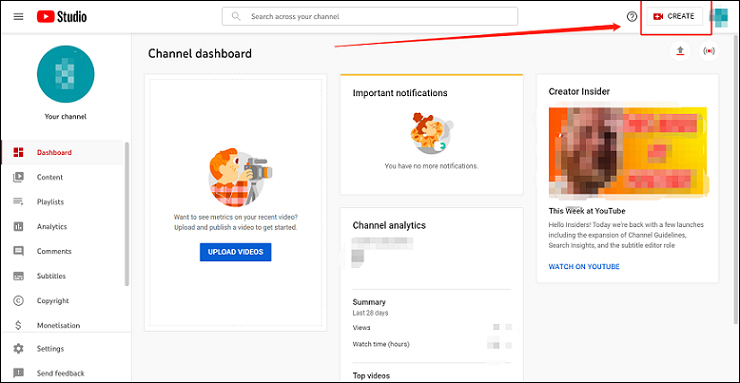 Step 2. Select the type of update you want to make.
Choose the Create post on the list of content. There, you can select what type of posts you can make. The posts can be a video, poll, or image. In the Community tab, click the Poll icon under the "what's on your mind" box.
Step 3. Create your YouTube poll.
You can add poll questions at the top and poll options (up to 5) at the bottom. Also, poll options can be 65 characters max. Type the question you would like to ask your YouTube community in the textbox. Once you have asked your question, add voting options.
Step 4. Post your YouTube poll.
Once you have finished creating your YouTube poll, click on the blue Post button, or click on the arrow to schedule a post. Your published polls will appear under the Published tab, and schedule posts will appear under the Schedule tab.
On mobile devices:
You can also make a poll on your android or iOS devices. The following is the guide on how to make a poll on YouTube mobile app:
Step 1. Open the YouTube app and sign in.
Step 2. Tap on the account icon and select My channel.
Step 3. Select the Community tab.
Step 4. Tap on the text box on the top and select the poll icon from the bottom.
Step 5. Type in your question and options.
Step 6. Click Post.
Once the poll is live, creators can share the video with the attached poll on social media to potentially gain double the engagement and exposure.
Conclusion
That is all for the guide on how to make a poll on YouTube. As we can see, making a poll on YouTube is not that difficult but is a great way to boost the engagement of scribers, right? Just follow the steps above to make your polls on YouTube now!