Today, there is nothing more engaging than video content to make your presentation easier to understand and bring it to life without much explanation. This post from MiniTool web page will mainly focus on how to embed a YouTube video in Keynote presentation and what features a good PDF tool needs to have. Keep reading to retain your audience.
Sometimes, a video from YouTube or other sites can make your work even easier.
Note: If you don't know what app you need to pull online video off from YouTube or are looking for an easy way to do this task, MiniTool uTube Downloader would be a great option to go. It's a completely free YouTube downloader that helps you download audio, playlists, and subtitles. Plus, it supports multiple formats in downloading/converting/recording, such as MP4, WebM, MP3, and WAV.
MiniTool Youtube DownloaderClick to Download100%Free & Clean
About Keynote
Keynote is Apple's top-tier presentation application. You can add a video to your presentation to illustrate your ideas. And it's far less challenging than you might think.
Keynote, the counterpart to Microsoft's PowerPoint, is dedicated presentation software that works on your Mac, iPhone, or iPad.  There are various charts, features, themes, and transitions that help keep the audience engaged.
Moreover, Keynote from the iWork family, together with Pages and Numbers, makes you communicate your ideas to the audience clearly and thoroughly.
How to Embed a YouTube Video in Keynote Presentation?
Find a Video for Your Keynote Presentation
In Keynote, you cannot directly add a YouTube URL. As we mentioned above, you can use MiniTool uTube Downloader to find your favorite video and incorporate it into your Keynote presentation. Simply paste the video URL into the search bar and click the Download icon as shown.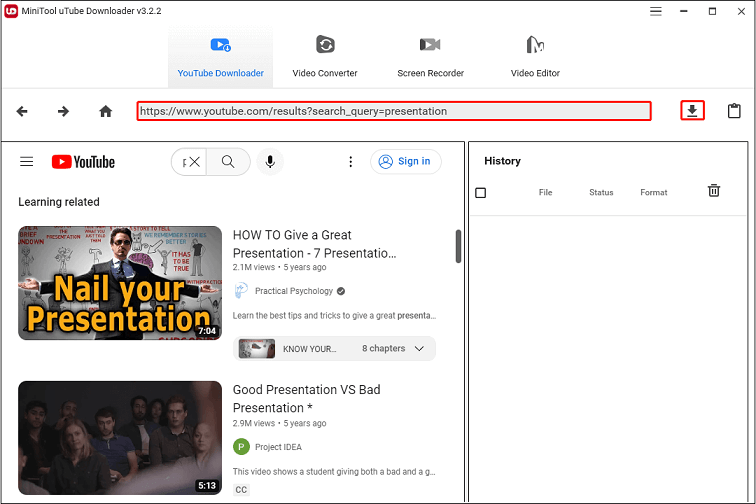 Then, select the video format to save to your computer, like MP4/1080P, WebM/1080p, MP4/720P, WebM/720p, etc.
Embed a YouTube Video in Keynote
Let's take a look at our guide on how to embed a YouTube video in Keynote. Follow the steps below:
Step 1. Open the Keynote app on your computer.
Step 2. Go to the Insert > Choose option. Locate the video file you just saved. When you choose it, you will see the video go straight into the presentation.
Step 3. Choose what you want to play.
It is not necessary to play the whole video in Keynote. Maybe you just need a video under 60 seconds. In the Movie tab on the right side and check to see if the video is selected. Then, use the Trim to choose the wanted part of the video. Next, drag the handles to select specific seconds. You can also move the second slider to select a cover for the video.
Step 4. Choose to play the video automatically or manually.
The video has been embedded in your Keynote presentation. Now, you can choose how you want to play it. There are automatic and manual options available. This depends on how your presentation is organized.
If you want to choose automatic play, you can go to the Movie tab and uncheck the Start movie on click option. When you click the Play button for your presentation, the video will play automatically. If you want to choose to play manually, you need to check the Start movie on click and click the embedded video to start.
Also read: How to Autoplay Embedded YouTube Videos? – Here Are 2 Methods
What Features Should a Good PDF Tool Have?
While learning how to add a YouTube video in Keynote, we also need to know what a good PDF tool should look like. Thus, you can do more with your presentation than just embed a YouTube video.
The fact that PDF files are the most widely used format is their great advantage. Therefore, it's easy to share them without compromising any formatting.
Here are some features to consider if you want to further edit your presentation.
Add annotation tools such as comments and sticky notes.
Create and fill out forms to make your presentation more professional.
Edit images like crop, rotate, and so on.
Provide line and paragraph modes for text editing.
Many collaboration features like highlight and mark.
Check for any spelling mistakes.
Conclusion
That's all about how to embed a YouTube video in Keynote presentation, and what good PDF tools to consider for further editing your presentation. Finally, we hope they are helpful to you.