Can you block YouTube channels when you decide not to watch any videos from them? Maybe you can't. YouTube doesn't allow users to block YouTube channels. However, nothing is impossible. To block YouTube channels, you just need a powerful third-party tool.
YouTube is a video-sharing site, with over 1 billion visits and over 100 million videos watched daily. As a YouTuber, you could see plenty of excellent videos as well as terrible videos every day. How to block certain YouTube channels, especially those include unpleasant videos? If you want to make an excellent YouTube video, try MiniTool software.
How to Block YouTube Channels
To completely block YouTube channels, you can take advantage of the Video Blocker extension for Chrome, Firefox and Opera, which can block YouTube channels based on specific words.
With this extension, you can completely block all videos in a channel or specific types of videos and make them completely inaccessible, just like they have never been uploaded to YouTube. And they will not appear in recommended videos, and even searching for their channel names won't show any results. Is it amazing? More importantly, the blocking process is simple.
Related article: How to Promote Your YouTube Channel – 8 Tips
As soon as you see a video from a channel that you don't like, right-click on it and select Block videos from this channel. Then all videos from that channel will be immediately removed from your sight.
Besides, there is another way to use Video Blocker to block YouTube channels. Click the Video Blocker extension icon in Chrome, and then click Blocklist, where you can manage all your blocked channels. Select Add new in the left pane to add channels you don't like to your blocklist manually.
Every time you add a new channel to the blocklist, you'll see three different options under the Type dropdown. Here are their different meanings:
Channel: When this option is selected you need to enter the exact full name of the channel (case sensitive) where you would like to block the videos.
Wildcard: Any words entered here will be searched, and that channel will be blocked if the words match (not case sensitive). This option is perfect for blocking multiple channels of the same type.
Keyword: This option filters all videos containing a specific keyword (not case sensitive).
Click the Video Blocker extension icon and select Options. In this page, click Security in the left pane, then you can set up your password to stop other people from adding or removing channels from your blocklist.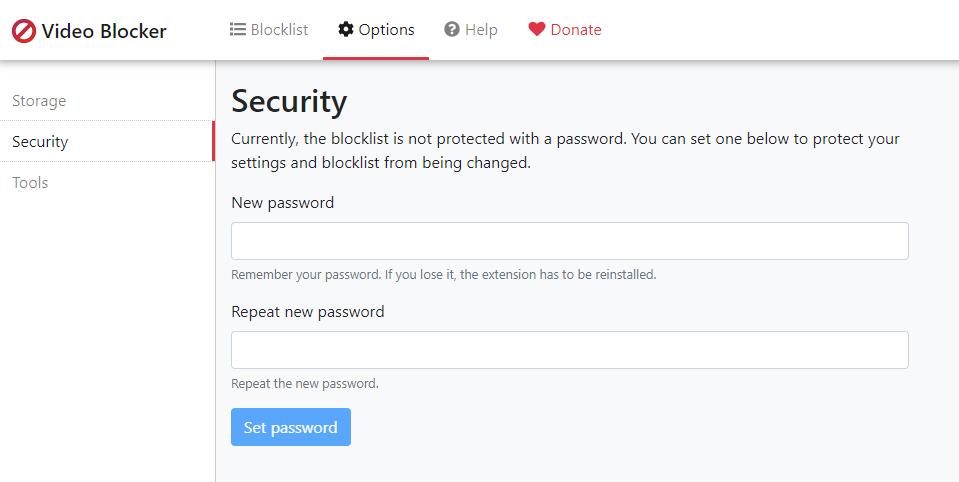 However, this feature is not available in Firefox and Opera, so you can only use it in Chrome. Keep in mind that this will not prevent someone from deleting the Video Blocker extension.
In addition to protection, Video Blocker also allows you to export and import your blocklist so you can use the extension on any PCs without losing your blocklist.
Note:
If you just want to keep your children from inappropriate content,
YouTube Kids
is a great choice.
Bottom Line
How to block YouTube channels? The best tool has been introduced to you. Why not have a try? If you have any questions or suggestions about it, please let us know via [email protected] or share them in the comments section below.