There are countless family channels on YouTube. This post on
MiniTool
will share with you the top 8 family YouTube channels.
YouTube has become one of the most popular social media platforms for video sharing. Families all around the world also begin to upload videos to YouTube. They often vlog their everyday life, including cleaning, parenting, favorite moments, pregnancy, or other themes.
Whether they're vlogging daily life to make you feel like part of their family or focusing each video on a specific theme, audiences like watching this type of video. Thus, family channels on YouTube can make a profit from it and get sponsorships.
In this post, we will share the top 8 family YouTube channels with you to follow.
Tips:
To enjoy interesting videos on family YouTube channels on the desktop, use MiniTool Video Converter.
MiniTool Video ConverterClick to Download100%Clean & Safe
1. The ACE family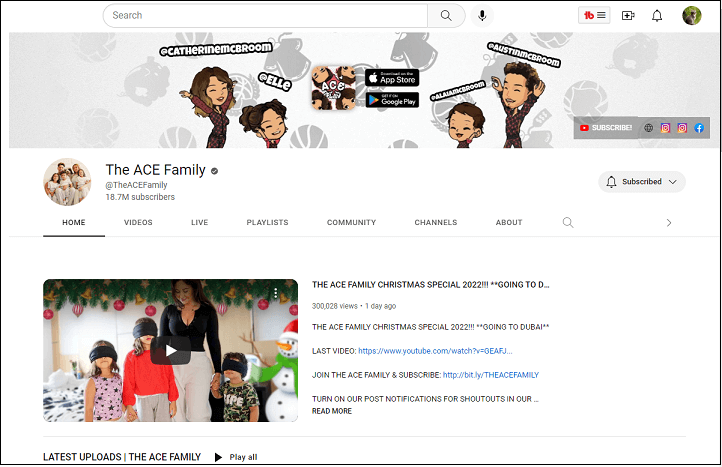 There's no doubt that The ACE Family has become one of the most subscribed family channels on YouTube with more than 18.7 million subscribers. The family members include Austin McBroom, Catherine Paiz, and their two little daughters.
They start their family YouTube channels in 2016. They often share their vlogs, crazy experiences, challenges, pranks, and fun family times with audiences. Audiences have watched the process of they gave birth to two daughters, moving into a new house, and adopting pets. As a result, their subscribers gradually increased.
2. Family Fun Pack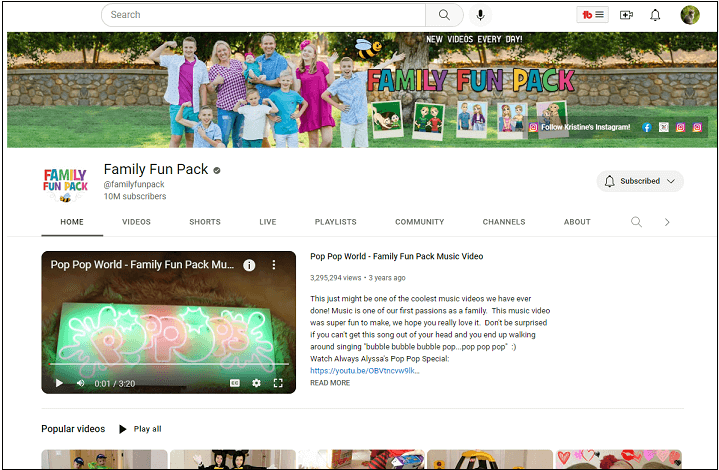 There are many fun family YouTube channels, and Family Fun Pack is one of them. This family channel was started by Kristine and Matt in 2011, and they have 10 million subscribers over 10 years. They have six cute kids. The motto of their family is to find fun in everything.
Family Fun Pack is released almost daily and contains their daily adventures, family trips, drama, major milestones, and many fascinating YouTube Shorts with their kids.
3. The Bee Family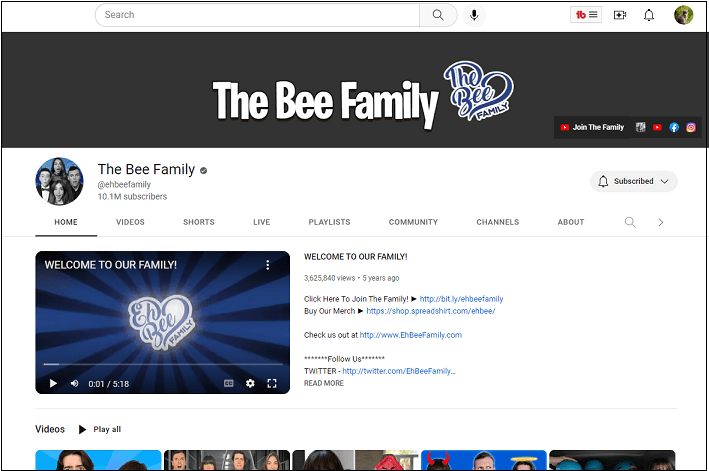 The Bee family is one of the funniest family channels on YouTube with 10.1 million subscribers. Their family is composed of Rosanna, Andres, Miss Monkey, and Mr. Monkey (they have kept the children's first names private).
The Bee Family often posts new videos weekly. The videos are mostly about the family making fun skits, doing fun challenges, and even some tutorials. They became famous on Vine a few years ago and became popular on YouTube later.
4. Roman Atwood Vlogs
The Roman Atwood Vlogs family channel gain 15.4 million subscribers on YouTube now. Born and raised in Ohio, Atwood has been producing video content since 2006 and posted his first video on YouTube in 2009.
Then, he becomes a family man, with a wife, three kids, and another baby. The Roman Atwood Vlogs is a must-follow family channel. From the kids' hilarious pranks to getting a new puppy, their daily life is fun and family-friendly.
5. The LaBrant Fam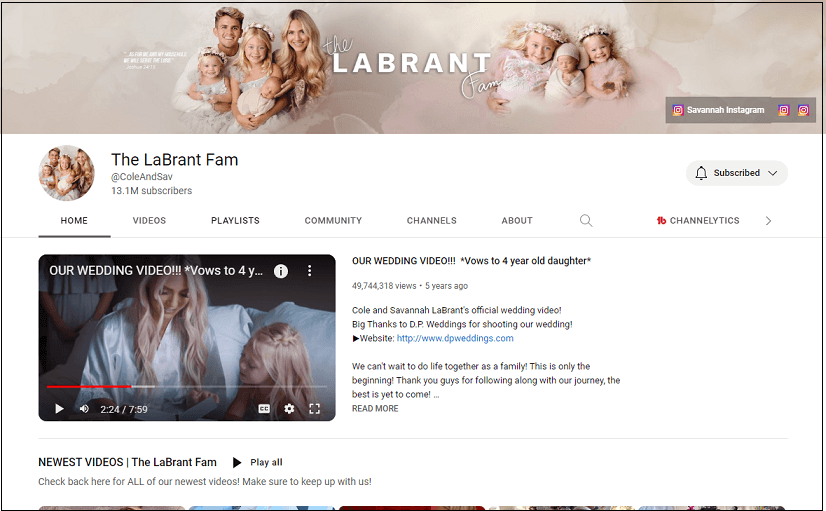 The LaBrant Fam consists of a husband, a wife, and their four children. This family has been vlogging their videos on YouTube since 2015. Like many family channels, The LaBrant Fam shares interesting videos weekly, such as challenges, viral trends, pranks, vlogs, and Q&A videos.
6. The Tube Family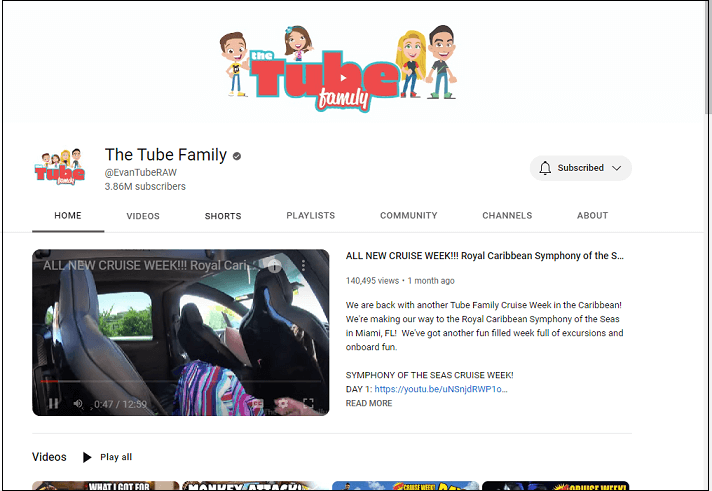 The Tube Family has earned over 3.86 million subscribers, and multiple videos have exceeded 30 million views. This family YouTube channel inspires its viewers by making fun and educational YouTube videos.
In the very beginning, they started uploading videos on their main channel -EvanTubeHD, however, they decided to create a channel for their family vlog. So, here comes The Tube Family.
7. Daily Bumps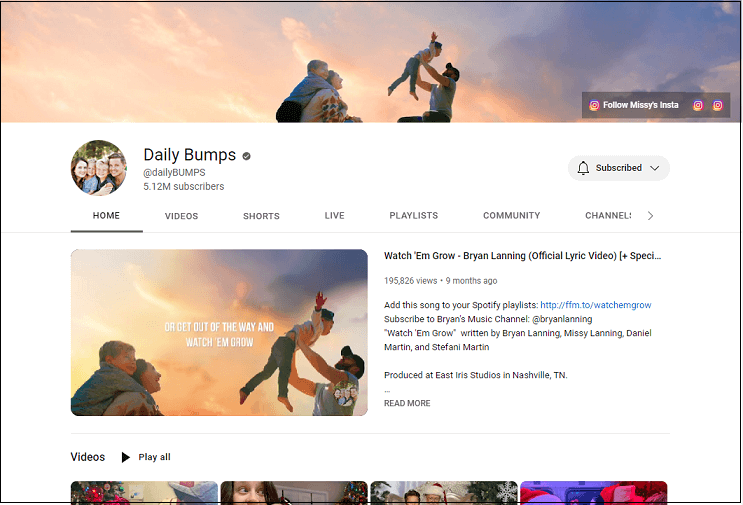 The Daily Bumps family channel has begun to share family daily life since 2013. Now, they have almost 5.12 million subscribers. This family has created heartwarming content for their subscribers. Moreover, it shows audiences the ups and downs of raising two boys. That's where the channel name comes from.
8. Family Fizz
Another great family YouTube channel is Family Fizz. It is the ideal channel for you if you're seeking a channel full of family love, vlogs, pranks, challenges vlogs, pranks, comedy skits, and more. Mum George and dad Darren shoot their experiences with daughters Mia, Sienna, and Karma.
Conclusion
The top 8 popular family channels on YouTube are listed above. It's time for you to follow these family YouTube channels if you haven't followed them yet.