To embed YouTube videos into your website will consume lots of your time and effort. So embedding YouTube playlist into the webpage makes things easier. This post teaches you how to embed YouTube playlist into your websites when you want to share your videos on the web (Try MiniTool Movie Maker developed by MiniTool to create cool videos and upload them to YouTube).
Why Need to Embed YouTube Playlist
There are lots of people choose to embed a YouTube video into their social networks or websites. But if you want to embed hundreds of YouTube videos into your websites, what should you do? Maybe you want to embed YouTube videos one by one, but it wastes too much time, right?
Here is a simpler way – embed YouTube playlist. You will benefit a lot by embedding youtube playlist.
Get more views and attract more viewers. You might be interested in How to Add YouTube End Screen – Get More Views on YouTube.
Watch your YouTube videos in other websites without having to sign in to your YouTube account.
Share YouTube videos across the internet.
So how to embed YouTube playlist? Continue to read the post.
How to Embed YouTube Playlist
It's quite easy to embed YouTube playlist. Here offers you two ways to embed YouTube playlist. Let's see how it works.
Using the built-in YouTube Embed Code Generator
To embed YouTube playlist, you need to find its embed code first.
Step 1. Open the web browser and go to the YouTube official website.
Step 2. Log in to your YouTube account and get the homepage of YouTube.
Step 3. Click your avatar which locates in the upper right corner and choose Your channel from the drop-down menu.
Step 4. Then it brings you to the homepage of your channel. Switch to the tab PLAYLISTS and you will find all the playlists you created are listed here.
Step 5. Find the playlist you want to embed into your website and click on it to its playback page.
Step 6. Click the Share button below the video frame, click Embed in the pop-up window. You can also share your YouTube playlist to Facebook, Twitter, Blogger and Reddit by clicking their icons.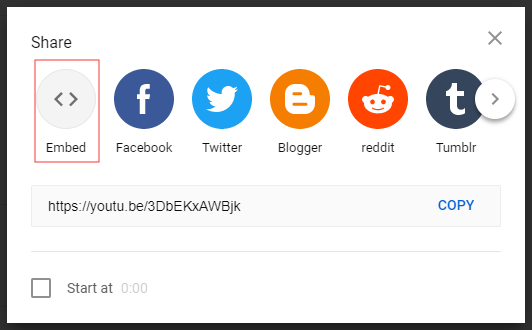 Step 7. Click on Copy in the lower right corner of the window.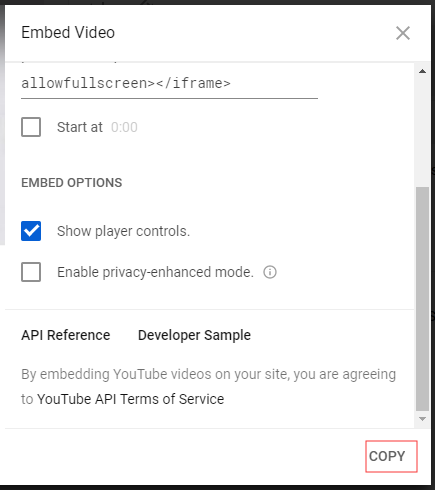 Note: If you don't want to track the viewing behavior of visitors, you can turn on privacy enhance mode. That is to say, it won't personalize the viewing experience.
Related article: How to Make a Playlist on YouTube – Just Several Steps.
Step 8. In the end, go to your website and paste the embed code into the website HTML.
Using third-party Embed Code Generator
You may want to customize your embed YouTube playlist, here recommend YouTube embed code generator. It allows you to set the width and height of the embed YouTube playlist. Besides, you can play the YouTube video in full screen on your website.
Take the following steps to learn how to embed YouTube playlist.
Step 1. Find the target playlist on YouTube and copy its URL in the address bar.
Step 2. Go to the YouTube embed code generator website and paste the URL into the YouTube URL box.
Step 3. Adjust the width and height of the YouTube playlist, and check the following feature as needed.
Step 4. Finally, click on GENERATE MY CODE. It will automatically generate YouTube playlist embed code. Choose COPY CODE and paste it into your website HTML.
Conclusion
There are two ways to embed YouTube playlist into your website. Which one do you like?
If you have any questions about embedding YouTube playlist, please leave a comment and let us know.