YouTube is a great platform to create, share and learn almost any skill you can think of for free. What is the best YouTube channel for learning English? Read this post on
MiniTool
to get the answer.
Students and learners all around the world are finding ways to learn and improve their English skills. Why not try learning English online with YouTube channels? On YouTube, you can find a variety of channels that will help you improve your English skills while enjoying entertainment.
With the help of YouTube channels, you can learn English at your own pace. That means it lets you pause and rewind as many times as needed to understand the content. You can also go back to review what you've already learned with just a few clicks.
We have curated a list of some of the best YouTube channels to learn English, in no particular order.
1. English Addict with Mr. Duncan
Mr. Duncan has devoted himself to the English language on a YouTube channel for over ten years. On his YouTube channel- English Addict with Mr. Duncan, he teaches English for free. Mr. Duncan's vast videos cover nearly every topic in the British English world, containing idioms, grammar, pronunciation, and specialist vocabulary.
Apart from instructional videos, Mr. Duncan has a variety of playlists covering many topics and contexts, like Every Day English and 31 Day of Learning English. It could be considered the best YouTube channel for learning English for beginners and intermediate learners. Because his videos are clear and easy to understand in an entertaining way.
2. VOA Learning English
If you're studying American culture, you've probably heard of Voice of America. The Voice of America (VOA) Learning English YouTube channel offers many useful resources for English learners.
This channel encourages you to learn American English from subtitled TV news reports, using simpler language and reading at a slower speed. So, you can read and listen to the video captions clearly to improve your reading and listening skills.
3. English with Jennifer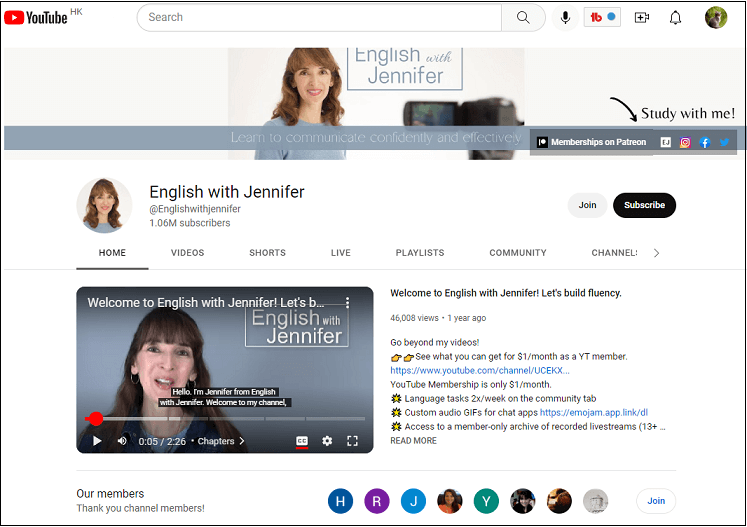 English with Jennifer is a great channel on YouTube to learn English. Jennifer has been making YouTube channels to teach US English since 2007. So, this channel has a rich collection of videos.
One of the reasons why it was so popular is its engaging video content. Jennifer, the English teacher, is enthusiastic and passionate about English teaching. She tries her best to keep her viewers engaged by teaching in a fun and interactive way.
4. Rachel's English
If you're trying to improve your listening skills and spoken English, Rachel's English is right for you. The videos, shot around the world, feature native English speakers talking about everyday topics. This channel can provide learners with an authentic listening experience. Of course, it not only provides materials about listening practice but also other topics.
5. Learn English with EnglishClass101.com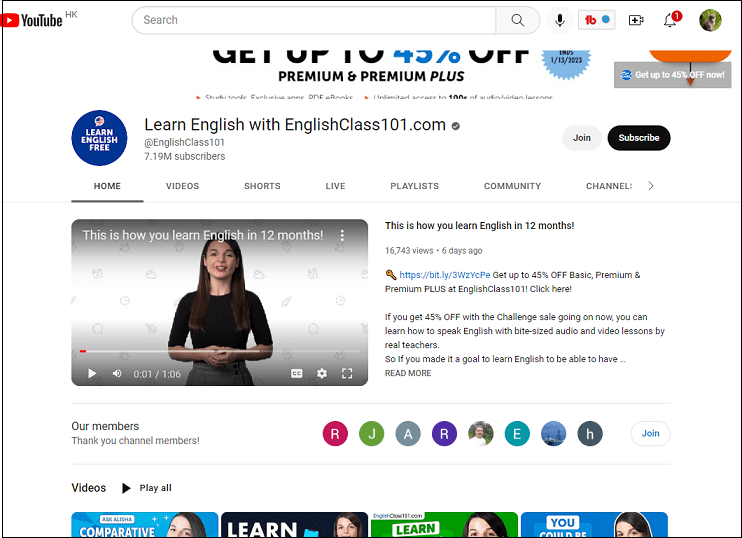 Learn English with EnglishClass101.com is also a nice YouTube channel to learn English. It has more than 20,000 videos, divided into different categories such as grammar, vocabulary, speaking, etc. These videos are taught by experienced teachers and cover a variety of topics to help you improve your English skills.
6. Linguamarina
Marina was born in Russia and decided to move to the USA in 2015. Then, she taught herself to speak English like an American and become the owner of two businesses in San Francisco, California, one of her companies offering English courses. Thus, her videos are primarily in the form of talks and lectures on a variety of topics.
7. TED-Ed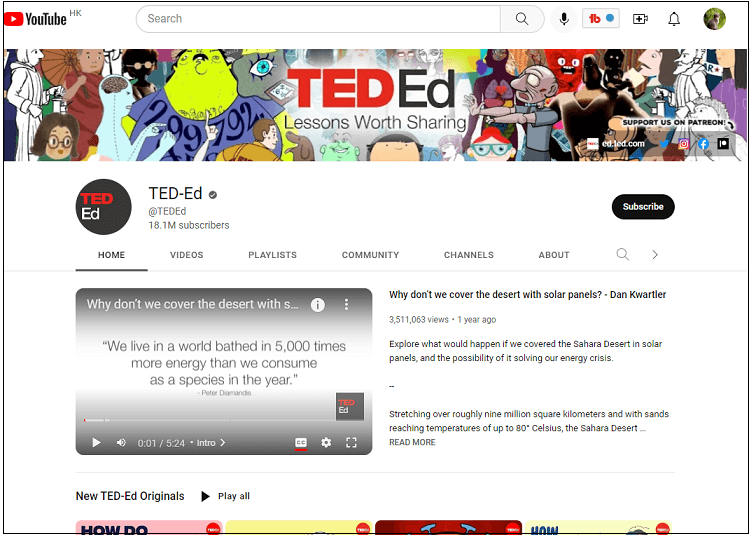 TED-Ed is a YouTube channel run by 15 educators and artists. Videos on this channel often talk about history, science, art, and more. And it also answered many thought-provoking questions. Watching these videos, you can not only improve your English skills but also learn to think deeply.
Also read: How to Zoom in on A YouTube Video [4 Methods].
8. English with Lucy
Lucy Bella Earl is a popular English teacher on YouTube and she created the English with Lucy channel. Now, she owns more than 9 million subscribers on YouTube. She offers free daily lessons designed to help you improve your English skills in a fun way. The lessons are mainly about grammar, vocabulary games, British expressions, and more.
Tips:
To watch videos on the best channel for learning English offline, use MiniTool Video Converter.
MiniTool Video ConverterClick to Download100%Clean & Safe
Conclusion
Learning English on YouTube is an effective way to boost your English. We have shared the best YouTube channels for learning English. Go and pick the one you want.