We Are One festival lasted for 10 days from May 29 – June 7. Every film is free to watch on YouTube. This post introduces the most popular films from this festival and teaches you how to download them with MiniTool uTube Downloader.
What Is We Are One Festival?
We Are One is a global online festival on YouTube. This festival was found on May 29, 2020. The purpose of this festival is to give a promise that the film community can come together in times of crises — both in celebration of films and in support by providing much-needed relief for COVID-19 efforts.
Note: Every film of this film festival has a DONATE button for contributing to COVID-19. If you would like to donate to the COVID-19 Solidarity Response Fund, you can click "DONATE" on the lower right side of each video.
Most Popular Films from We Are One Festival on YouTube
We Are One Festival showed us all kinds of films from all over the world. Here I list some of them.
1. Atlantics
Atlantics went to win the Grand Prix last year. Mati Diop who is both the actor and the director of this film became the first black female director to be in contention for the Cannes Film Festival's highest prize, the Palme d'Or. This film was even listed as one of Barack Obama's favorite films of 2019.
This is a film about love, trauma, and politics. This romantic film shows the story that a young girl living in Dakar, Senegal, waited every day for the news of her lover's safety. But he decides to leave the country with others.
Do you watch romantic movies on YouTube? Please read Top 10 Best Romantic Movies (Valentine's Day Movies).
2. Dantza
This film tells us a story about the cycle of life, and the fight for survival. When the rain stopped, life springs up from the poor land. Fruit grows, blooms and becomes the apples which give life to cider. Then it's time to celebrate love and harvest.
A particular symbology dressed the universal themes. Symbology shows the hypnotic universe of traditional dance. There is a poetic song to tradition, the land, its people, myths and customs. This film is a tale about the miracle of existence.
3. Beautiful Things
There are a lot of long and short-form documentaries in We Are One Festival. Beautiful Thing is a good choice to watch. This short documentary follows four men who were in a lonely and dangerous work. They work from oil rigs to isolation chambers. Beautiful Things was described as an exploration of "obsessive consumption" and humanity's fickle understanding of our tenuous world.
4. Shiraz (1928)
A potter's son, whose name is Shiraz, is brought up as a brother to Selima, a girl of unknown but royal lineage. When they were young, Shiraz falls in love with Selima. When she is kidnapped by slavers and sold to Prince Khurram, Shiraz follows her to Agra, where he will risk a horrible death to protect her and one-day design a great memorial to her.
How to Download These Movies from YouTube?
The 10-days online film festival was over. Some films are not showing more. But there are many kinds of movies on YouTube. Dantza and Shiraz are still on show. If you want to see them offline, you can try MiniTool uTube Downloader. After you download this software, you can follow the steps below to save your videos.
MiniTool uTube DownloaderClick to Download100%Clean & Safe
Step 1: After you log in to YouTube, search for the movies you want to download and copy the link address.
Step 2: Launch MIniTool uTube Downloader and paste the link of the video in the search box and click the Download icon.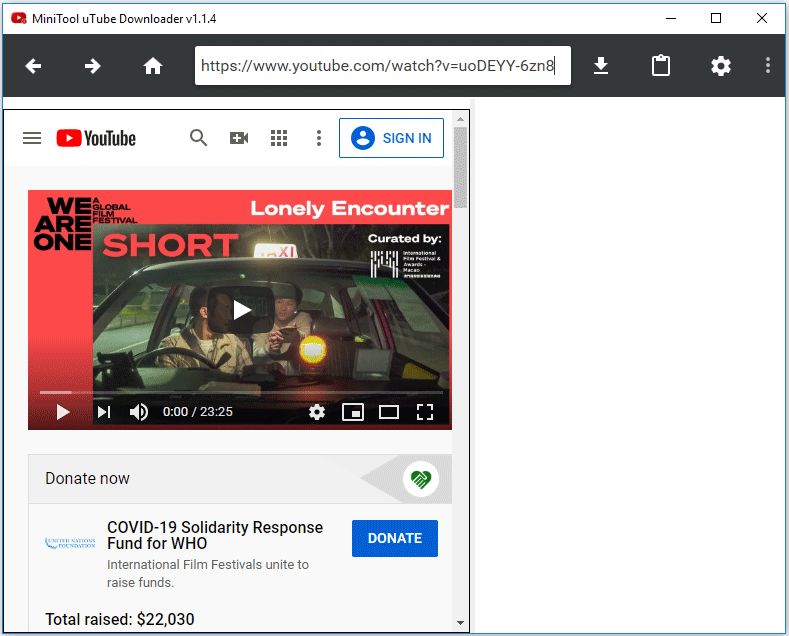 Step 3: Select the video format you want and click Download.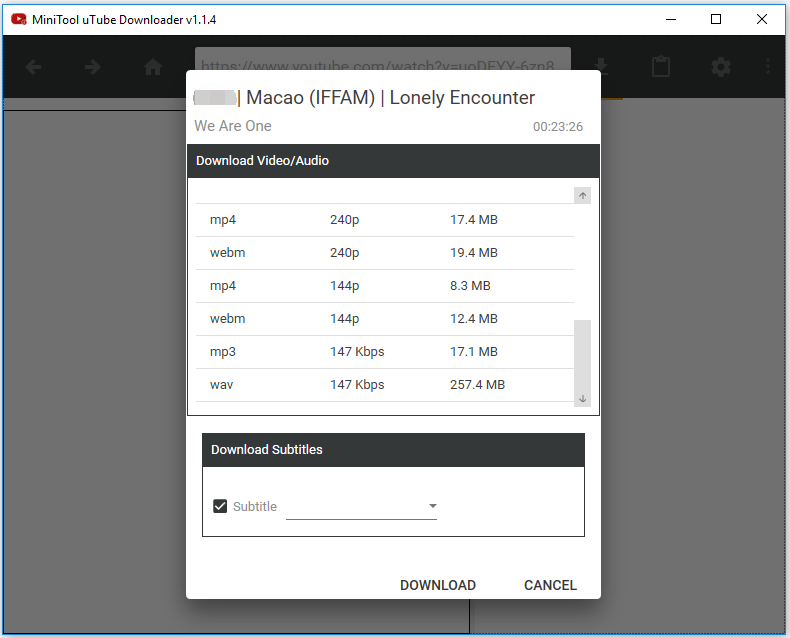 Step 4: Select a folder to save the films.
Want to know more about the YouTube downloader? If yes, read the manual.
This article has shown you what is best films from We Are One festival on YouTube, and how to download these films. Hope it can be helpful to you.