Many of you want to keep hot bodies, so you may turn to YouTube to search for dance workout videos. This post will help you, let's see the best dance workouts on YouTube. Besides, you can also use MiniTool uTube Downloader to download your favorite workouts
Are you looking for the best dance workouts on YouTube? If your answer is yes, then you will not regret reading our post. Here, we will introduce you to the best dance videos on YouTube.
What Are the Best Dance Videos on YouTube?
As one of the most popular video sharing websites, YouTube provides YouTube users with different kinds of dance videos. When you browse those videos on YouTube, you probably don't know which one you should choose.
Don't worry! In this post, we have collected eight types of dance workout videos for you and those dance videos are all the most viewed videos on YouTube. How about following our steps to enjoy these videos!
The Best Dance Videos on YouTube
305 Fitness
MYLEE Dance
KUKUWA FITNESS
FITSEVENELEVEN
MadFit
The Fitness Marshall
POPSUGAR Fitness
Pump It up the Ultimate Dance Workout
305 Fitness
305 Fitness is a flourishing YouTube channel which is famous for live classes and slick videos with a devoted DJ. It's said that the name of this popular YouTube channel is derived from the famous Miami area code.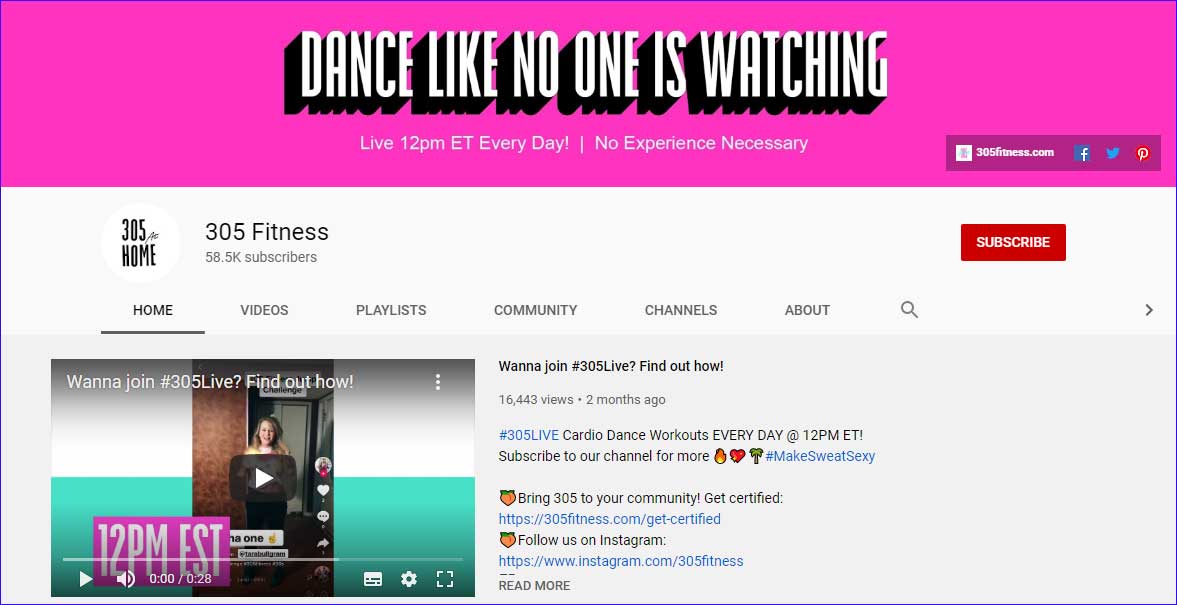 It's not just an addictive 55-minute cardio dance party. It's also the best space where you can release your inhibitions and allow yourself not to be guilty of your wicked personality. As an idiom saying" Let Your Freak Flag Fly", you should act wildly. In this place, you will meet open-minded people, and you can also get stronger and happier.
Furthermore, most of the music is pop music, because they keep space with music trend. Its dances are squat-heavy with drag race-informed strutting. 305 Fitness can help you to get rid of those annoying calories in your bodies and teach you to love and appreciate your bodies exactly the way they are.
However, if you are not an open-minded person, you probably don't like those hot dancing videos of this YouTube channel. But don't worry, we can offer you other dance videos. How about MYLEE Dance? Go on to read our post to know more about it.
MYLEE Dance
Mylee, a South Korean, is an instructor of MYLEE Dance. MYLEE Dance isn't as extreme as 305 Fitness. Maybe, this kind of dance video is more reflecting the taste of the people. Those dance workouts are just like music videos that you can easy to follow along.
In addition to that, those dance videos are last just a few minutes so that you have enough time to have a rest. Those videos are more casual, so you don't have to put on spandex when you are dancing.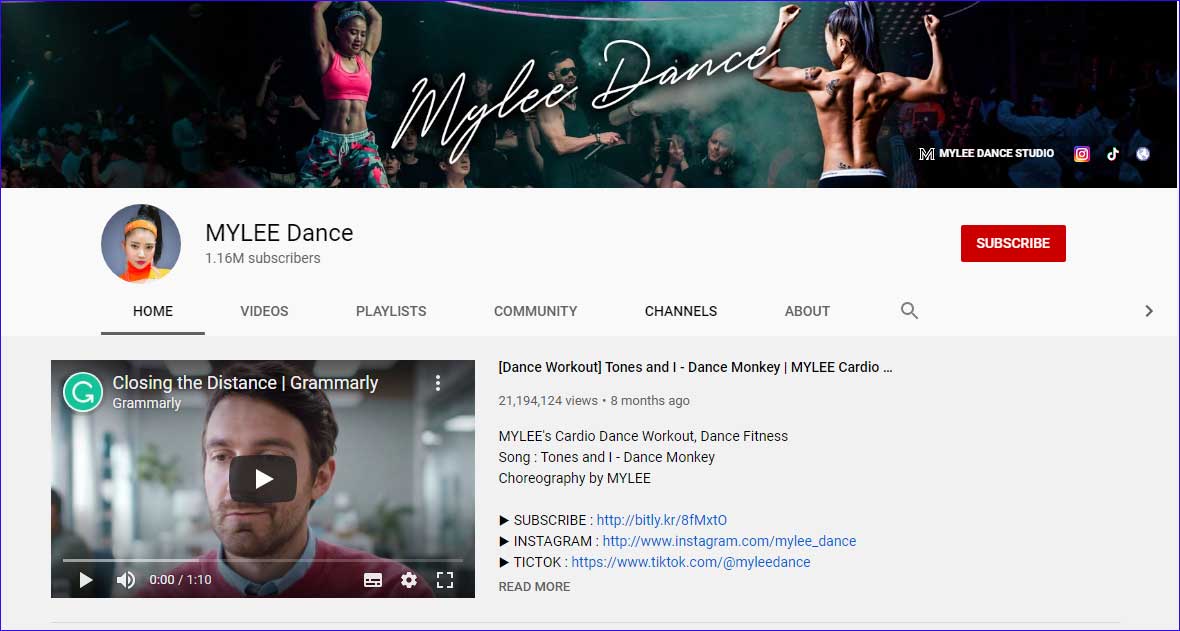 If you are one of those people who like this kind of dance videos, I advise you to subscribe to this YouTube channel. Moreover, among those dance videos offered by MYLEE Dance, I recommend you to choose Ariana Grande's "7 Rings" or Ciara's "Level Up" to dance with.
If you try your best to do it perfectly, Mylee often repeats the choreography two or three times in a row. If you want to dance with Mylee, you should move right now. What are you waiting for? Join her! If this kind of dance videos can't still attract your attention, you can choose KUKUWA FITNESS.
KUKUWA FITNESS
KUKUWA FITNESS offers classes on their website and also uses titles like LET'S SHINE and MOOD BOOST to upload their live video classes on their YouTube webpage. Those live dance classes are full of love and sunshine that will make you feel warm and happy.
If you choose to dance with those instructors of KUKUWA FITNESS, then you can experience to explore Africa without a passport.

Those videos offered by KUKUWA FITNESS teach you how to move muscles that you didn't know you had, and also teach you how to immediately move your arms, waists, legs, and hips according to Central, East, South, West, and North African rhythms.
Your calories can be burned crazily in a short time when you dance with those instructors. After you finish a dance, you will be bathed in sweat. So when you feel stressed, you can choose to follow KUKUWA FITNESS videos to dance with.
If you don't like the African style of dance. It doesn't matter! Maybe, you will like FITSEVENELEVEN.  
FITSEVENELEVEN
FITSEVENELEVEN offers dance classes occupy the perfect middle of the Venn Diagram between exercise and dance. The 25-minute dance workout with their instructors is more like a master class in non-verbal communication.

Those dance classes are starting with a very well-organized warm-up and ending with jumping jacks. The middle parts of those dance classes are aerobic exercise. What's more, when you want to squat, your instructors will ask you to roll your hips.
You can learn many professional dance movements with the help of their instructors. If you want softer dance, you should not miss the chance to study dances with instructors of FITSEVENELEVEN. Next, we will introduce you to another dance workouts - MadFit, you can have a try.
MadFit
MadFit is a place where Maddie Lymburner posts REAL-TIME, AT HOME workouts, GYM workouts, and anything else fitness related. The main goal of this YouTube channel is to encourage all of you at all fitness levels to get up, get moving, and reach your goals. There is no doubt that this YouTube channel is full of positive energy.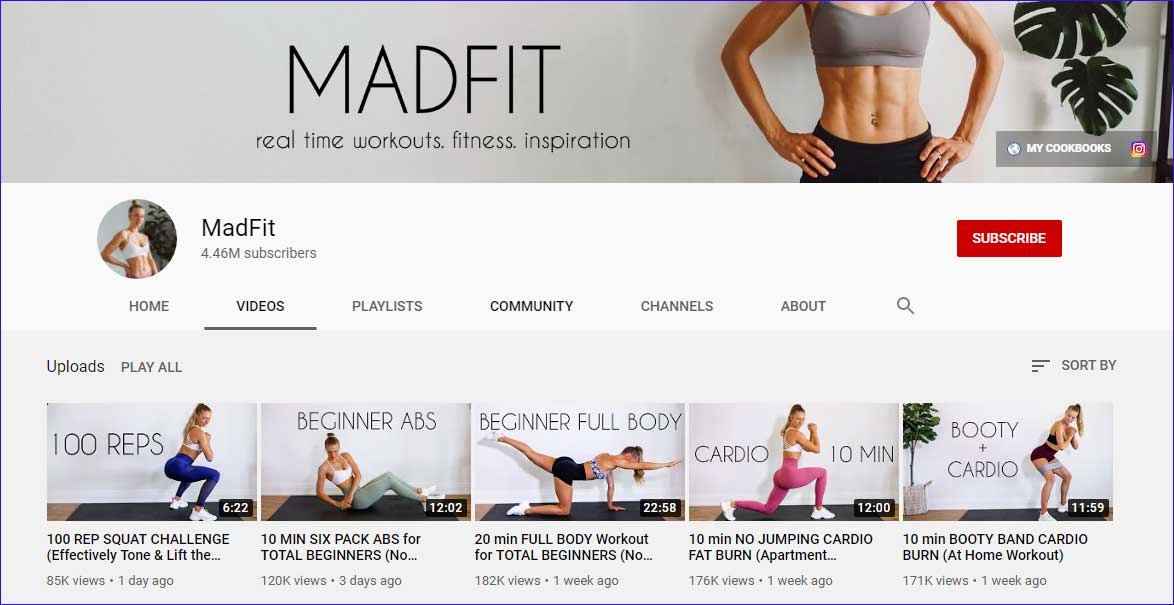 Maddie Lymburner, the proprietress of MadFit, uploads dances workout videos on YouTube to help you to build up your health. Those dance videos that Maddie offers to you are less like dancing and more like exercise moves set to music.
What's more, those videos are full of human interest. Maddie knows clearly that some sharp movements can make a lot of noise and affect your neighbor. So her dance classes are focus on one direction actions and apartment-friendly sets with no jumping. When you watch her dance videos, you are just like watching a hashtag happening.
Up to now, you've known five kinds of dance workouts. Which one do you like most? If none of those videos are your cup of tea. You can try the next one - The Fitness Marshall.
The Fitness Marshall
Caleb Marshall who invents The Fitness Marshall is a strong, daring instructor with an open personality, and he is also the idol of most girls. His dance workout team is made up of three people. Another two loyal demonstrators stand behind him.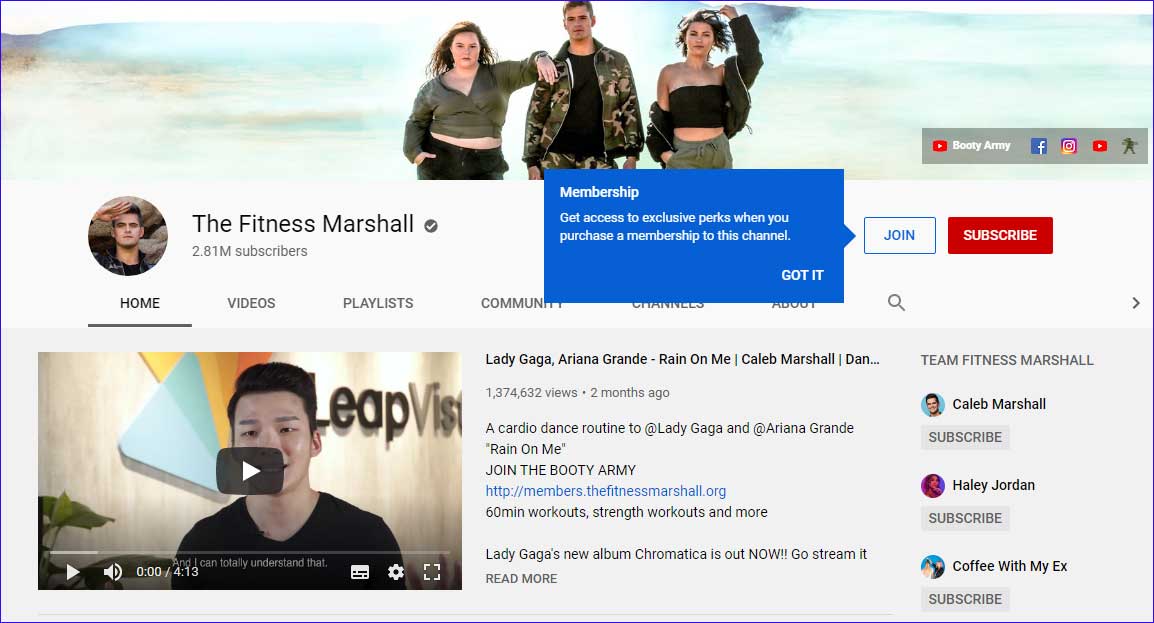 Caleb Marshall's dance workouts are guided by some pop music, and the scene of those dance videos is common parks. Those scenes are down to earth. What's more, you can also choose your songs, make a playlist, and dance along with Caleb to your own customized workout.
If you want to know more information about this YouTube channel, I recommend you to browse https://www.youtube.com/channel/UCyqR7WkL8i1b6xtSssDmW9w/join to get early access to dances. If you want to know more dance workouts, you can go on to follow our steps, and the next YouTube channel about dance workouts is POPSUGAR Fitness.
POPSUGAR Fitness
POPSUGAR Fitness is a prolific fitness channel with fresh fitness tutorials, workouts, and exercise that will help you on your road to build up your healthy living lifestyle, lose weight, and also relieve your stress.
There are various kinds of dances in this YouTube channel, such as Dance Kickboxing, Dance Barre, Dance Tabata, Dance HIIT Drills, and Dance Sculpting. You can choose one that you like to dance with. To prevent their dance workout videos getting into that mess by accidentally queuing up a Rihanna song, those instructors of this YouTube channel use some beats that approximate Rihanna songs in those dance videos.
These seven kinds of dance workouts above belong to the 21st century, if you want to watch some old -fashioned dance videos, you will surely like an old dance video in 2004 - Pump it up the Ultimate Dance Workout.
Pump It up the Ultimate Dance Workout
If you don't like dance workouts of this era, I suggest you watch a fitness class on YouTube which is from 2004 called "Pump it up the Ultimate Dance Workout". This dance video tutorial is made up of 50 minutes of dancing and 20 minutes of "bums and tums" exercises on the floor.
In this dance workout video, instructors teach you how to swing your hips around and other standard posture. You may feel happy when you follow this dance video tutorial.
Until now, we've introduced all of the best dance videos on YouTube to you. Hope these videos will help you to build up your health.
Tip: How to Download YouTube Videos Using MiniTool uTube Downloader?
MiniTool uTube Downloader is very professional software that can help you to download your favorite workouts. The most important thing is that you can use this software for free. Now, follow our steps to see how to use it.
DOWNLOAD
After you download and install this software on your PC, you can follow our steps to see how to use it to download YouTube videos.
Step 1. Open this software.
Step 2. Search for the YouTube video which you want to download in the search box. The search box is beside the YouTube logo. Besides, you can also choose to paste the link of the target YouTube video to the search box.
Step 3. Select the target video from your search results. Next, open that video.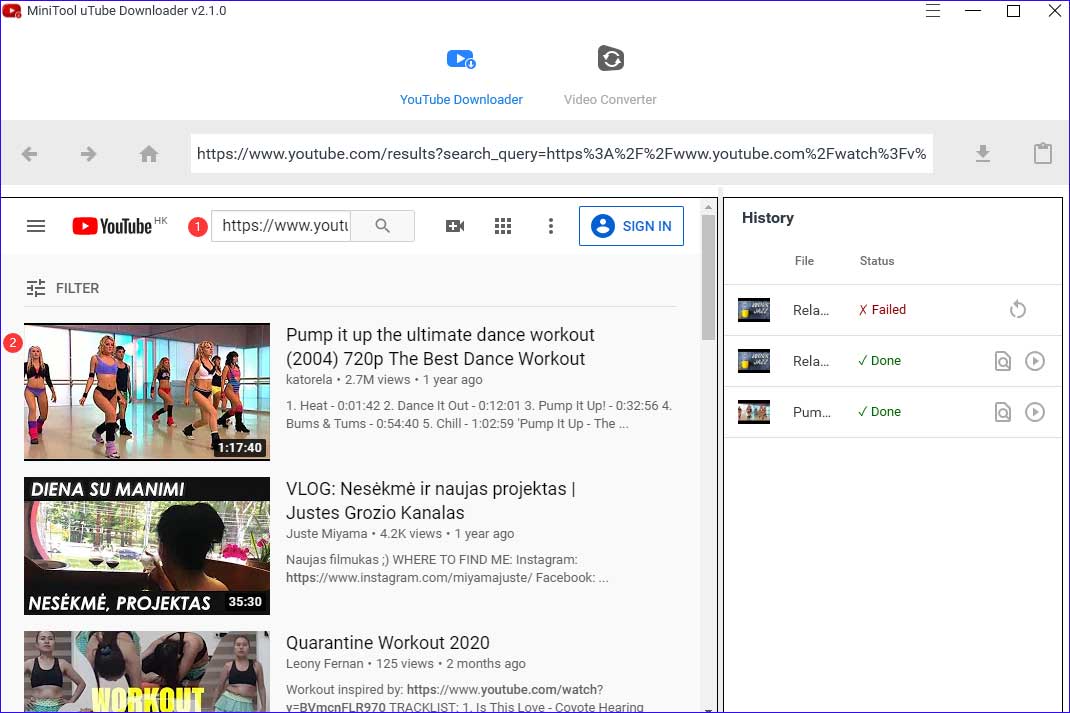 Step 4. Click the download icon which is on the top left corner of this software's interface to continue your download operation.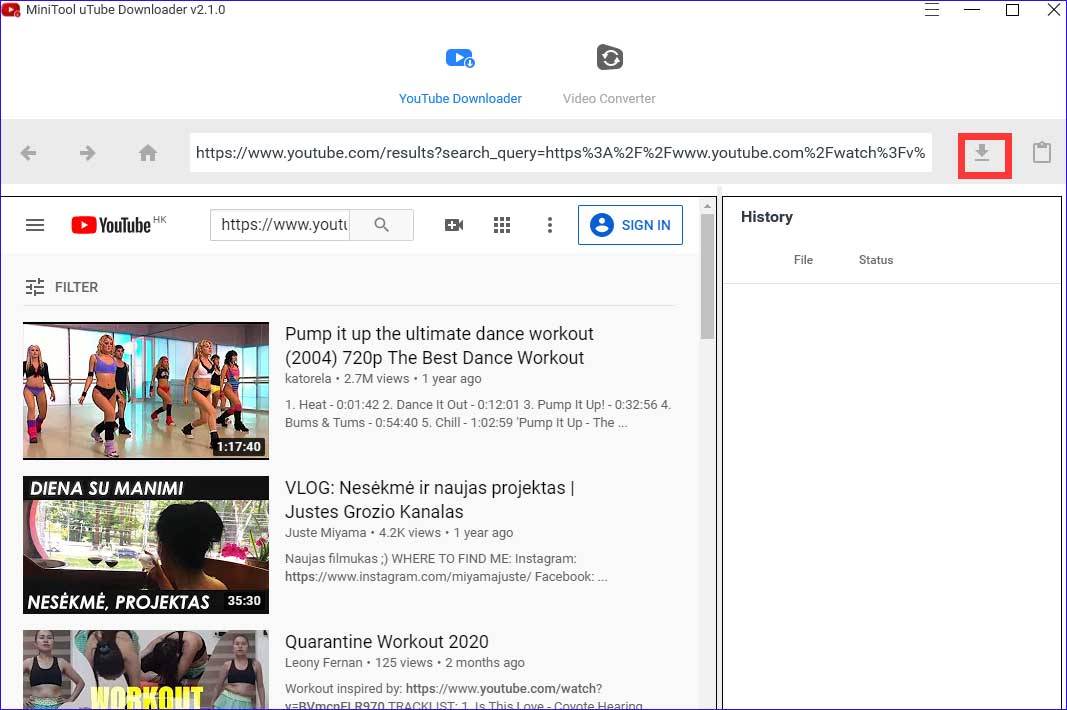 Step 5. After a new pop-up appears, you should select your needed video formats, such as MP4, MP3, WebM, and wav. You can also select the resolution of that video, like 720p, 480p, 360p, 240p, 144p.
Step 6. Select the subtitle if available, and then you can also select the subtitle language of that video.
Step 7. Click the DOWNLOAD button to start the downloading process.
There is an automatically generated default location for your downloaded YouTube videos. if you don't like that location, you can click the Hamburger button which is on the top right side of this software's operating interface to select your needed location.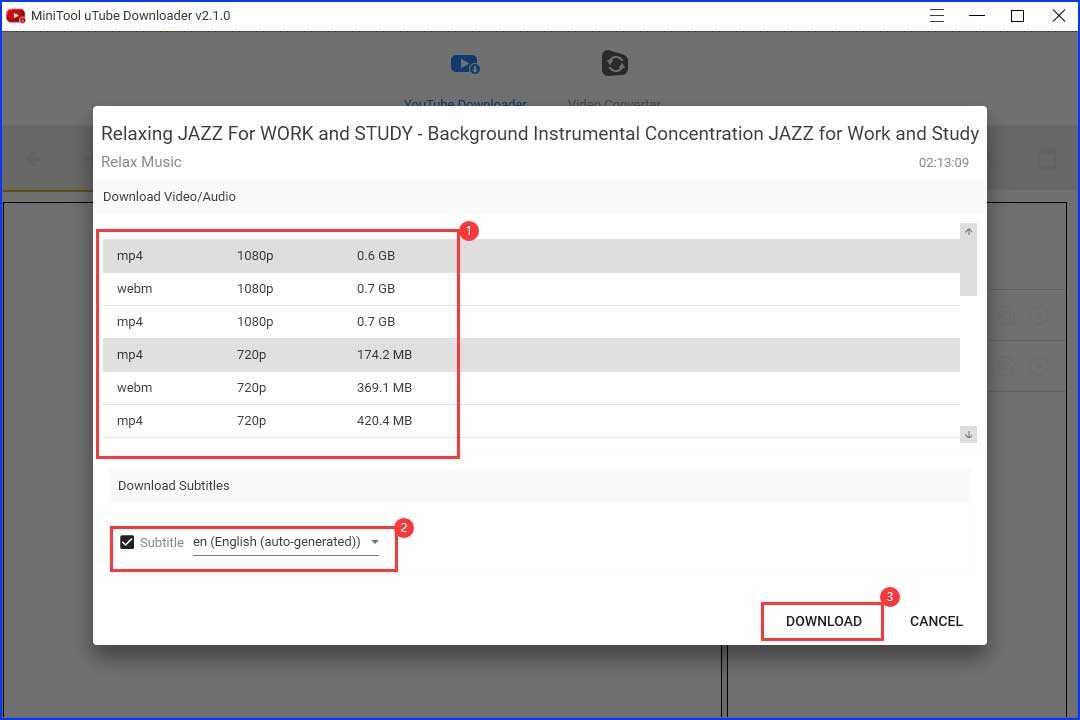 Step 8. After the downloading process finishes, you can click Navigate to file to get to the video storage path so that you can watch your downloaded video right now.
Now, do you know how to download videos using MiniTool uTube Downloader? Hope these steps will help you to use this software easily.
Features:
It's simple to use.
It's a free YouTube video downloader without ads and bundles.
It supports YouTube link to MP4/MP3/WebM/Wav
It supports downloading YouTube playlist.
It supports downloading different resolutions of YouTube videos, like 720p, 480p, 360p, 240p, and 144p.
It supports downloading YouTube videos' subtitles.
You can use this software with your YouTube account signed in.
You can directly use this software to search for your favorite videos.
You can use this software to watch YouTube videos without opening the YouTube web app.
Bottom Line
This post is about the best dance workouts on YouTube. If you have any related issues, you can let us know in the comment or contact us through [email protected]
The Best Dance Videos FAQ
What are the most famous dance moves?
The Moonwalker – a 1988 American experimental anthology musical film.
The Demonstration of The Twist.
Do the Macarena – a dance movie started in six beautiful women.
Hammer Time – a reality TV dance show.
…
What are the best dances?
Rumba
Swing
Cha Cha
Salsa
Tango
…
Who is King of dance?
Michael Joseph Jackson – an American singer, songwriter, and dancer who was dubbed the "King of Pop".
Who is the best male dancer in the world?
Justin Timberlake – an American singer, songwriter, actor, and record producer.
Christopher Maurice Brown – an American singer, songwriter, dancer, and actor.
John Joseph Travolta – an American actor, singer, and dancer.
Usher Raymond – an American singer, songwriter, actor, businessman, and dancer.
…