Instagram rolled out the music sticker that allows users to add music to Instagram Stories. Of course, you can also add music to Instagram video before uploading it. To add music to video, here recommend use MiniTool Movie Maker developed by MiniTool.
Instagram Stories only allows you to post 15-second videos or photos, but it has some features like sticker, emoji and GIF. Moreover, it lets you add music to Instagram Stories with a music sticker.
Actually, the music sticker is a small music library. With it, you can find the most popular songs and browse them by Moods or Genres. Also, you can enter the song name to search for it. Since the Instagram story video is limited to 15 seconds, so the music must be no more than 15 seconds.
If you can't find the right song, you can try YouTube Audio Library. All music here is copyrighted-free, no need to worry about copyright infringement anymore!
How to Add Music to Instagram Story
Now, let's see how to add music to Instagram Story with music sticker.
Step 1. Launch the Instagram app on your phone.
Step 2. After entering the homepage, you need to click on Your Stories or the camera icon.
Step 3. Press the circle icon to record your story or take a photo.
Step 4. Then you will see a list of features appear on the screen. Tap on the Stickers icon to go on.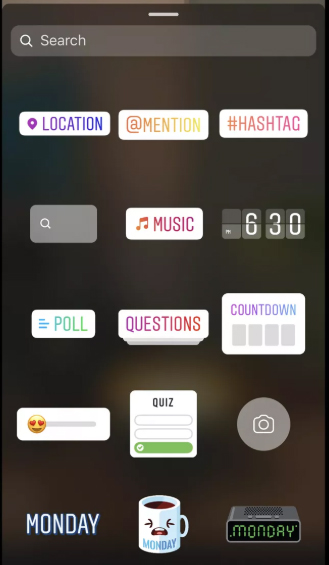 Step 5. Find the music sticker and click on it. Then you'll be taken to the music library. Type the song name in the search bar or browse the song list to find the music you love.
Step 6. Once you find the target song, choose it to add this song to your story.
Step 7. Select your favorite part of this song as the background music of your Instagram story.
Step 8. When you're done, click on Your Stories to publish your story.
If you are looking for a way to save Instagram stories, read this post: How to Save Instagram Video on PC and Phone Conveniently.
How to Add Music to Instagram Story without Music Sticker
However, for some Instagram users, they find the music sticker disappears or they never see the music sticker before. So how to add music to Instagram Story without music sticker? Here are two solutions.
Solution 1: Record Instagram videos with music
Here's how:
Step 1. Open the music app like Spotify on your phone and play your favorite song.
Step 2. Play the song in the background and run Instagram.
Step 3. Click on the camera icon in the top left corner of the screen.
Step 4. Record a video by pressing the circle icon.
Step 5. Then you can choose to edit your story such as adding text, filters, etc.
Step 6. Finally, tap Your Stories to post it.
Can't refresh Instgaram feed? See this post: Solved – How to Fix Instagram Couldn't Refresh Feed in 2020
Solution 2: Upload the music video from your phone
Here's how:
Step 1. Add the background music to the video by using a video editor.
Step 2. Go to Your Stories page and tap the square icon in the lower left.
Step 3. Choose the video you just made. Then publish the video.
To find suitable music, you might be interested in this post: MP3 Juices and Other 18 Music Downloaders.
Conclusion
Now, you must learn how to add music to Instagram Story. Hope this post is helpful!
If there is any problem, please tell us by leaving a comment in the comments area!