Network video has gradually become an indispensable part of the network life of people. (Wanna make eye-catching videos? please download MiniTool Movie Maker released by MiniTool.) How to use this new media platform to carry out a series of marketing activities has become an important issue for advertisers. Therefore, this post shows a few tips to create effective YouTube video ads.
About Video Ads
Video ads are divided into traditional video ads and mobile video ads. Traditional video ads refer to the setting and delivery of advertisements within a video, while mobile video advertisements refer to the mode of interstitial video performed on mobile devices (mobile phones, PSPs, tablets, etc.).
The Advantages of Creating YouTube Video Ads
According to the survey, YouTube's monthly active user base accounts for an incredible 25% of the world's population, while some 90% of internet users in the US have accessed YouTube to watch online video. Therefore, it is the first choice for advertisers to create YouTube video ads. Its advantages are mainly reflected in the following points:
A wide range of users: If YouTube was a country, it would be the second largest country in the world. In other words, YouTube is a place where potential customers are most likely to exist.
Find Mode start: More than 53.4% of YouTube users use it to find information.
Low CPVs: AdWords for Video campaigns, the minimum bid is only a few cents.
No risk: You only need to pay after the user views your ad video. If the user is not interested, he or she can choose to skip after 5 seconds at no cost.
Precise positioning: Simple and effective positioning allows you to easily find active and connected users at the same time.
Related article: How to Block Ads on YouTube (Windows/Android).
How to Create YouTube Video Ads?
With the popularity of online video advertising, what can advertisers do to stand out amongst a multitude of videos? 7 useful tips to create effective YouTube video ads are introduced below.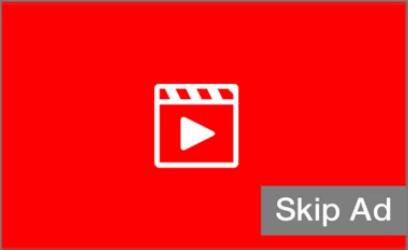 Good First Impression – When an ad pops up, the viewer can choose Skip Ad. How can you make the viewer not click this button? Creating a compelling start is key. Ads should begin with a 'wow' moment.
Unpredictable Surprise – Be honest, most ads are predictable. And the problem is that people have already lost interest in those cliches. The video ads will surprise people once they diverge from the norm. So adding a little novelty to your video ads is necessary.
Video Quality – Utilizing intriguing content, which makes consumers think or feel something, will help your ad resonate, again, with a focus on those initial seconds.
Resonance – One of the best ways to create an ad that resonates with the audience is to put forward a serious problem (environmental pollution) and then tell them that buying the product is the right way to change the problem, which gives them extra motivation to buy.
Brand Introduction – A brief introduction to the brand is indispensable. Because it helps viewers understand production and increase participation, but brand introduction needs to be concise and easy to understand.
Attention-grabbing Sound – According to YouTube, 95% of video watched on the platform is played with sound Therefore, marketers might use music or voiceover to attract the audience's senses. Inserting the timely music in the ad is the icing on the cake.
Font & Background – The background, the font and the font size of the text in the video could affect the audience' viewing effect when they are watching. In order to give the audience the best visual experience, using bright colors and large, easy-to-read text is recommended.
How to create video ads effectively and make them more eye-catching? The post has summarized a few useful tips to create YouTube video ads. Hope you can get some inspiration from it.
Bottom Line
Read this article and you will easily master the skill to create effective video ads on YouTube.
If you have any question about YouTube ads, please let us know via [email protected] or share it in the comments section below.