Downloading YouTube thumbnails is easier than you think, and this post will show you a list of the top 5 YouTube thumbnail downloaders. Check out the list to find the one that works best for you. If you also want to download YouTube videos or playlists, please try MiniTool uTube Downloader released by MiniTool.
YouTube thumbnails are the small preview images used to represent videos. Their job is to attract people's attention and convince them to watch the video.
Top 5 YouTube Thumbnail Downloaders
# YouTube Thumbnail Downloader
YouTube Thumbnail Downloader, as the perfect downloader, allows you to download images in 3 different qualities. The available range of image qualities on YouTube Thumbnail Downloader is FULL HD (1080), HD (720), and HD. What you need to do is to paste the YouTube link in the box, select the quality image you need and click the Download button. You can also paste links from Facebook, Twitter, Gmail, Pinterest, among others.
Related article: How to Change Video Resolution Easily on Different Platforms
#BoingBoing
This YouTube Thumbnail downloader lets you quickly view and download thumbnails. When you insert a YouTube URL, it will automatically display thumbnails of various sizes. Just select the one you want and right click to save it. It's very easy to use, but one drawback of this tool is that it only works for YouTube videos.
#ThumbnailGrabber.com
Unlike the two sites above, this thumbnail collector is even more powerful, allowing you to download thumbnails from YouTube, DailyMotion, Vimeo, Metacafe and Break videos. However, you can only download images in HD quality (1280 x 720). All you have to do is paste your video link into the box and click the Download button. Then it will pop up a window that lets you preview and download HD thumbnails.
#Youtube™ Thumbnail Preview
A Google chrome extension, it is compatible with almost all devices. You can use this extension to download images safely, or do more, including editing images. If you have a Google Chrome browser, open the extension and click Add to Chrome. With this Chrome extension, you can get thumbnails from your YouTube videos with a single click. When watching a YouTube video, just click on the extension and it will load the image and thumbnail URL. The thumbnails you will get are standard quality (480×360).
#Iridium for YouTube
No Iridium is one of the best chrome extension tools for YouTube. Once installed, you can get thumbnails directly on the YouTube video page. Iridium also has other amazing features, such as playing a video in a pop-up window, blacklisting the entire channel, taking a screenshot of the video, and more. Just make sure you're using the new YouTube footage layout.
Recommend: How to Easily and Quickly Download YouTube Video Free
Best YouTube Thumbnail Size
Have a resolution of 1280×720 (with minimum width of 640 pixels).
Be uploaded in image formats such as JPG, GIF, or PNG.
Remain under the 2MB limit.
Try to use a 16:9 aspect ratio as it's the most used in YouTube players and previews.
Related article: The Best YouTube Thumbnail Size: 6 Things You Need to Know
Online YouTube Thumbnail Makers
#Fotor
Fotor is a web application and Windows desktop software. The Fotor web app includes YouTube thumbnail templates for various themes such as cooking, games, travel, sports, music, Christmas, seasons and more.
Fotor users can edit the background color and text of all themes and stick labels on them. Or, you can make your own thumbnails from scratch to draw people to click on your video.
#Canva
Canva is one of the best web apps you can use to set custom YouTube video thumbnails. This web tool does not require a subscription fee, but its optional images and clip art are subject to a fee. Canva's library contains more than one million graphics, illustrations and photos for YouTube thumbnails.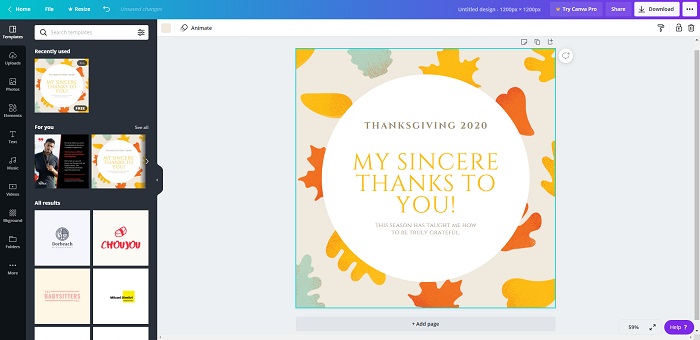 Canva users can choose from more than 130 fonts and customize the text box and text color of the image. Another advantage of Canva is that you can upload your own images to set YouTube thumbnails. This tool is very useful for YouTube creators who want to create compelling thumbnails.
Bottom Line
With these useful YouTube thumbnail downloaders, you can download your favorite thumbnails easily. If you have any questions or suggestions about it, please let us know via [email protected] or share it in the comments section below.