What factors affect the number of viewers on YouTube? The most important are usually the title and description. Nearly as important are the unseen keywords known as YouTube tags. Of course, the quality of videos is also significant. Try MiniTool software to create eye-catching videos.
Here's what you need to know about YouTube tags.
What Are Tags on YouTube
Tags are words that describe or relate to the video, and that would likely be used in a search conducted by viewers, or found to be associated with the video by an algorithm.
When you add the right tags to your videos, you increase the chance that viewers will find and watch them. You should include related tags that are more general and popular, along with a few specific tags that pertain directly to your videos.
YouTube tags are important because they help YouTube grasp your video's content and context. Through your tags, YouTube can understand your video's topic and category and associate it with similar content, which can amplify your video's reach.
Add YouTube Tags on Your Videos
New Videos
Step 1. Log into your YouTube account and then click the camera icon on the top right corner of the screen.
Step 2. Select Upload video from the dropdown menu.
Step 3. Choose the video you wish to upload, then begin the upload process.
Step 4. Name the video and give it a suitable description.
Step 5. Add some relevant tags to meet YouTube best practices, separating tags with commas.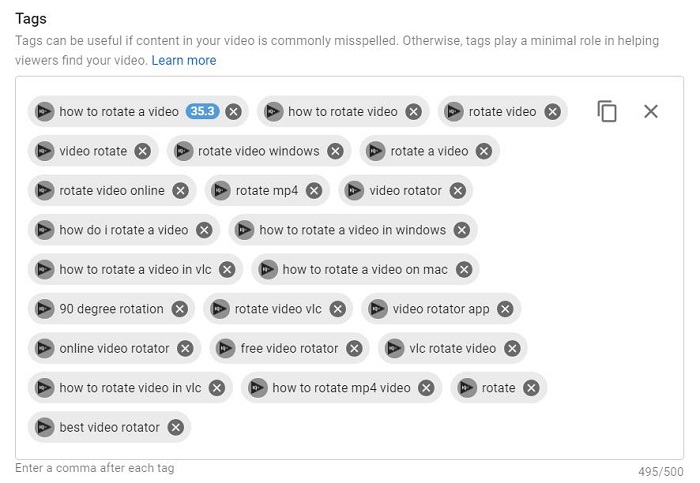 Step 6. Click SAVE to complete the upload.
How many tags can you have on YouTube? In general, YouTube allows you to use as many tags as you would like as long as the total number of characters in all tags is less than 400 characters (approximately). And it is recommended to have 5-8 tags for each video.
Uploaded Videos
Step 1. Open the YouTube app and login to your account manually if you aren't automatically signed in.
Step 2. Tap on your profile icon in the upper right corner.
Step 3. Select the My Videos option and then a list of your videos will appear.
Step 4. Tap on the three-bar menu next to the video you want to add tags to and then select Edit.
Step 5. Type in your tags in the text field under Tags.
Step 6. Tap Save in the upper right corner of the screen. Then your video should have the tags that you typed in.
For more editing on YouTube videos, please refer to How to Edit Videos with YouTube Video Editor – 3 Tips.
Best YouTube Tags Generators
How to make your YouTube tags rank higher in YouTube's search results? here are three of the best YouTube Tag Generators to try.
Keyword Keg – Using Keyword Keg, you can enter your target keyword into the tool and it'll provide its search volume, cost-per-click, competition, on-page difficulty, off-page difficulty, SEO difficulty, CTR scope, keyword power, trends, and suggested keywords. You can also filter your results by country and language.
Keywordtool.io – After typing your target keyword into its YouTube search bar, Keywordtool.io will provide you with suggested keywords, their search volume, how they've trended over the past 12 months, and questions, prepositions, and hashtags that also include your target keyword.
VidIQ – VidIQ will display your target keyword's related keywords, related score, search volume, search score, competition score, and overall score, which is a combination of a keyword's related score, search score, and competition score.
Bottom Line
Now it's your turn. Try adding some popular YouTube tags on your videos to attract more viewers. If you have any question or suggestion about it, please let us know via [email protected] or share it in the comments section below.