To watch YouTube videos on your computer, Android device, or iPhone, iPad, your device should meet the basic YouTube system requirements. In this post, we will show you the different system requirements on different devices. Besides, if you want to download some YouTube videos, you can use MiniTool Video Converter to do the job.
If your PC, Android, and iOS device don't meet the basic YouTube system requirements, you will be unable to watch YouTube videos successfully. Now, we will show you the system requirements for different devices.
YouTube Computer System Requirements
Basic System Requirements for PC
No matter which operating system you are using, you should make sure that you have the latest web browser, the newest OS, and a good network connection.
We suggest using a web browser like Google Chrome, Firefox, MS Edge, Safari, or Opera.
Your network connection should be at least 500 Kbps.
YouTube System Requirements for Watching Movies and TV Shows
If you use YouTube to watch some premium content like movies, TV shows, and live videos, the system requirements are much higher:
You should use the latest Google Chrome, Firefox, MS Edge, and Safari.
Your operating system should be Windows 7 or above, Mac OS X 10.7 or above, or Ubuntu 10 or above.
Your network connection should be at least 1 Mbps.
When you stream content on YouTube, you'd better click any other tabs, web browsers, as well as the unnecessary programs. Besides, you can use a wire network connection rather than a wireless one.
YouTube Bandwidth Requirements
The followings are the recommended internet speeds for watching different resolutions videos on YouTube:
| | |
| --- | --- |
| Video Resolution | Recommended Sustained Speed |
| 4K | 20 Mbps |
| HD 1080P | 5 Mbps |
| HD 720P | 2.5 Mbps |
| SD 480P | 1.1 Mbps |
| SD 360P | 0.7 Mbps |
YouTube Android System Requirements
YouTube Music System Requirements
If you want to use YouTube Music on your Android device, your Android phone or tablet should run Android version 4.4 or above.
YouTube VR System Requirements
The YouTube VR app is not available on iOS devices. But you can use it on your Android device.
YouTube VR is available in these countries and regions: Canada, Germany, the United Kingdom, and the United States. It can be used on an Android device that is running Android 7.1 or above. It is compatible with many viewers like the Daydream View headset, Google Cardboard, and HTC Vive. Daydream View headset is the best choice. Till now, the app is available on Daydream-ready phone and HTC Vive.
YouTube iPhone/iPad System Requirements
If you want to use YouTube Music on your iOS device, your iPhone or iPad should run iOS 7 or above. Of course, you should have a good network connection when you watch YouTube videos and listen to YouTube Music.
Bonus: Download YouTube Videos
If you want to watch YouTube videos offline, you can download them using a free YouTube video downloader: MiniTool Video Converter.
MiniTool Video ConverterClick to Download100%Clean & Safe
This software can download a YouTube video to MP4 and WebM. It can also download a YouTube video to an audio format like MP3 or WAV. It also supports different video resolutions including 8K, 5K, 4K, 1080P, etc. and audio qualities like 129 Kbps, 256 Kbps, and more.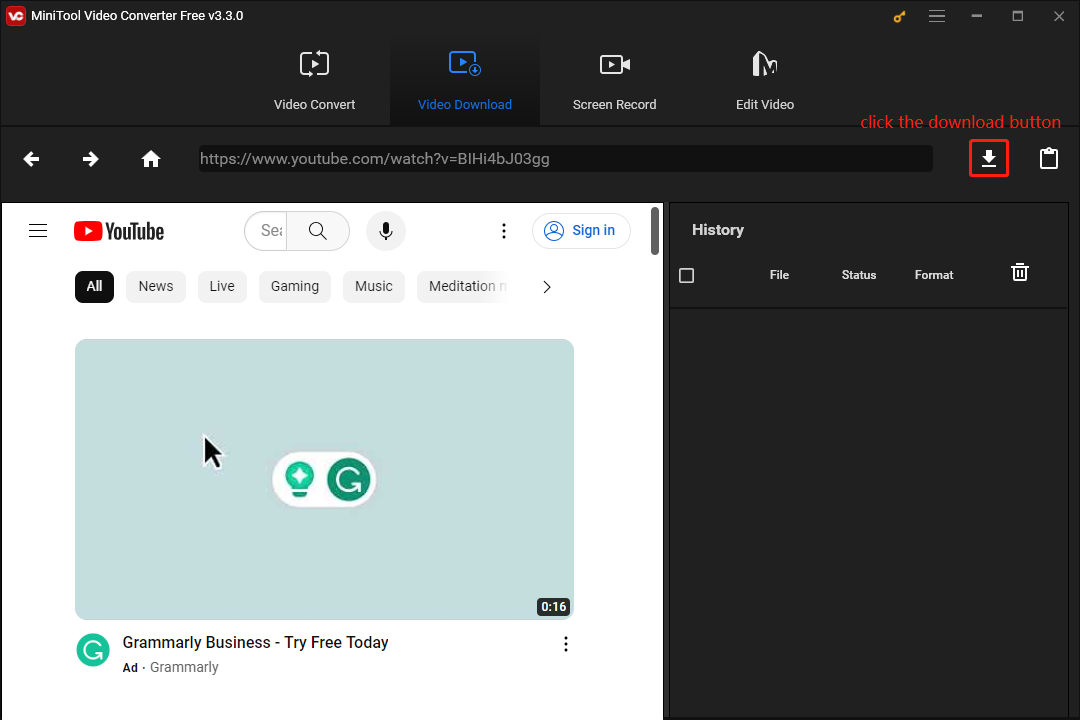 You can use this software to search for the videos you want to download and then select the target video to download. After clicking the download button, this software allows you to select the video resolution or audio quality you want to use.
Bottom Line
Reading here, you should know YouTube system requirements for computers, Android devices, and iPhones/iPads. You also get a useful tool to download YouTube videos to your computer for free. Should you have any related issues, you can let us know in the comment.