YouTube Super Thanks, previously known as Viewer Applause, is a way for viewers to support content creators and their content. Do you know how to use the YouTube Super Thanks feature as both a creator and viewer? Keep on reading, you can find the answers in this post.
With the competition for creator monetization heating up, YouTube has announced an expansion of the YouTube Super Thanks monetization option, which enables creators to utilize the additional viewer donation feature. The following parts will introduce you to what is Super Thanks exactly.
If you also looking for a free and safe tool to download YouTube videos for offline watching, you can try MiniTool uTube Downloader.
What Is YouTube Super Thanks?
Last year, YouTube a new feature named Super Thanks in beta form. It was a way for some creators to earn money on YouTube. Now, the platform is expanding YouTube Super Thanks to creators in over 68 different countries.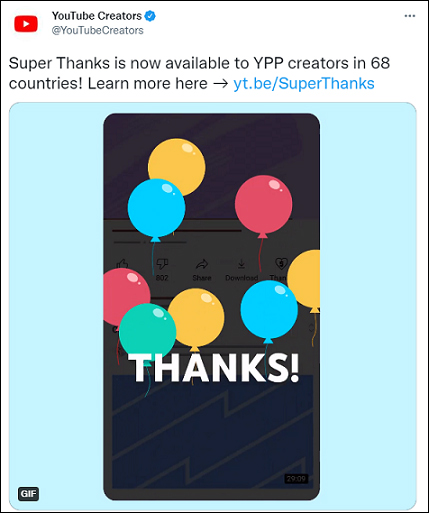 YouTube Super Thanks enables users to make quick donations to their favorite creators in the app for individual uploaded videos. When you buy Super Thanks to a video (which costs between $2 and $50), an animated GIF will be displayed right on the channel's video. In addition, an automated 'Thanks!' comment is also added to the comment stream, with a distinctive color to signify the donation.
The cost of a Super Thanks is fully up to the viewers. Creators keep 70% of the amount a viewer chooses to contribute.
Now, the feature is being rolled out to many creators to implement on their channels. Cannot wait to use this feature? Let's figure out the YouTube Super Thanks eligibility below.
Who Can Use Super Thanks?
YouTube Super Thanks is available for eligible creators in the YouTube Partner Program. If your channel is monetized and you are in one of the available locations, you can activate Super Thanks. In other words, if you can run ads on your channel and earn money from them, you can enable Super Thanks.
Also read: How Do I Get 4000 Hours on YouTube to Monetize the Channel?
How to Use YouTube Super Thanks?
In this part, we will break things down on how to use it for both viewers and creators.
Give YouTube Super Thanks as a viewer:
Open and watch any YouTube video on the app, you can see the option on any video page right below the title beside the thumbs up, dislike, and share buttons. The option says THANKS and shows a little heart with a money sign symbol.
Click the THANKS option, write in your comment, and choose just how much you want to give.
YouTube currently offers 4 different options: $2, $5, $10, and $50. Each one will provide a different color highlight to your comment so it stands out as a Super Thanks comment.
Activate YouTube Super Thanks as a creator:
The channel that's monetized via the YouTube Partner Program and located in one of YouTube's approved locations for this process to work. Note that creators need to turn the feature on. Super Thanks is turned off by default. Activating Super Thanks is easy and only takes a few steps.
1. Go to YouTube Studio on desktop and select Monetization from the left-hand navigation menu.

2. At the top of the Channel monetization page, click the Supers tab.
3. Just tap on the Super Thanks slider to turn the feature on.
Note that the Super Thanks revenue is shared with YouTube. Creators receive 70 percent of the Super Thanks total via Adsense, just like they would with YouTube's ad revenue share or YouTube's other monetization features.
In addition to Super Thanks, YouTube also has other monetization features available to channels and creators. For live streams, Super Chats are available for those donating, which highlight the comment and show support. If viewers don't want to leave a comment, YouTube also has Super Stickers for purchase, with proceeds going to the channel.
Conclusion
In this post, we introduced what is YouTube Super Thanks, YouTube Thanks eligibility, and how to use it for both viewers and creators. Just give your Super Thanks to your favorite channel or activate Super Thanks and receive from your fans!