In order to better compete with Spotify and others, YouTube Music is preparing to launch three new playlists: Discover Mix, New Release Mix and Your Mix. Admittedly, they sound remarkably similar to Spotify's offerings. Try MiniTool software to download your favorite YouTube playlists.
At TechCrunch Disrupt SF 2019, Chief Product Officer of YouTube, Neal Mohan announced that YouTube Music is preparing to launch three new personalized YouTube music playlists - Discover Mix, New Release Mix and Your Mix.
"Our YouTube Music app has been out now for a couple of years, and we've launched the YouTube Premium service and the app in 71 different countries," noted Mohan. "And as we've rolled it out, we've gotten lots of feedback from our users about what they'd love to see," he continued. "And one of the things that they tell us repeatedly is, they love the fact that, through a combination of things like machine learning and human beings that are music lovers, we put all this great music in front of our users in the YouTube Music app," he said. 
Discover Mix is YouTube Music's version of Spotify's Discover Weekly. It began making the rounds in September but was only available to a few users. The other two hadn't yet launched. According to Mohan, the Discover Mix will focus on helping you uncover new artists and music you might like, including tracks from artists you have never listened to before as well as lesser-known tracks from artists you already love.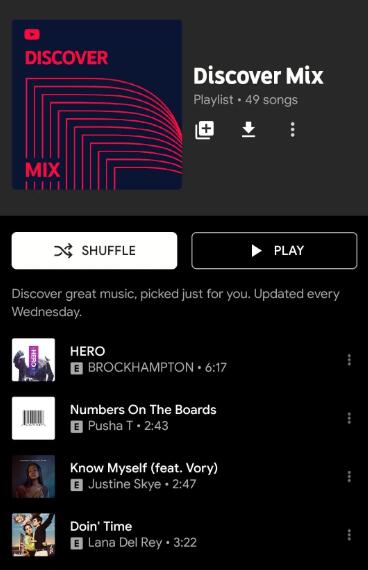 New Release Mix, meanwhile, is YouTube Music's version of Spotify's Your Release Radar, and it features the latest release from your favorite artists. 
Finally, Your Mix is a playlist based on your listening habits and combines the music you love with songs you haven't heard yet but will probably like. 
According to TechCrunch, all three playlists are scheduled to launch later this month but the exact date is uncertain. Once they are launched, they'll be updated weekly and available to all users worldwide. And they'll be found on the "Mixed for You" shelf on the home screen, or by searching in the YouTube Music app.
YouTube Music may not have the 100 million paid-subscribers that Spotify does, but the recent announcement that YouTube Music will be preinstalled on Android 10 will certainly give it a boost. Plus, users can now listen to YouTube Music on Google Home speakers and Waze. And YouTube Music has added some helpful features, like allowing Premium subscribers to automatically download their favorite songs for offline listening.
How to Make a Playlist on YouTube Music
Following the guidelines below, making a new YouTube music playlist will be very easy.
Step 1. Open the YouTube Music app on your mobile device. 
Step 2. Find out a song that you want to add to your new playlist. 
Step 3. Play the song and click the three-dot menu icon on the screen.
Step 4. Select Add to playlist and then tap on Create new playlist, because you are going to learn how to make a playlist on YouTube Music.
Step5. Type in the name of your new playlist and set up Privacy.
Public: Searchable by all users on YouTube.
Unlisted: Anyone with the direct link can access and watch it.
Private: Only you can access and watch it.
Now your new YouTube music playlist has been created, and you can add other songs into this playlist. If you want to make a new playlist on YouTube not YouTube Music, please refer to this post: How to Make a Playlist on YouTube – Just Several Steps.
Bottom Line
Are you looking forward to the upcoming three YouTube music playlists? Hope them give you a better user experience. If you have any question about it, please let us know via [email protected] or share it in the comments section below.