Nowadays, plenty of live streaming platforms emerges. There are two big live-streaming platforms, YouTube Live and Twitch, but which live streaming service is best? This post will introduce you YouTube Live and Twitch and help you find a suitable one to stream a video.
YouTube Live
YouTube, the biggest video-sharing platform, has over 2 billion active users monthly. In 2009, YouTube did early experiments with live-streaming. In 2011, YouTube rolled out YouTube Live with a portal page "www.youtube.com/live". It was used for broadcasting real-time events such as the 2012 Olympics in London.
You can create wonderful videos by MiniTool software – MiniTool Movie Maker.
Now, YouTube Live has over 10 million subscribers. In this channel, you can not only watch live gaming, live music, live news, live sports and recent streaming recordings, but also watch mobile live streams on the computer.
In addition, YouTube Live allows YouTube creators to stream from the official mobile app. But mobile users need more than 1000 subscribers, then they can start live streaming. If you don't have enough subscribers to stream from your mobile device, there's still hope, you can go live on your computer.
Going live on YouTube, you can get 70% of donation on Super Chat. Moreover, YouTube takes 30% of membership fees.
Want to know how to go live on YouTube, read this post: How to Do YouTube Live Using a Computer or Mobile Phone.
Pros
You can rewind streams when you miss the first part of live.
Streams will be saved automatically after they finish.
You can watch mobile live streams on the computer.
It allows you to stream from a mobile device.
Cons
You need at least 1000 subscribers to go live on your mobile phone.
It doesn't support the Xbox
Twitch
Twitch is a live streaming platform that launched in 2011 and owned by Twitch Interactive, a subsidiary of Amazon. It mainly focuses on video gaming live streaming, in addition to creative content, music broadcasts, etc. By 2015, Twitch had more than 100 million viewers monthly. Undoubtedly, twitch is the undisputed king of live streaming platforms.
Now, Twitch has over 15 million active users every day. Users can stream to Twitch from all operating systems, PC, Mac, and Linux. Besides, users are able to stream from their mobile devices and video game consoles.
Streamers can get $2.5 per subscriber on Twitch. When it comes to donations, Twitch takes 0%, that is to say, streamers can get 100% of donation money.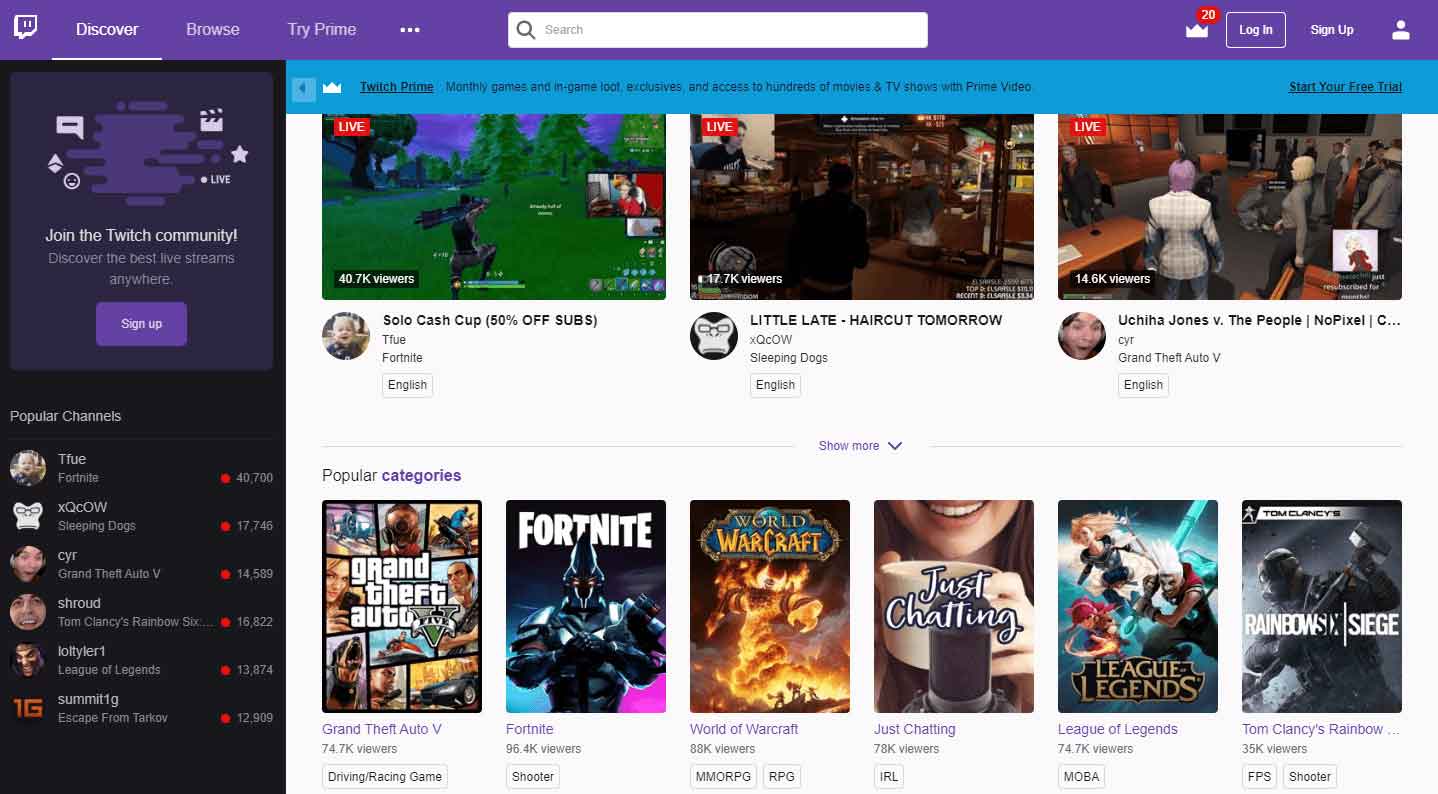 Pros
It supports all platforms.
Amazon Prime users get a free channel subscription per month.
Cons
Twitch is a gaming-focused live streaming platform.
Do you want to save your streams, this post might help you: 4 Best Free Streaming Video Recorders for 2019.
YouTube Live VS Twitch: Which Platform Is Best
YouTube Live and Twitch are two different live streaming platforms. YouTube Live is a comprehensive live streaming platform, you can stream not only games but also sports. However, Twitch mainly focuses on live game. Almost all the biggest esports players stream on Twitch.
If you already have more than 1000 subscribers on YouTube, then it definitely is a good place for you. If you're looking for a place to stream game, the game-focused platform Twitch might be for you.
Conclusion
All in all, YouTube Live and Twitch both are the best live streaming platforms. Which platform do you prefer? If you have any question about YouTube Live and Twitch, please contact us [email protected] or leave a comment below.