Are you trying to get YouTube HDR? This post from MiniTool can provide you with some ideas. It shows you some examples like nature & landscape videos, original shorts and animation, scenes from movies and TV shows and gameplay video.
What is HDR video? If you are not familiar with HDR, it is a video format with extended contrast that makes color more accurate and dynamic than standard dynamic range or SDR video.
HDR video has been around for a while. As 4K TVs and 4K UHD Blu-Rays became more popular, more devices began to support this video format. Unfortunately, if the video is shot in 4K, that doesn't mean it's also HDR. Thus, this makes it difficult to find HDR, especially free one.
That's where YouTube comes in. Let's start to find YouTube HDR.
How to Find YouTube HDR?
There's a fair amount of free HDR content available on YouTube, but it's not easy to find because you can't search specifically for YouTube HDR.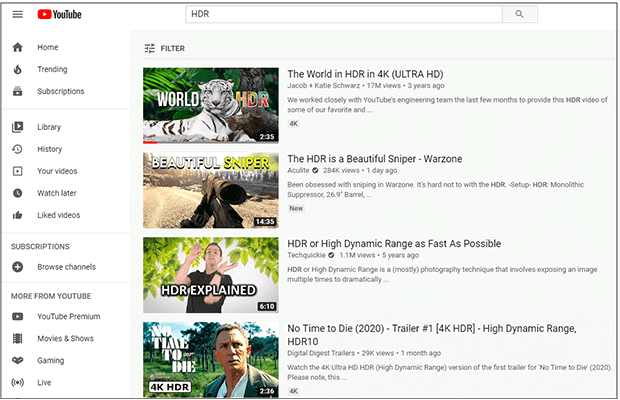 Right now, the best thing you can do is add "4K HDR", "HDR" or even just "UHD" or "4K" to your search terms. Some videos will flag HDR if they're, but that's not always true.
Read also: The Top 10 Best 4K YouTube Downloaders – Review.
If you want to check if the video is really HDR, you need to open the video options while watching YouTube on the device that HDR supports. Click the "quality" tab to display a list of resolution formats and FPS options. If they contain "HDR", then they are legit.
Although it is difficult to find HDR, there is more than enough content to make it easy to find YouTube HDR.
So, the following part will show some of the most popular HDR channels and videos, so that you can spend less time searching and more time enjoying the colors. At the same time, you can also check out the official 4K HDR channel that help curate and highlight excellent HDRs uploaded by YouTube users.
Nature and Landscape Videos
There are few things that show the remarkable difference that HDR makes like a beautiful landscape or sunset. Thus, it is always a good start to see some excellent nature-based examples.
You may also enjoy the sound of nature. Read this post: Get the Sound of Nature on YouTube from These 7 Channels!.
If you want to get the best source for exquisite nature shots on YouTube, you probably need travel documentarians Katie Schwarz and Jacob. Their professionally shot and edited videos have attracted millions of views.
Here are some highlights: Native American Fancy War Dance, Peru and Yellowstone National Park. You can find more beautiful nature shots on their YouTube channel – Jacob + Katie Schwarz.
There are nature and landscape videos offered by other channels.
Transient from Dustin Farrell shows a spectacular lightning storm. You can enjoy the flashes of lighting crackle with light and color and the wide and subtle contrast capabilities of HDR.
FLYING OVER NORWAY from Nature Relaxation Films is an hour-long video of drone-shot landscape footage. In addition to Norway, this channel also has many wonderful landscapes in other countries or places.
Original Shorts and Animation
There are a lot of talented independent creators on YouTube, so you can also find some creative HDR short films, animations, and documentaries here. Below are some brilliant examples.
Cosmos Laundromat from The HDR Channel is a surreal animated short. It is created as a free Creative Commons project by 3D modeling software studio Blender. In addition to excellent HDR effects, the video also has great animation.
Legend of Solorzano from Abandon Visuals is an HDR clip from the Abandon Visuals studio. This is a short documentary about Eric Solorzano, the world-famous Volkswagen Bug racer. He competed in the Baja 1000, whose desert driving scenes are really popular on HDR displays, like a real-life mad Max.
Scenes from Movies and TV Shows
YouTube channels like 4K Movie Clips and 4K HDR Media offer you 4K HDR quality scenes from movies and TV shows. Be warned, though, that both channels have a lot to spoilers.
Gameplay Videos
In fact, it's easy to find HDR-quality game clips on YouTube because players can record them on their high-end PC graphics cards, Xbox One X or PlayStation 4 Pro. Here are some YouTube HDR gameplay featuring colorful and flashy visual experience.
Forza Horizon 4 [Xbox One X] Playthrough from Techman Video Game Archives
SPIDERMAN (PS4 Pro) 4K HDR Gameplay from RajmanGaming HD
Chapter 6. The Gatekeeper – Uncharted: The Lost Legacy from TechNoZen Gaming
Final Fantasy 15: Xbox One X vs PlayStation 4 Pro from Digital Foundry
Bottom Line
To sum up, this post has shown some great YouTube HDR contents and you can enjoy them right now. At the same time, hope this article has given you some ideas on how to find HDR.