YouTube Clip is currently under testing and is available to YouTube creators to make and share 5-60 second clips from videos. In this post, we are going to show you how to take a clip from a YouTube video using YouTube Clip or other third-party tools, such as MiniTool uTube Downloader.
YouTube New Clip Feature
Considering that YouTube creators and viewers are looking for an easy way to capture and share wonderful moments in videos or video streams, YouTube is currently testing a new feature – Clip.
The YouTube segment captured by this tool will be played on the original video in a repeating loop. After deleting the original content, the clip will be deleted as well. Besides, YouTube Clip is currently available on desktop and Android devices, with iOS devices coming soon.
How to Use YouTube Clip to Take Clips from YouTube?
Step 1. Open the target YouTube video.
Step 2. Click the CLIP button beneath the video.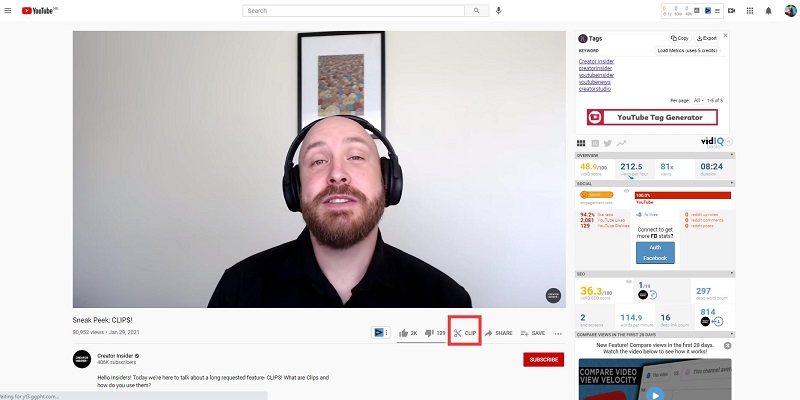 Step 3. Add a title to the clip you are going to create, which has a maximum of 140 characters.
Step 4. Drag the slider to select a portion of the video that you want to clip, up to 60 seconds.
Step 5. The clip will be played on the original video and loop repeatedly.
Step 6. Click Share Clip to embed it, upload it to social platforms, or just copy the URL.
Note:
If you want to practice taking a clip from a YouTube video, click
here
.
Other Ways to Take a Clip from a YouTube Video
YouTube Clip has not been officially released. So, how to take a clip from a video now? Continue to read!
1. MiniTool uTube Downloader
MiniTool uTube Downloader is a free and no ads YouTube downloader. With it, you can easily download YouTube videos, audio tracks, playlists, as well as subtitles. In addition, it also allows you to record all activities that occur on the computer screen. Now, download and launch it on your PC.
MiniTool uTube DownloaderClick to Download100%Clean & Safe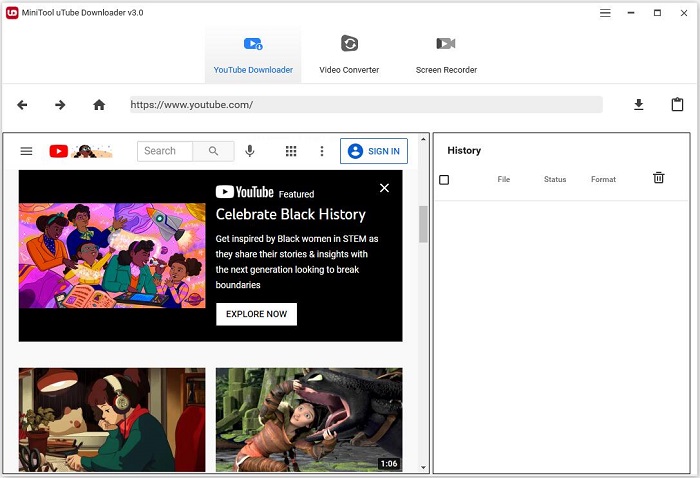 Option 1. Download a YouTube video and take a clip from it
Go to the YouTube Downloader tab.
Paste the video URL in the search bar and then click the Download icon.
Choose your preferred video format and resolution, and then click the DOWNLOAD button.
In the History section, Click Navigate to file to check the downloaded YouTube video.
Now, you can use a professional video editor to take clips from YouTube.
Note: Downloading YouTube content may involve copyright issues, please confirm that the resources you want to download are legal.
Option 2. Record a segment from a YouTube video
Switch to the Screen Record tab.
Click anywhere in the dotted box.
Open the Full screen dropdown list to select the area to be recorded.
Turn on System Audio.
Play the YouTube video on your web browser.
When the video reaches the segment you want to capture, press the Record icon or press F6 to start recording.
Once the clip you want is captured, press F6 to stop recording.
2. Take a Clip from a YouTube Video Online
Kapwing is a popular online platform for processing videos, GIFs, and images. With it, you don't need to download the entire YouTube video to get the desired segment.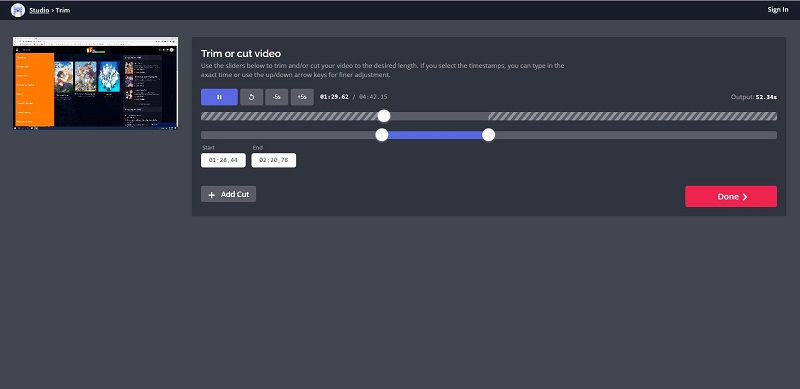 Navigate to kawping.com on your web browser.
Click the Tools tab to select Trim Video.
Paste the YouTube video URL to get started.
The program will analyze the link and fetch the video.
Use the slider to trim the unwanted frames, or you can type in the exact start time and end time.
Click Done to save your changes.
Tap on Export Video to download the YouTube clip.
Tip: Use the up/down arrow keys for finer adjustment.
Also read: How to Clip a YouTube Video?
Bottom Line
It is believed that YouTube Clip will be officially released soon. Then you can easily share the highlights in YouTube videos with friends or family. If you have any questions or suggestions about MiniTool uTube Downloader, please let us know via [email protected] or share them in the comments section below.