Each YouTube channel has a unique user ID and channel ID. These ID are used to reference channels in certain applications and services. This post explains what YouTube channel ID is used for and how to get and find your YouTube channel ID. By the way, if you want to download YouTube videos or audios, you can try MiniTool uTube Downloader.
What Is YouTube Channel ID?
The YouTube channel ID is a unique identifier of the YouTube channel. This ID can be used in social applications or services to display YouTube information or feeds.
The main purpose of YouTube channel ID is to display the YouTube video subscription bar. YouTube creators want to get more subscribers, so they will add a YouTube video subscription bar at the bottom of the video. This is allowed by the video element.
To add this subscription bar on your videos, first you need to associate the subscribe button with the video channel on YouTube. More importantly, you need to fill your YouTube channel ID in the box of Edit Video. This is to connect your YouTube account. If you ignore this, the subscription bar will not display in your video.
Note: The user ID and channel ID can be very similar. Your YouTube channel ID is UC + your YouTube user ID.
How Do You Find Your YouTube Channel ID?
Sometimes you have to use your YouTube channel ID. How do you find your YouTube channel ID? You can follow the steps.
Step 1: Open one browser and go to the website. And sign in to YouTube.
Step 2: Click your profile picture in the upper-right corner. From the menu, select Settings.
Step 3: From the left menu, select Advanced settings.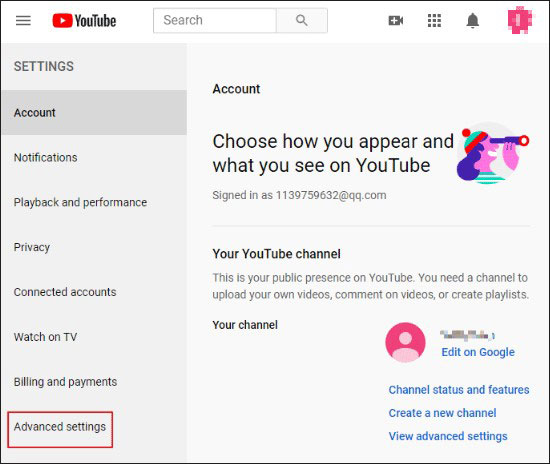 Step 4: Once Advanced settings opens, you will see your YouTube channel ID. Then you can copy and paste it where you need it.
Type your YouTube username in the search bar and YouTube will search for related channels.
Enter a YouTube video URL to get the channel ID from the YouTube channel that posted the video.
Note: Sometimes YouTube might find fail to find the correct channels, in that case, please try to follow the 4-step process above.
What's more, you can also get and find your YouTube user ID with the 4-step process above. Sometimes you also need to use it.
Bottom Line
After reading this article, you should know what YouTube channel ID is and how to find your channel ID using the 4-step process. Hope it can be helpful to you. If you still have some doubts about YouTube channel ID, please leave them in the following comment zone and we will reply to you as soon as possible.