If you are looking for a vlogging camera, this article can help you. It will offer you top 5 vlogging cameras. Go through the list given by this article, you will find a suitable camera. After that, you can start to do vlogs. Hope this article is helpful to you.
We've introduced how to start a vlog on our website and you can also get more tips by downloading some vlogs from YouTube with MiniTool uTube Downloader. In this article, you will find exactly the right vlogging camera.
Best Vlogging Cameras in 2020
Are you searching for the best camera for vlogging you can buy? There are several factors to keep in mind.
You'll need a camera that's portable enough to carry around all day, powerful enough to reliably capture high-quality footage, and comes with several key features to ensure good results. You may also need external microphone inputs, articulating screens and great connectivity. 
#1: Olympus OM-D E-M5 Mark III
Olympus OM-D E-M5 Mark III has the retro shell, but it is a top-spec vlogging camera that provides the ultimate combination of stable image quality, lightweight builds and a comprehensive feature set.
The grip may be larger, but the polycarbonate construction shavers 50g of metal-bodied predecessor, making it a camera that you can easily keep all day long.
The 2.04MP Four Thirds sensor shared with the professional-grade E-M1 Mark II provides reliable continuous tracking courtesy of on-chip phase detection autofocus. Meanwhile, handheld lenses are usually very smooth because of first-class image stabilization technology.
The choice of shoot Cinema 4K at 24fps and 237Mbps bit rates is very impressive. With lovely color reproduction and good detail, its regular 4K footage 30Fps are excellent. Full HD up to 120fps completes a full video offering.
Touch-screens with variable angles also make it easy to shoot scenes, while a healthy Olympus catalog opens up plenty of creative avenues.
It doesn't have a headphone jack, which might bore some photographers, but it has a popular external microphone jack. It is a little expensive, but it's hard to beat as a complete vlogging package.
#2: Sony ZV-1
For a long time, the Canon G7 X Mark III was the best compact vlogging camera, but it has just been replaced by the excellent SONY ZV-1. The ZV-1 combines all the advantages of SONY's RX100 series to really capture what most vloggers and YouTubers want from a small vlogging camera.
SONY's latest Real-time tracking and Eye AF are the best, and the ZV-1 has great depth for a compact camera, including built-in ND filter and profiles for those who want to embrace color grading. Olympus OM-D E-M5 Mark III has better stability and image quality, but you won't find a better pocket vlogging camera than SONY ZV-1.
#3: Canon PowerShot G7 X Mark III
Canon's G7X range has long been popular with vloggers, and Canon has kicked it up a notch with the Mark III.
It has a very powerful 20.1MP one-inch sensor, but now it's also equipped with uncropped 4K video recording and a microphone socket. This means you can raise your voice out of range of the internal microphone if you want to.
Even better, the G7X III can stream directly to YouTube, so you can live vlog of anything happening around you without having to downgrade to a smartphone. This is an advantage over the Sony ZV-1. With USB charging, you can charge it while it's running.
The G7X Mark III has only contrast detection-only AF and a more limited tilting screen. That's why it was bumped to the bottom of the list by the SONY ZV-1, but it's also more affordable and still worth considering if you need a pocket vlogging camera.
#4: Sony A6400
SONY A6400 is popular with vloggers. Its max movie resolution is 4K, and it support for S-log3 and S-log2. With 4K HDR (HLG) instant playback and SONY's Imaging Edge Mobile app, it's possible to transfer video to your smartphone.
With a flip-up 16:9 touchscreen, front-on framing is simple. The A6400's advanced autofocus system also provides first-class theme tracking.
However, the port options will put off some vloggers. Like the previous 6300, the A6400 has microphone input but no headphone jack. Many people don't monitor audio while recording, but if you enjoy interviews, it's worth noting.
There's no in-body image stabilization either, and many Of SONY's prime lenses don't this feature. If you use a tripod or go for that handheld aesthetic, it's not a problem.
#5: Canon EOS M6 Mark II
Canon is really good at designing vlogging cameras, and several of its video cameras make the list because of its range of excellent features and options.
Canon EOS Mark II is the latest version of its M-series compact system camera, small and light enough to be a great travel companion. In its miniature body, it has the same 32.5MP high-resolution sensor as a Canon EOS 90D.
With Dual Pixel CMOS AF and uncropped 4K video recording, it's a device you can use to kick your vlogs up a gear. It has a microphone input socket and a forward-facing screen for a perfectly framing.
Comparison
Here is the comparison of these 5 vlogging cameras.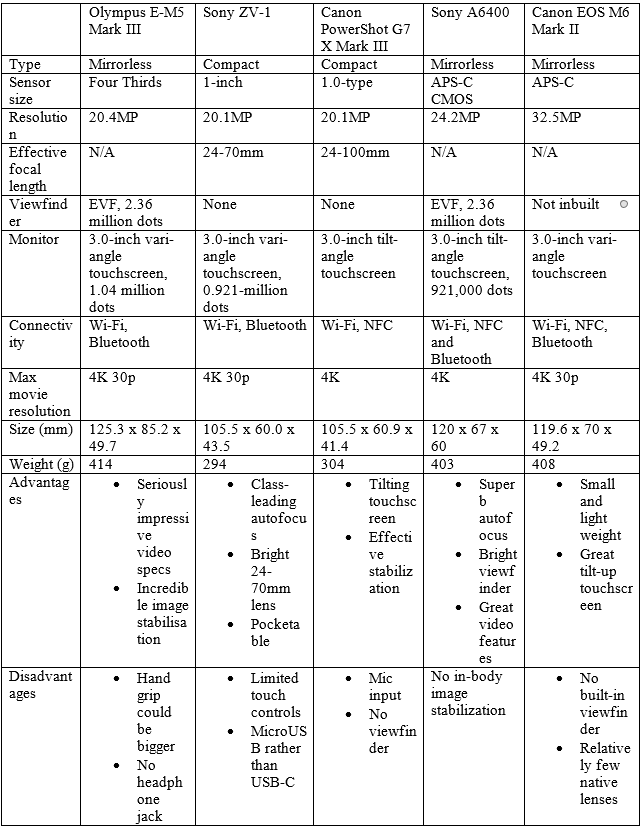 Bottom Line
If you want to post vlogs on YouTube, you need a vlogging camera firstly. After reading this article, you may find the best YouTube camera from these top 5 vlogging cameras.