As we all know, there is no option on the official Twitch website for downloading clips and videos from the platform. Therefore, you need a useful Twitch video downloader to easily download your favorite videos and clips and watch them offline on your device.
Twitch is an online streaming platform developed for the purpose of watching and streaming digital broadcasts, but it doesn't offer the download feature. Therefore, this post lists a few easy-to-use Twitch video downloaders. If you want to download YouTube videos, try MiniTool uTube Downloader released by MiniTool.
Twitch Leecher – Desktop
Twitch Leecher, a free Twitch video downloader with an easy-to-use interface, ensures that videos and clips can be downloaded from Twitch. It provides many excellent features, including the ability to search for channel names, and then it provides you with video links. With this feature, you can view available broadcasts and uploads. More importantly, using this app to download large videos is quite fast.
Twitch Online Downloader – Online
As a URL downloader, Twitch Online Downloader can download Twitch clips and videos using their URLs. Meanwhile, it supports numerous conversion formats, including MP4, WEBM, MOV, and other video formats. It can also export videos to MP3, AAC, M4A, and more audio formats. Whether you are using Mac or Windows, this tool can help you download Twitch videos online in your desired format.
How to Convert FLV to MP3 Free and Quickly
DownloadHelper – Plugin
DownloadHelper is an excellent Twitch video downloader that works for downloading videos from different video streaming sites, like Twitch, Vimeo, Dailymotion, etc. You can integrate this plugin on your Chrome or Firefox browser and download Twitch videos easily. Although this tool supports downloading HD videos, you can only download MP4 videos online.
4Vid Video Downloader – Android
4Vid Video Downloader is a free and reliable app that can download Twitch videos on Android. It can also help you download videos from Instagram, YouTube, Facebook, and VK using video links. However, 4Vid Video Downloader now has a download limit, while 4Vid Pro does not. The professional version costs $0.99 and you can find it in the Google Play store.
VLC – iOS
VLC for iOS is the perfect Twitch video downloader for iPhone. It has many features that are not found in other similar programs. As a media player, it can play all videos, movies and shows in most types without conversion. However, very few VLC users know the app can also download videos, which includes downloading Twitch videos and clips. You can get it in the App store.
VLC Alternatives? The Best Alternatives to VLC 2019 for Mac/Windows
Bonus – Download Twitch Video Directly
In default, the validity period to save Twitch videos is 14 days to 60 days. However, there is an amazing feature that allows you to download your own broadcasts and keeping them forever. Remember that this feature only applies for downloading your own videos.
Step 1. Navigate to the Twitch website, click your profile icon at the upper right corner and select Settings from the drop-down menu.
Step 2. Switch tab to Channel & Videos and scroll down the page to find out CHANNEL SETTINGS.
Step 3. Check the box – Automatically archive my broadcasts.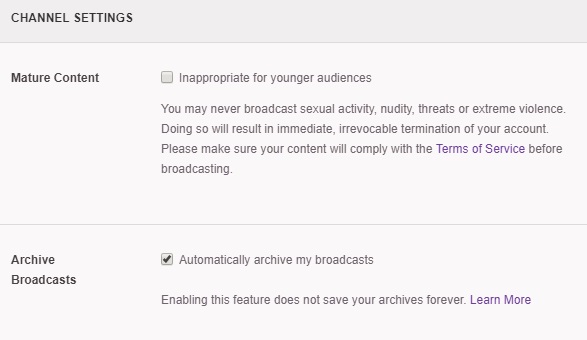 Step 4. Now, go back to the homepage of the website and click on your profile icon again.
Step 5. Choose the Video Producer section to view your video library. Accompanied with each thumbnail is a download link. Tap on the Download button next to the video that you want to save and then it will be saved on your computer automatically.
Bottom Line
All these Twitch video downloaders listed can meet your requirements. You just need to choose the right tool that suits your device and needs. If you have any questions or suggestions about it, please let us know via [email protected] or share them in the comments section below.