When uploading videos on YouTube, you may encounter an error message saying: The server has rejected the file. In this post, we will show you how to get rid of this issue in different ways. Besides, if you want to download YouTube videos, you can try MiniTool uTube Downloader.
The Server Has Rejected the File
Sometimes, when using YouTube to download videos, you may receive an error saying: he server has rejected the file, please follow these steps and upload the file again. This post will give you some ways about how to solve this issue.

How to Fix the Server Has Rejected the File on YouTube?
Try again in another day
Upload the video again
Try another browser
Avoid to upload the same video again
Upload a YouTube supported video type
Use the regular internet service provider
Edit the Video and upload again
Solution 1: Try Again in Another Day
You may encounter this error message because you upload too many videos at one time that day. So YouTube will randomly reject your uploads until next day. You can try again in another day.
Solution 2: Upload the Video Again
It is common for YouTube to experience technical issues in videos uploading. You can upload the same video again and see if the issue disappears.
Solution 3: Try Another Browser
Maybe your browser doesn't work, so you can try another web browser. Google Chrome should be the best choice.
Solution 4: Avoid to Upload the Same Video Again
YouTube will detect and reject a video you've already uploaded, so avoid to upload a duplicated YouTube video.
Solution 5: Upload a YouTube Supported Video Type
You can use a YouTube supported video type. Then YouTube can accept your request of video uploading. Here are several YouTube supported file types:
MP4
WebM
MPEG
WMV
FLV
Solution 6: Use the Regular Internet Service Provider
If you are using VPN or proxy, you'd better upload the YouTube file behind your Regular Internet services.
Solution 7: Edit the Video and Upload Again
Sometimes, YouTube's security algorithms doubt that you are uploading a spammy or illegal video. You can edit the video, like adding a few seconds to this video to make YouTube believe that you upload a different video in second time.
After using these ways above, YouTube server rejected file error should disappear.
Tip: How to Download YouTube Videos?
If you want to download YouTube videos with a professional YouTube video downloader, MiniTool uTube Downloader is a good choice.
MiniTool uTube Downloader is the best free, no ads, and no bundle YouTube video downloader. It also provides you with different video resolution options. You can download YouTube videos, audios, playlists, as well as subtitles with MiniTool uTube Downloader.
MiniTool Youtube DownloaderClick to Download100%Free & Clean
Here I will tell you how to use this software to download a video or an audio:
1. Open this software.
2. Paste the link of the video or audio which you want to download to searchbox. Then click the download icon which is on the topleft corner of this software's interface.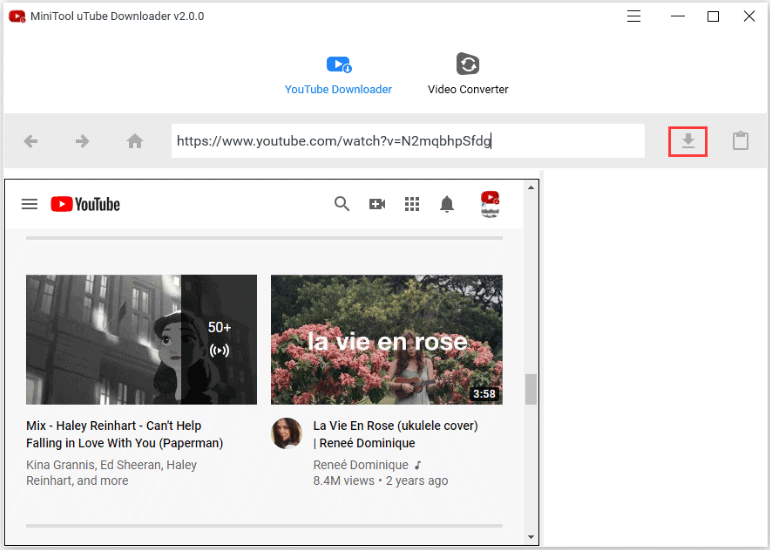 3. Select your needed video or audio format, such as MP4, MP3, WebM and wav.
4. Choose the subtitle if available.
5. Click the DOWNLOAD button.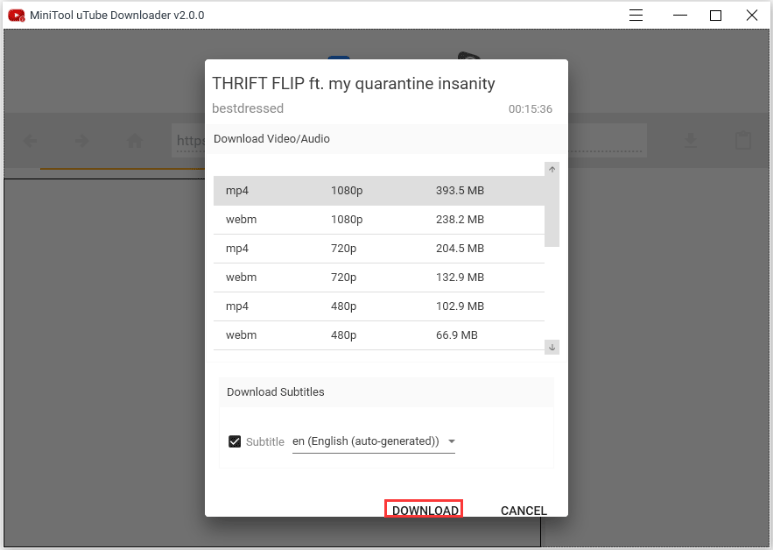 6. Choose one place in your computer to save the video or audio.
Bottom Line
Those are the solutions to YouTube the server has rejected the file. We hope those solutions will be very useful for you. Should you have any related issues, you can let us know in the comment.