You may have heard sub4sub. What is it? Sub4sub or sub for sub is the abbreviation for subscribers for subscribers. If you want to try sub4sub to boost your subscriber counts but worry about its legality, this post is what you need. Scroll down to start reading.
YouTube Sub4sub
When you search for ways for boosting subscriber counts on the internet, sub4sub may is one of the ways. What is sub4sub?
Sub4sub is also called sub for sub. It is the abbreviation of subscribers for subscribers. More clearly, sub4sub means "You subscribe to my channel, I'll subscribe to your channel back". So, sub4sub is a means of increasing subscribe counts.
There are two main questions around sub for sub. They are:
Does sub4sub work?
Is sub4sub legal?
Keep reading to see the answers.
Having a large number of subscribers contributes to many benefits: more views, more money, or more. YouTubers can get more subscribers quickly using sub4sub. It seems that sub4sub is a great boon for YouTubers who want to get more subscribers easily.
But the truth is that it is not the right way to get easily subscribers. People who subscribe to your channel through sub4sub usually won't watch your videos, so there is no view increased. Moreover, sub4sub is not allowed. YouTubers who utilize sub4sub may be in trouble: losing subscriber numbers, receiving a Term of Users strike, or even having their channel terminated.
Other services that attempt to increase subscriber numbers through automated means also violate YouTube's Terms of Service.
YouTube has a clear stipulation:
cause or encourage any inaccurate measurements of genuine user engagement with the Service, including by paying people or providing them with incentives to increase a video's views, likes, or dislikes, or to increase a channel's subscribers, or otherwise manipulate metrics in any manner.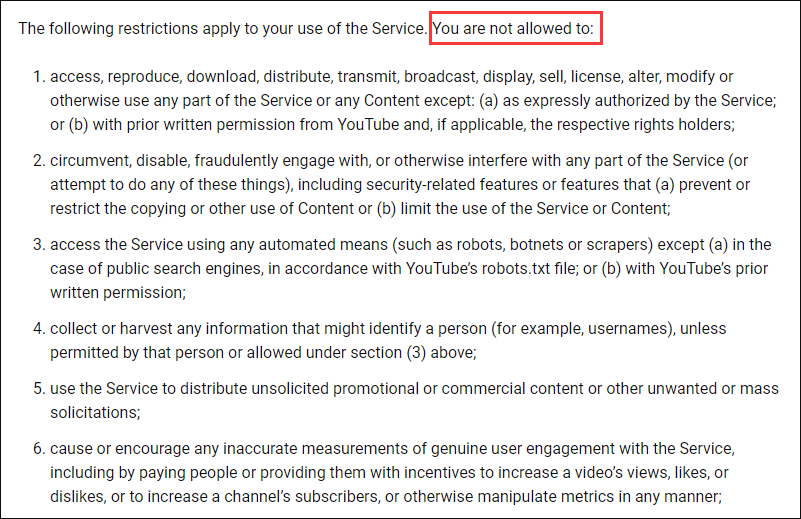 So, it is not recommended that you use sub4sub to boost your subscriber counts. If you want to know how to boost subscriber numbers legally, please keep reading.
How to Boost Subscriber Numbers Legally?
There are many safe and effective ways to boost your real subscriber numbers. They are:
Generate highly engaging content.
Optimize your YouTube videos.
Optimize your channel homepage.
Create a channel trailer.
Add a subscribe button to your videos.
Convert searchers to subscribers with playlists.
Cross prompt your YouTube channel.
…
Try these ways to boost your subscriber counts. The details of these ways are displayed in 8 Simple Ways to Increase YouTube Subscribers in 2020 (Guide).
Bottom Line
Although using sub4sub can help you boost subscriber counts easily and quickly, this may put you in danger. There are many ways to boost subscriber counts. Try them.