YouTube notifications allow you to set YouTube to choose when and how to be notified. At the same time, you can also make some special setting on your YouTube subscriptions. How to turn off YouTube notifications or how to manage YouTube notifications? This MiniTool post is helpful.
In this post, we will tell you how to manage YouTube notifications based on your requirements. The managements contain the operations on your own comments and activities, as well as your channel subscriptions. You will know how to turn on/off YouTube notifications after reading this post.
General Managements on YouTube Notifications
First, you need to open the YouTube notifications. You need to go to YouTube via web browser and then log in to your account. After that, you can click the Notifications bell that is in the top-right corner of the interface and then click the Gear icon to go to YouTube notifications settings.

The first part of the YouTube notifications settings is General. You can manage your mobile and desktop YouTube notifications in this part.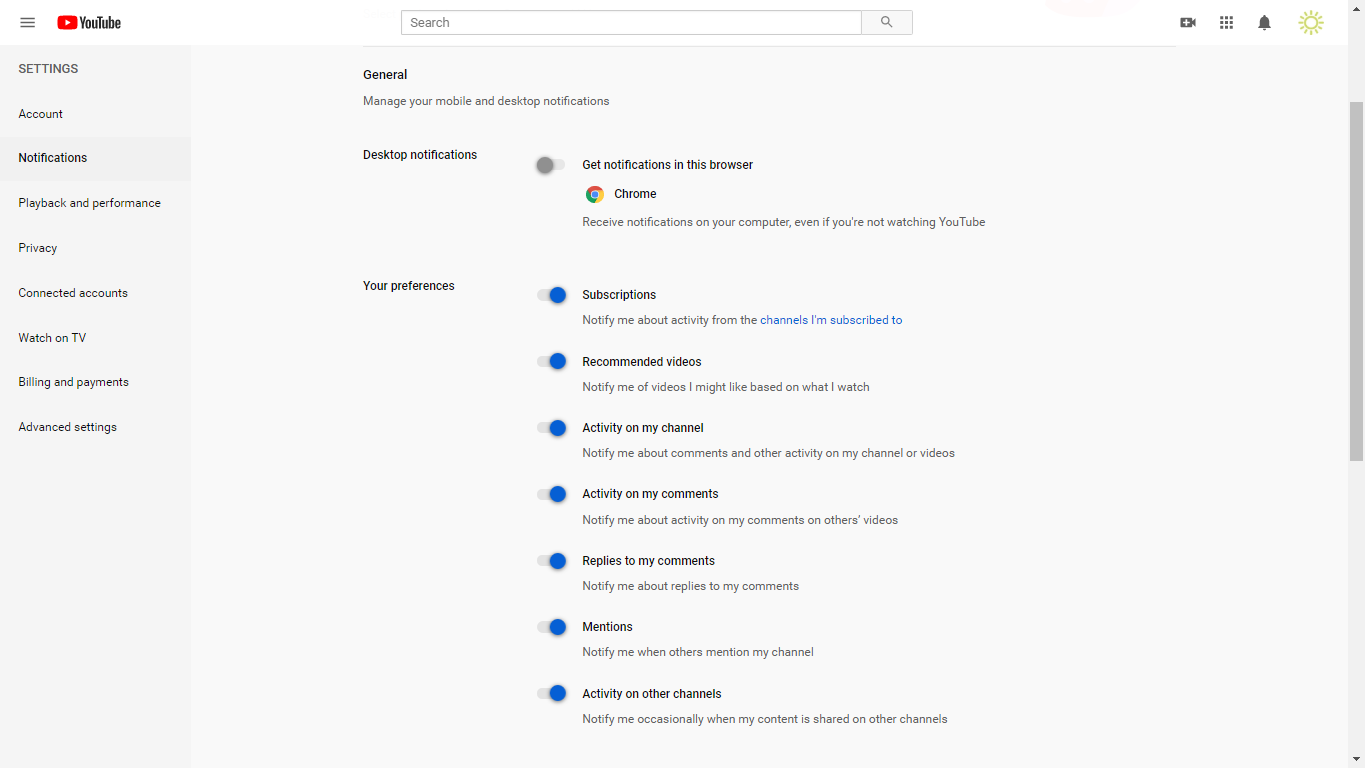 The most relevant parts of this menu are:
Activity on my channel: Notify me about comments and other activity on my channel or videos
Activity on my comments: Notify me about activity on my comments on others' videos
Replies to my comments: Notify me about replies to my comments
Activity on other channels: Notify me occasionally when my content is shared on other channels
You can choose turn on or off the corresponding button according to your actual needs.
Besides, the Subscriptions option is also important. When this option is turned on, YouTube will notify you about the activities from the channels you have subscribed.
When you scroll down, you will see the Email notifications part as follows: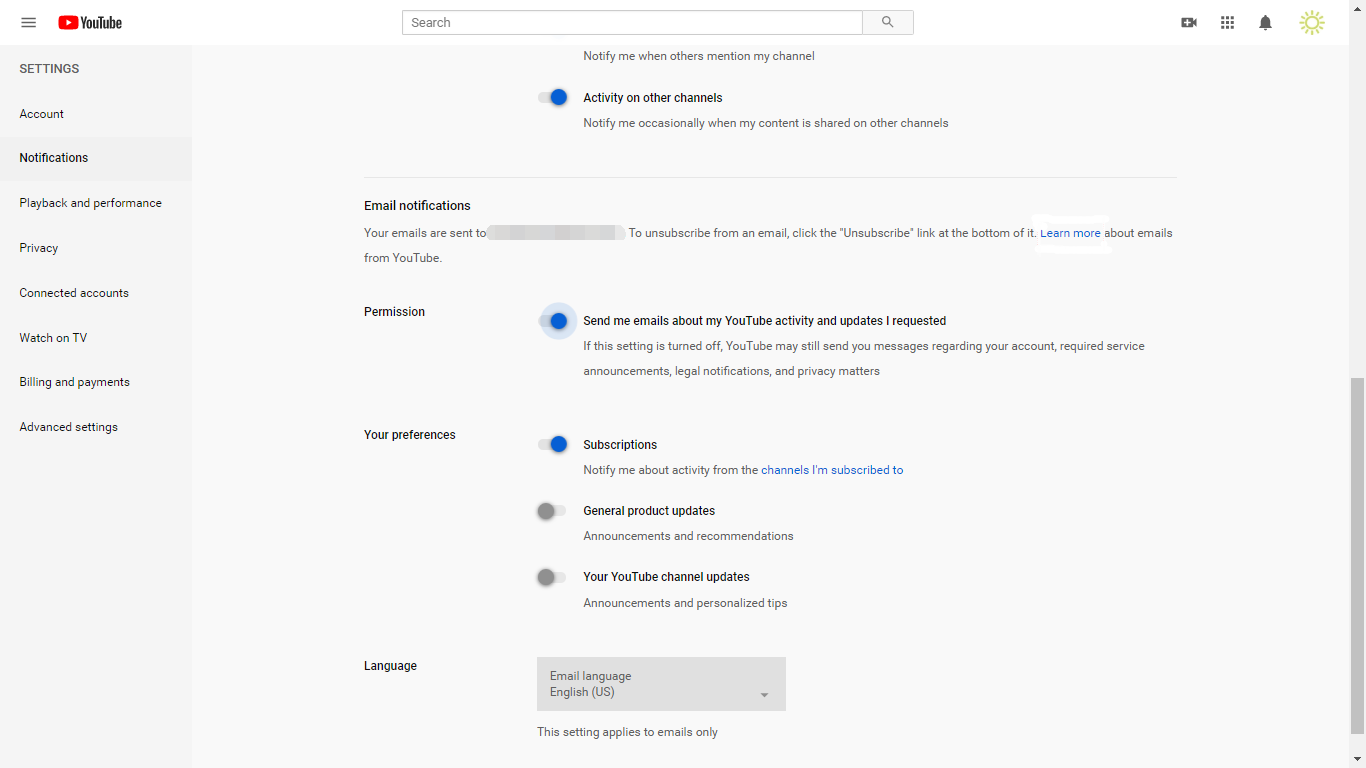 In this part, you will see three sections: Permission, Your preference and Language. You can read the introduction of each section and then decide to turn them on or off accordingly. As for the Language section, you can choose the language you would like to use.
YouTube Channel Subscriptions Notifications Management
You can also manage your subscribed YouTube channel notifications. It is also easy to do this job:
Go to YouTube and sign into with your Google account.
On the Home page, you need to press the Subscriptions option.
Click the YouTube notifications bell on the right side of the YouTube channel you have subscribed.
You will see three options including All, Personalized, and None. You can select one according to your needs. For example, if you want to turn off YouTube notifications, you need to select None.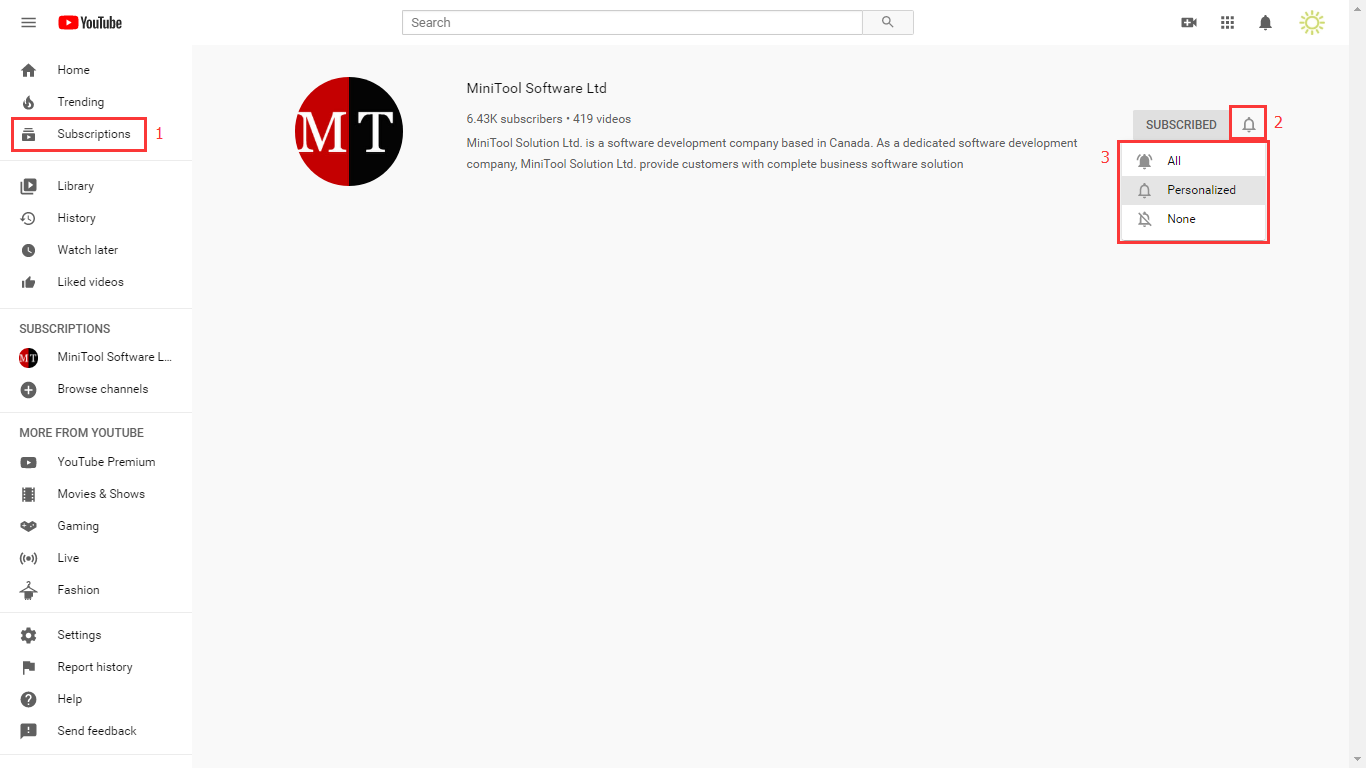 How to Manage YouTube Notifications on Mobile Phone?
You can also manage YouTube notifications on your mobile phone no matter you are using an Android phone or an iOS phone.
Open the YouTube app on your phone.
Tap the profile picture that is at the top of the phone screen.
Go to Settings > Notifications.
Turn on/off the displayed options based on your requirements.
Like the desktop/laptop version of YouTube, you can also manage notifications for the YouTube channels to which you have subscribed. Here are the steps:
Tap Subscriptions that is at the bottom of your phone screen.
Tap All at the top of the page.
Tap Manage.
Tap the bell icon that is next to the YouTube channel you want to change notifications.
You will see three options including All, Occasional, or None. You can select one accordingly.
Tap OK.
Tap FINISHED.
Now, just choose one guide to solve your own YouTube notifications management issue.