By default, when you use YouTube to watch a video, it can automatically go to the next video when the previous one finishes. If you don't want to use this YouTube autoplay feature, you can disable it manually. This MiniTool post will show you how to turn off autoplay on YouTube. No matter you are using a computer or a mobile phone, you can always find a method here.
When you watch videos on YouTube, you may discover that when a video finishes, YouTube will automatically go to play the next video. This is the YouTube autoplay feature. The autoplay videos are related to your YouTube viewing history. This feature is designed to help you discover more videos you are interested in.
The YouTube autoplay feature is turned on by default. You may think this feature is invasive or you don't want to see more videos using this feature, you can set to stop YouTube autoplay.
In the following contents, we will show you how to turn off autoplay on YouTube on both PC and phone.
How to Turn Off YouTube Autoplay on Your Computer?
If you use your computer to view YouTube videos and you want to disable YouTube autoplay on PC, you can follow these steps:
1. Open your desktop web browser and then go to https://www.youtube.com/. 
2. Sign in your Google account. This step is not absolutely necessary because you can turn off YouTube autoplay whether you are signed in or not. But, if you sign in with your Google account, this feature will be turned off across your account no matter which device you are using from this account.
3. Just select one video to open it and watch it. You don't need to watch the whole video.
4. Move your cursor to the YouTube controls panel and turn off the button for autoplay.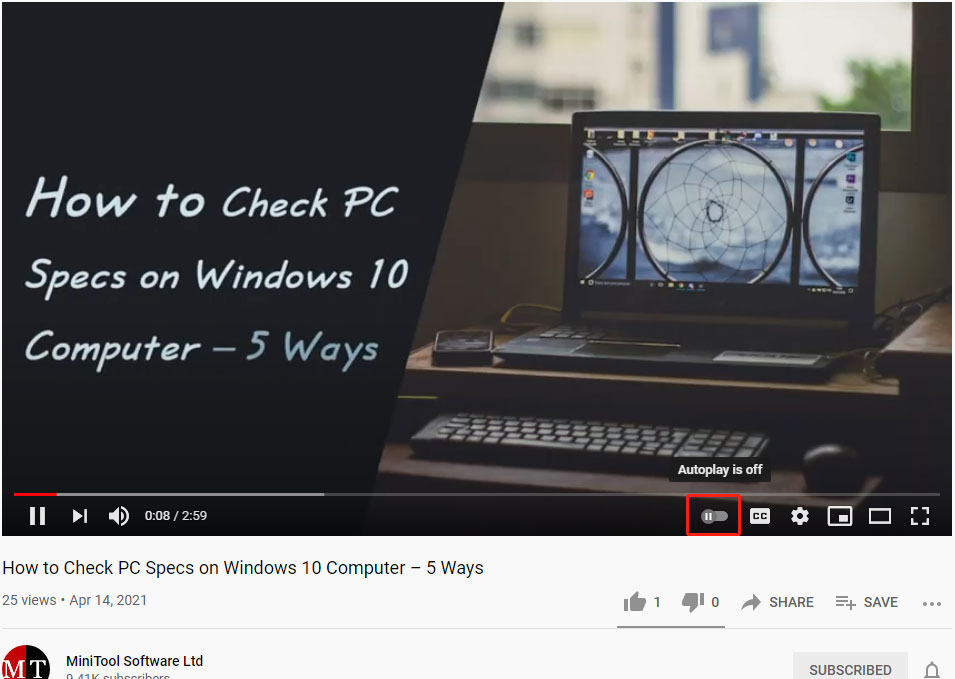 Then, you can go to check whether the setting is successful. You can click the Play button to continue playing the video or directly drag the process bar to the last few seconds of the video and then select the Play button. If the setting is right, when the video ends, YouTube will not start a new video automatically.
How to Turn Off YouTube Autoplay on Your Phone?
If you are using the YouTube app on your phone (no matter you are using Android or iOS), you can follow these steps to disable YouTube autoplay. These steps are also available for YouTube.com on a mobile web browser.
Open the YouTube app on your phone or go to YouTube.com using the mobile web browser.
Sign in with your Google account. Likewise, this action means to allow the YouTube turn off autoplay setting to be effective on all your device when access to the same account.
Select a video to play it and then pause it. Do not use the full-screen mode during the whole process.
There is also an Autoplay button under the video player and above the Up next Turn it off.
After this setting, you can continue playing the video until it ends to see whether YouTube stops playing a new one.