YouTube, the giant video site owned by Google, is being fined $170 million to settle allegations it collected children's personal data without their parents' permission. Facing such a disaster, Google determines to take some actions to change YouTube kids videos.
YouTube is the world's biggest online video website, with 2 billion monthly users, and I usually make YouTube videos by MiniTool software. According to the investigation, a huge number of the billions of videos viewed on the site are aimed at kids.
The US Federal Trade Commission and the US Attorney General of New York imposed a $170 million fine and other sanctions on Google's YouTube on Wednesday because YouTube violated a federal children's online privacy law by tracking kids under 13 years old without their parents' consent, and serving targeted advertisements to them.
The fine was the agency's biggest fine for Google, although the fine was a small amount compared to the FTC's $5 billion fine for Facebook's invasion of privacy this year. And according to Google's performance last year, $170 million is roughly equivalent to its two-day profit.
The topic of YouTube's violation of children's privacy has sparked extensive discussions, and its treatment to child-related content has also been criticized by people from all walks of life. Therefore, YouTube has to take remedial measures.
Necessary Measures
Facing the pressure of the US Federal Trade Commission and the public, YouTube CEO Susan Wojcicki said, YouTube will radically change YouTube kids videos. And she believes that these changes will have a significant impact on creators of kids and family content as well as kids and their families.
Measure 1: Launch YouTube Kids Website
YouTube Kids launched its own website on September 1. It is the platform where parents could be able to direct their child to those appropriate videos and check their child's watch and search history and flag content missed by YouTube's filters. There is a new feature that allows parents to control the length of time their child uses their phones or computers. YouTube also hired a professional team to manually review the video content of YouTube Kids, but the company has not revealed how big the team is.
YouTube Kids – Prevent Children from Inappropriate Video Content
Measure 2: Halt Kids-oriented Videos
YouTube said it will limit data collection for child-directed content and stop serving personalized ads on the video. At the same time, YouTube creators will have a new checkbox, and if their content is targeted at children, they will need to notify YouTube to meet the new guidelines. This will prevent children from viewing personalized ads, comments, and notifications.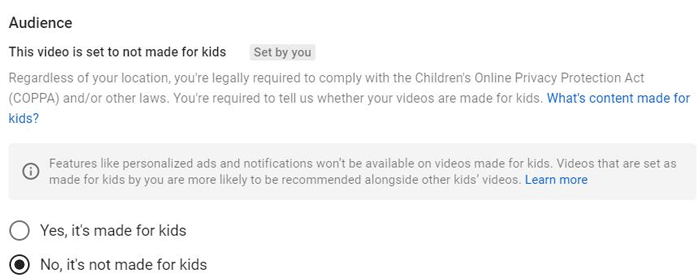 Measure 3: Disable Comment Section of Kids under 13
The comments section of videos of very young children would automatically be disabled. The move is likely to include videos of toddlers uploaded by parents, as well as short films featuring children by established YouTube stars.
Videos of older children and teenagers will typically not have the comments disabled, unless they are likely to attract predatory attention.
2 Ways to Comment on a YouTube Video Quickly and Easily
Measure 4: Establish a $100 Million Fund
YouTube will be creating a $100 million fund to be disbursed over three years to invest in "thoughtful, original children's content" on YouTube and YouTube Kids. Susan Wojcicki claims, responsibility is the number one priority at YouTube, and nothing is more important than protecting kids and their privacy.
These changes will take effect around the end of the year, and most of them are required by the FTC settlement. Hopefully, through this lesson, YouTube can focus more on offering funny and educational videos for kids.
Bottom Line
Hope these measures can create a better environment for kids to watch videos on YouTube. If you have any question or suggestion about kids videos, please let us know via [email protected] or share it in the comments section below.