A YouTube intro is an introductory clip at the beginning of your video and it will be used again and again, so it needs to be visually stunning and engaging. This post will explain how to make a YouTube intro with useful tools.
There are 1.9 billion YouTube users watching 1 billion hours of video on the platform every day. For your video to stand out in the crowd, YouTube intros need immediately engage the audience and keep them watching. Of course, keeping them watching can not only depend on YouTube intros, but also excellent content. Try MiniTool software to create cool YouTube videos.
What Is a YouTube Intro
A video introduction is a short (5-30 second) clip that is placed at the beginning of every single video that is uploaded from a single channel. It is typically used to set the tone of the channel, give a glimpse into the type of content the viewer can expect and makes it easy to identify the channel.
Basic Guidelines for Making a YouTube Intro
A great first impression.
Unique and fascinating enough to make viewers want to stay.
Short enough to make viewers not feel tired.
Clear enough to tell the story of your video.
Branding your company in logo, color or other ways.
How to Make a YouTube Intro
A high-quality YouTube intro will make your content and channel look more professional and help you increase your subscribers. Therefore, how to make a YouTube intro? Use a simple YouTube intro maker. It can help you create a visually appealing intro video for your YouTube channel. This post summarizes a few easy-to-use intro makers as follows:
IntroMaker
IntroMaker is all about making YouTube intros. IntroMaker helps you to produce videos with three steps - choose an intro theme; customize your video with a title, subtitle, and URL, change resolution and the FPS and preview your intro; download the video to your computer and get it ready to be uploaded to YouTube.
IntroCave
IntroCave offers a different idea on the video maker concept. It has hundreds of base video templates that you can use to add in your own content and render it for downloading. These templates are nicely designed and more akin to traditional logos.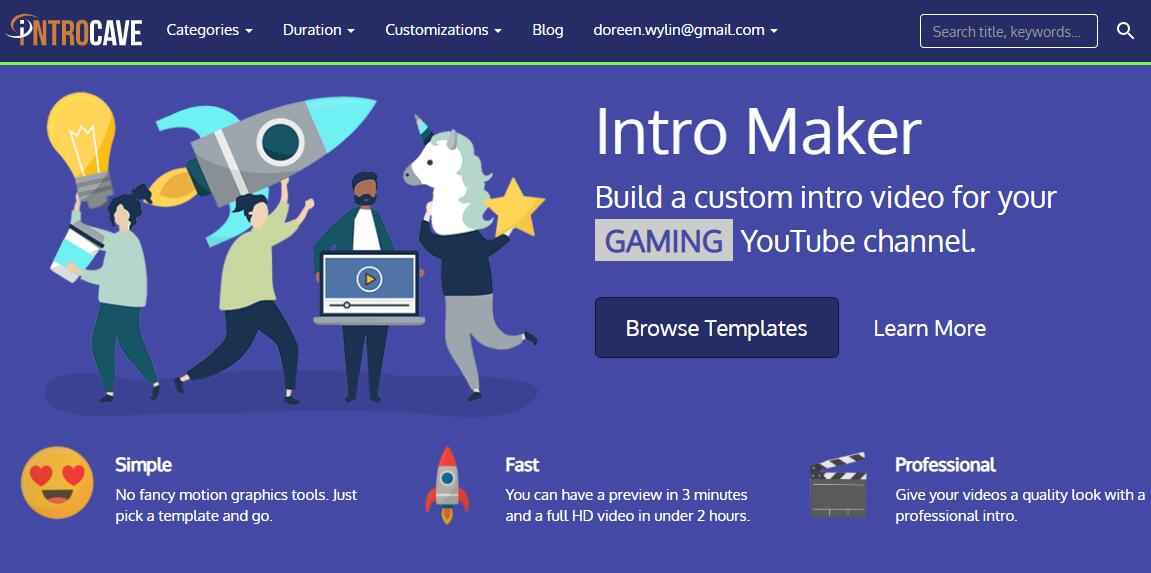 Adobe Spark
You can use Adobe Spark to get many great videos and graphics produced with appealing layouts and quality features. Spark focuses on producing dynamic effects, which can add a classic look to your video when you use them well.
Biteable
Biteable is a free and effective intro maker. The main selling points of Biteable are speed and ease, with an interface that's simple enough for total beginners to master quickly. Whilst you can get Biteable as a free intro maker, your options are extremely limited.
Ivipid
Ivipid gives you the facility to use complex graphics for free so you can style up your video intros in different ways. The steps of making a YouTube video intro with this online intro maker is easy - just select a theme, customize your text and logo and then upload the video.
Bottom Line
Now, it's your turn. Check out the above YouTube intro makers to find the one you'd love and create awesome intros for your videos. If you have any questions or suggestions about it, please let us know via [email protected] or share them in the comments section below.