How long does it take to upload a video to YouTube? If your YouTube is stuck on processing a video or the processing takes a long time, you may ask this question. In this post, we will show you the related information. Besides, if you want to download YouTube videos, you can try MiniTool uTube Downloader.
YouTube is a very famous video sharing and watching platform. You can upload videos to YouTube from both your computer and your mobile device to share them with others. You can also watch YouTube videos that are uploaded by other YouTube users.
When uploading a video to YouTube, you may find that it takes a long time for YouTube to process the video. Sometimes, this long video processing time is just normal, but it can also be a YouTube video stuck during upload issue.
How Long Does It Take to Upload a Video to YouTube?
How long does it take to upload a YouTube video? When the uploading time is too long, you may ask this question. Normally, YouTube can process a video within 15 minutes. But the specific time varies under different situations. For example, if the video is too big and too long, the time should be extended accordingly. If your internet speed is fast enough, YouTube will process the video within seconds.
How long does it take for a video to process on YouTube? You need to note these things
The type and size of the uploaded video
Usually, the size of a video is determined by the video's file type and the video format. If you want to upload a video to YouTube in a shorter time, you need to use one of the YouTube recommended video formats. YouTube gives an official explanation in this post: Recommended upload encoding settings.
Internet connection speed
If your internet connection speed is slow or unstable, the video processing will last longer or even stuck. You can go to speedtest to test your internet connection speed. Of course, you can also search for internet speed on google.com by yourself.
Video upload traffic
Just like the rush hours of humans, the internet connection also has a busy time. If you upload a video to YouTube during a busy time, the processing time will be longer.
Vide resolutions
If the video you want to upload to YouTube has a higher resolution, it will take a longer time to complete the processing task. Under the same conditions, a 4K video will take longer to upload to YouTube than a 1080p video.
Reading here, you should know what factors affect the YouTube video upload processing time. If the process lasts so long, you can check whether you need to convert the video format & file type, and resolutions (if this doesn't matter for you). You also need to check whether there are internet speed issues (how to troubleshoot internet connection issues). Besides, you'd better avoid uploading a video to YouTube during the busy time of the internet.
Tip: Download YouTube Videos Using MiniTool uTube Downloader
If you want to download YouTube videos that come from other YouTubers, you can use this free YouTube video downloader: MiniTool uTube Downloader. This software can download a YouTube video to MP3, MP4, WAV, and WebM with high resolutions.
MiniTool Youtube DownloaderClick to Download100%Free & Clean
This software is very easy to use. You can just copy and paste the URL of the YouTube video to the software and then download it to your computer. You can even use this software to search for the video you want to download.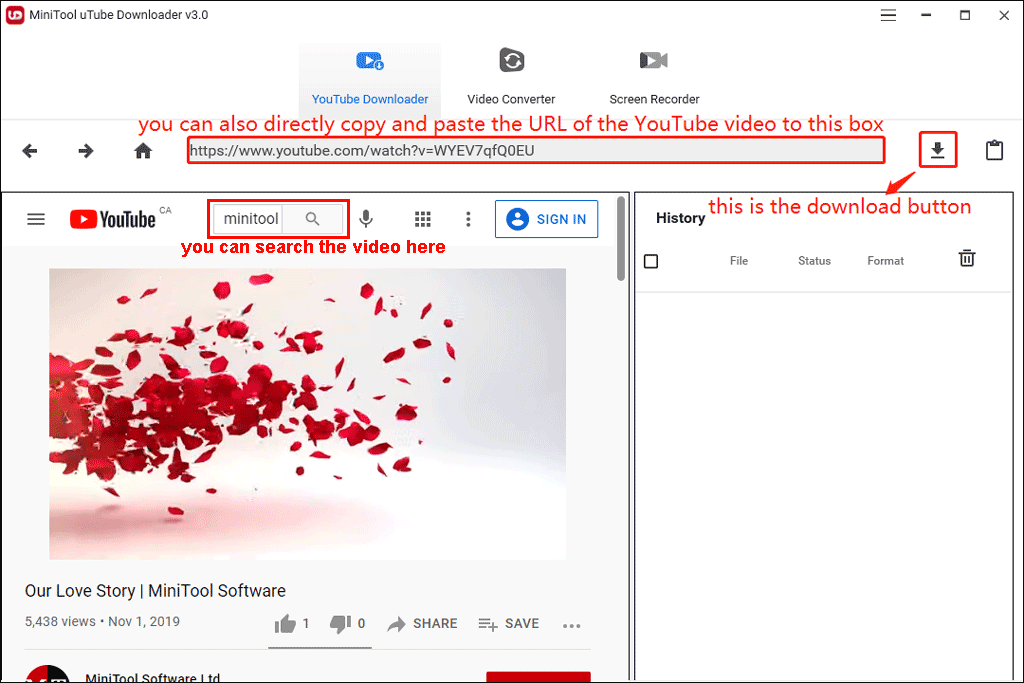 This software also supports video format conversion. You can switch to Video Converter to convert the downloaded YouTube video to your needed format when necessary.