You get bad video quality in Google Chrome when you are watching videos, which is quite annoying. Thus, how to fix bad video quality in Google Chrome?
MiniTool Solution
will help you figure it out. It offers 4 workable methods for you. You can try them one by one. Hope they are useful to you.
Many users watch videos in Google Chrome through the YouTube website or streaming services such as Netflix. However, the browser's video playback quality isn't always good. You may find that the video picture quality in Chrome is pixelated and terrible. Besides, jerky video playback is common in Chrome.
If you want to improve video quality on Chrome, here are some tips that might help you.
Fix Bad Video Quality in Google Chrome
Method 1: Update Google Chrome
Step 1: Open Chrome and click the menu icon in the upper right-hand corner.
Step 2: Go to Help > About Google Chrome. Now, Chrome will look for any pending updates automatically.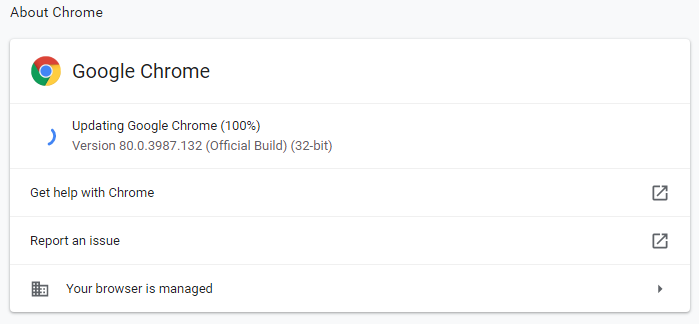 Step 3: Click Update if the update is not downloaded automatically.
Step 4: When all the updates are installed, restart Google Chrome.
Play the video again to check if you fix bad video quality in Google Chrome.
Method 2: Change the Resolution Settings
Low quality playback on video sites always tend to be due to video resolution settings. YouTube videos typically include at least a few optional resolution options that you can use to adjust the quality of playback. However, some YouTube videos will play at lower resolutions – 480p automatically.
To increase resolutions, you can change the quality of your video in YouTube. Here is how to do that.
Step 1: Open the YouTube video in Chrome.
Step 2: Click the Settings button at the bottom of the video. Then, select Quality and choose the highest resolution setting for the video.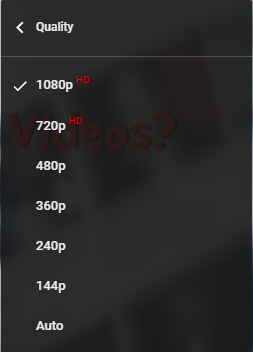 Step 3: To make sure YouTube always plays videos at their highest resolution settings, add the Magic Actions for YouTube extension to Chrome.
Step 4: Click the Options button under the video.
Step 5: Check Enable Auto HD and select a resolution to play all the videos.
In the end, this method may help you fix bad video quality in Google Chrome
Method 3: Disable Hardware Acceleration
Chrome's hardware acceleration might be the reason of stuttering videos. Thus, you can try turning hardware acceleration off to enhance the video picture quality in Chrome. Here is how to turn off hardware acceleration in Google Chrome.
Step 1: Open Google Chrome and click the 3 dots button in the top-right corner.
Step 2: Select Settings > Advanced. Next, find the System section and toggle the Use hardware acceleration when available option off.

Method 4: Adjust Data Usage Settings for Streaming Services
If you are the user of Netflix or other streaming services, you can adjust data usage settings in Chrome. If the video quality is not ideal, please check the data usage settings in your video streaming website account. You can choose a lower data usage setting for more basic video playback.
This is how to adjust data usage settings in Netflix.
Step 1: Log in to your Netflix account.
Step 2: Click Account, scroll down to My Profile and click Playback settings.
Step 3: Choose a High or Medium data usage setting.
Step 4: Click the Save option.
It's worth noting that Netflix's video quality also depends on your subscription plan. Netflix's cheapest plan will only offer 480p streaming. Therefore, it makes no sense to choose the highest data usage settings for a basic Netflix plan.
But as long as your laptop or desktop can play both HD and UHD content and you subscribe to the premium plan, you should select the High option.
Also note that Chrome has a maximum video stream resolution of 720p. Edge supports 4K Netflix streaming, but you can't watch Netflix movies at the highest resolution as a Chrome user. As a result, you need to switch to Edge to watch 4K streaming.
However, users can stream 1080p movies on Chrome with the Netflix 1080p extension. Selecting the 5110 bit rate setting will provide video quality close to 1080p resolution.
Bottom Line
As a result, there are a number of ways you can fix bad video quality in Google Chrome. If you are still experiencing this problem, try the methods mentioned above.
Tips:
Tired of searching for a video downloader, converter, and screen recorder separately? MiniTool Video Converter combines them all - give it a shot now!