Facebook cover is the first thing visitors will see when they go to your Facebook Page. So how to make a catchy Facebook cover video? This post will show you what is the size of Facebook cover video and how to make and post one. To create a Facebook cover video, try MiniTool Movie Maker released by MiniTool.
Facebook Cover Video Specs
To attract more customers, you may want to post a cover video on your Facebook business page. Let's see some details about Facebook cover video you need to pay attention to.
Facebook Cover Video Size
The cover video file size must be less than 1.75GB. To get a faster loading speed, small file size is much better than larger one.
Facebook Cover Video Dimensions
The minimum cover video dimensions are 820 x 312 pixels. The recommend cover video dimensions are 820 x 462 pixels.
Related article: Everything You Need to Know about YouTube Banner Size.
Facebook Cover Video Format
Facebook recommends using the MP4 or MOV format. Other formats also can be upload to Facebook like FLV, VOB and MKV. If you like to convert your cover video in MKV format to MP4, see this post: How to Convert MKV to MP4 without Losing Quality.
Facebook Cover Video Length
If you like to put a video as your Facebook banner, the Facebook cover video length should be up to 90 seconds and no less than 20 seconds. Just like a Facebook video ad, it's a great idea to build your business.
Want to know how long can Instagram videos be? Read this post: Instagram Video Length: How Long Can Instagram Videos Be?
How to Make a Facebook Cover Video
You may know that it's not easy to create a cover video with a video editor. Thankfully, you can find various Facebook cover video templates on the web. Here recommend an excellent Facebook cover video maker – MakerMoon.
This maker offers numerous customizable Facebook cover video templates. Some of them are free to use, some of them are only available to Premium members.
Follow the steps below to make a stunning Facebook cover video.
Step 1. Go to MakerMoon and pick a template you like.
Step 2. Click on the target template to go to the editing window.
Step 3. Tap on Facebook cover to resize the video. Then enter the title and subtitle of the video and change the text color as you like. Remember, you can't add music to video or remove the watermark by using a free account.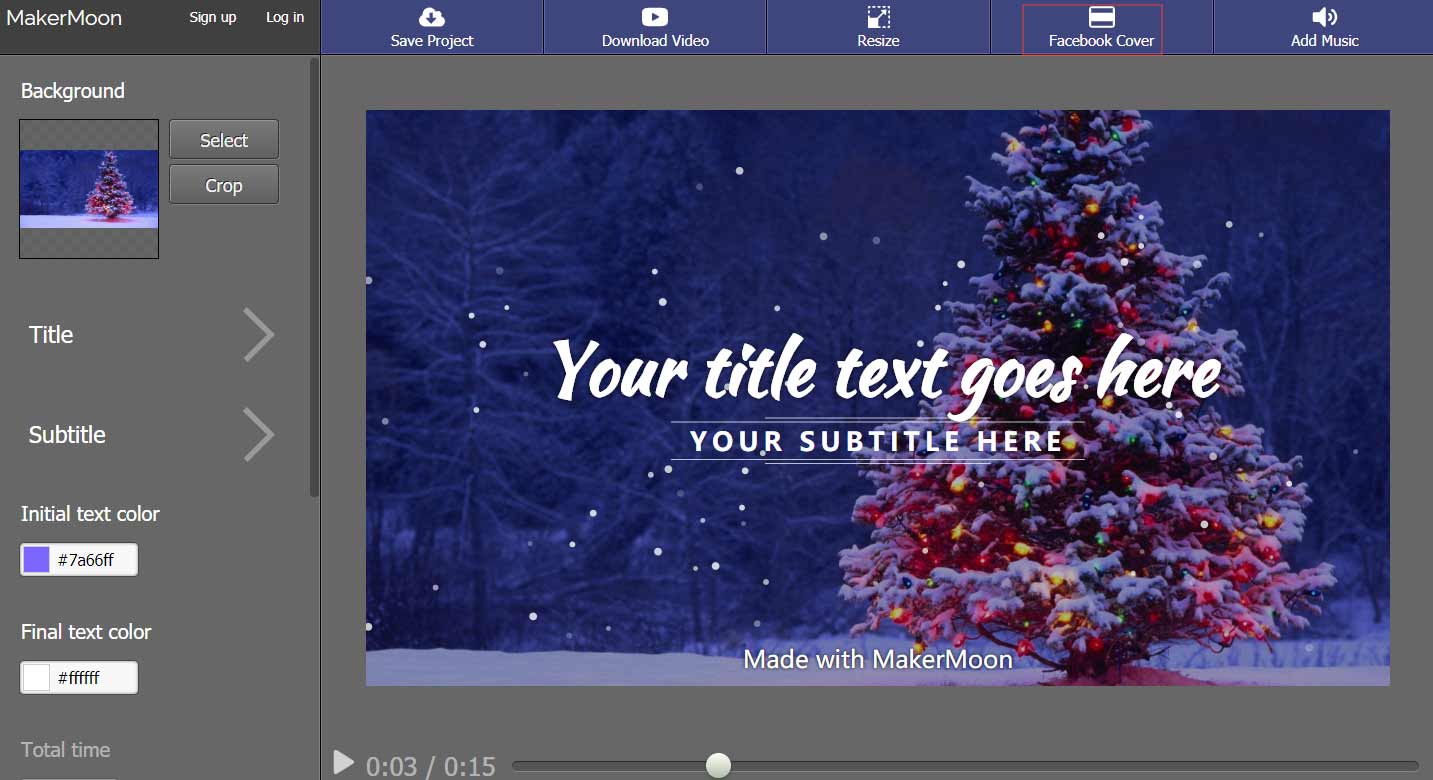 Step 4. In the end, click on Download Video to create your video and then choose Download this video to download the video for free.
How to Upload a Facebook Cover Video
After creating your Facebook cover video, let's take a look at how to post it on your Facebook Page.
Step 1. Head over to your Facebook Page and click the camera icon on the Facebook banner.
Step 2. From the drop-down list, select the third option Upload Photos/Videos and choose the target Facebook cover video.
Step 3. After the uploading process is done, you can preview the video. Then click the Next button to continue.
Step 4. Press the Publish button to confirm the operation.
Related article: Solved - Facebook Videos Not Playing on Phone/Chrome.
Conclusion
After reading this post, are you ready to make a Facebook cover video for your business?
If there is any problem, please post a comment in the comments area.