Video marketing becomes more and more popular today. So it's a good idea to embed video in email to attract people. How do you embed a video in Gmail and Outlook email? This post will tell how it works step by step.
Why Need to Embed Video in Email
Video marketing can be seen everywhere, when you watch YouTube videos and browse web pages. Why people tend to do video marketing while not picture marketing?
According to WordStream, marketers who use video grow revenue 49% faster than those who don't use video.
There are 64% consumers make a purchase after viewing branded social videos.
Video marketing generates 12 times shares over text and images combined.
Using MiniTool Movie Maker released by MiniTool to help you create a video for video marketing.
Now, you may understand why video marketing is popular. Moreover, as a communication medium, email becomes a powerful tool to help marketers tap into the potential audience. Due to the popularity of video marketing, it's a good idea to embed video in email to promote your products.
You can benefit a lot from email video marketing. For example, it will attract many people to purchase your products and it's a good way to share your unlisted YouTube videos with friends quickly.
So how to embed video in email to promote your products?
How to Embed Video in Email
Actually there is a simple way to embed video in email that is attaching a video to your email, but few people will check the attachment file. So the best way is to create a video thumbnail and inserting a hyperlink to it.
Here offers you two ways to embed video in email.
Way 1: Embed video in Gmail
If you often use Gmail, take a look at the following steps.
Step 1: Open your browser and log in to your Gmail account.
Step 2: Tap on the plus sign (+) to start to write an email.
Step 3: Enter the related information in the box of Recipients and Subject.
Step 4: Click the Insert photo icon and insert a photo, such as a screenshot of the video.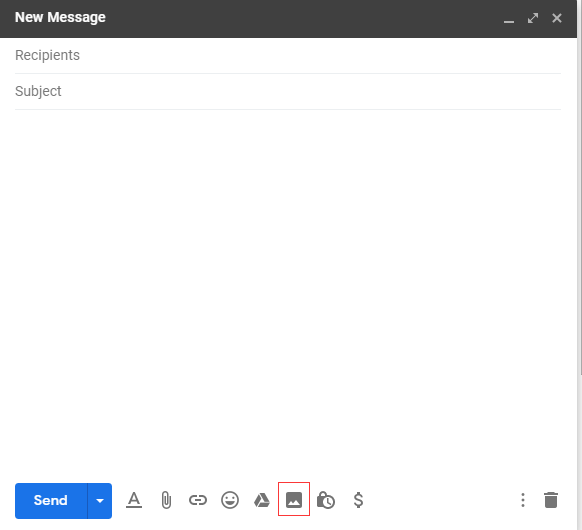 Step 5: Copy the video URL from your website.
Step 6: Choose the third icon Insert link and a window pops up. Type the words you want to display below the picture and paste the video link in the Web address box.
Step 7: You can click Test this link to ensure the link is right and clickable. Then click on OK.
Step 8: Tap on the blue button Send to send email to your audience.
Way 2: Embed video in Outlook Email
This part shows you how to embed video in Outlook email.
Step 1: Go to Outlook page in the browser.
Step 2: Click on New message and type the email address in the To box.
Step 3: Copy the video link of your video and paste the video URL into the Outlook email's body. Then a thumbnail will show up and you don't need to insert a picture.
Step 4: Choose Send to send your email.
Conclusion
Embedding video in email is an excellent method to promote your products. Try it now!
If you have any questions about embed video in email, comment on this post and let us know.