Flash videos feature with small file size and fast loading, so most of the popular video-sharing sites are used flash video for embedded video on the web. What if you find some useful flash videos on the web and want to watch them on your mobile device when you're away from Wi-Fi connection? To solve this, try the 2 ways to download flash videos.
Flash video format is widely used for streaming videos on the web. Even some international organization's official sites are also using flash videos for embedded video (If you want to convert a flash video to other formats, you can use MiniTool Movie Maker released by MiniTool). These websites are full of various kinds of videos such as education, entertainment and so on.
When you watch these flash videos on the web, you may in the following situations.
You want to watch your favorite flash videos anywhere anytime.
You have no internet access when you want to share a flash video with your friends.
In some websites, you may find it will take you half an hour to watch a 10-minute flash video because it keeps buffering.
You want to watch flash videos later.
Fortunately, there are a lot of ways to help you download flash videos as you like, you can use a screen recorder, flash video downloader etc.
If you download a flash video and want to convert it to MP4, read this post: How to Convert FLV to MP4 Quickly – 2 Effective Methods.
Way 1: Capture Flash Videos
If you want to save your favorite part of a flash video, you'd better use a screen recorder. Some online recorders not only has a time limit but also watermarks your recordings. So here recommend you a free screen recorder – screenrec.
It's a powerful screen recorder that is simple and easy-to-use. It works on all operating systems and has no time limit as long as you create a free cloud account. In addition, you can record flash videos with no watermark.
Besides, if your flash videos have no captions, this tool will transcribe your video and generate subtitles.
To capture your favorite flash videos, screenrec is worth a try.
Way 2: Download Flash Video Using Extension
When you are interested in an online course, but it will end in 3 days. You are not able to finish this course in serval days. So you need a flash video downloader to save this course and watch it later.
You may also like: The Top 4 Ways to Download Embedded Videos.
This part offers you a chrome extension which helps you download massive flash videos promptly.
Flash Video Downloader
Flash video downloader can download most popular media files like flash, videos and audios. With it, you can download flash videos from any websites for free. It also supports the following formats: MP4, MOV, FLV, WEBM and more.
Take the following steps to download flash videos online.
Step 1: Install Flash Video Downloader.
Step 2: Open the website where you want to download flash videos.
Step 3: Click on one flash video and play it, then you will see the Flash Video Downloader icon becomes blue.
Step 4: Tap on the icon and the video which is playing will be displayed in the pop-up window. Click this icon to download the flash video.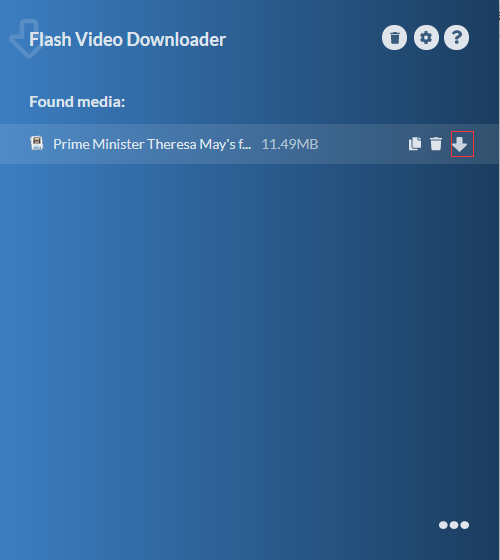 Conclusion
If you find it's impossible to download embedded flash videos using some online video downloader, don't forget to try the above-mentioned ways to rip your favorite flash videos from websites.
Tips:
Need to record your screen or convert videos for a project? MiniTool Video Converter is the reliable software you need!