This article from MiniTool will tell you what a YouTube outro is in brief. It will also show you how to create a YouTube outro. In addition, it will be sharing with you YouTube outro makers and some YouTube outro templates.
Maybe you just start your YouTube channel and you are ready to record your first video. Or you already have one. If you want to see an increase in your subscribers, traffic to your website and sales, using a YouTube outro makes it's possible.
Read also: 4 Steps to Easily Make A YouTube Video with Pictures.
What Is a YouTube Outro?
A YouTube outro is typically an end screen. It is usually at the end of a YouTube video with some call to actions. These actions could include links to a web page, products or other videos. They are often very successful and encourage the viewers to take action.
How to Make a YouTube Outro?
It is pretty easy to create a YouTube outro. In fact, you don't even need designer skills to do that. There are a number of tools and software that allow you to put together an outro. Better yet, you can even hire experts on platforms like Fiverr to help you do this.
You need to start with the basics. The best size for a YouTube outro is 1920px × 1080px. It should be around 10 seconds. In this way, your viewers can take in what they will see and then they can decide what they want to do next.
Now that you've known the dimensions and the ideal length of a YouTube outro, you can start to create a YouTube outro. Choose whether you will use a YouTube outro maker, a template or hire a professional to do that.
YouTube Outro Makers
YouTube outro makers are handy, especially for those with little experience in using professional software. They are often very easy to use and give you a few different options. If you want to get some great YouTube outro makers, check them out. Some are premium and others are free. Choose one that works for you.
#1: Snappa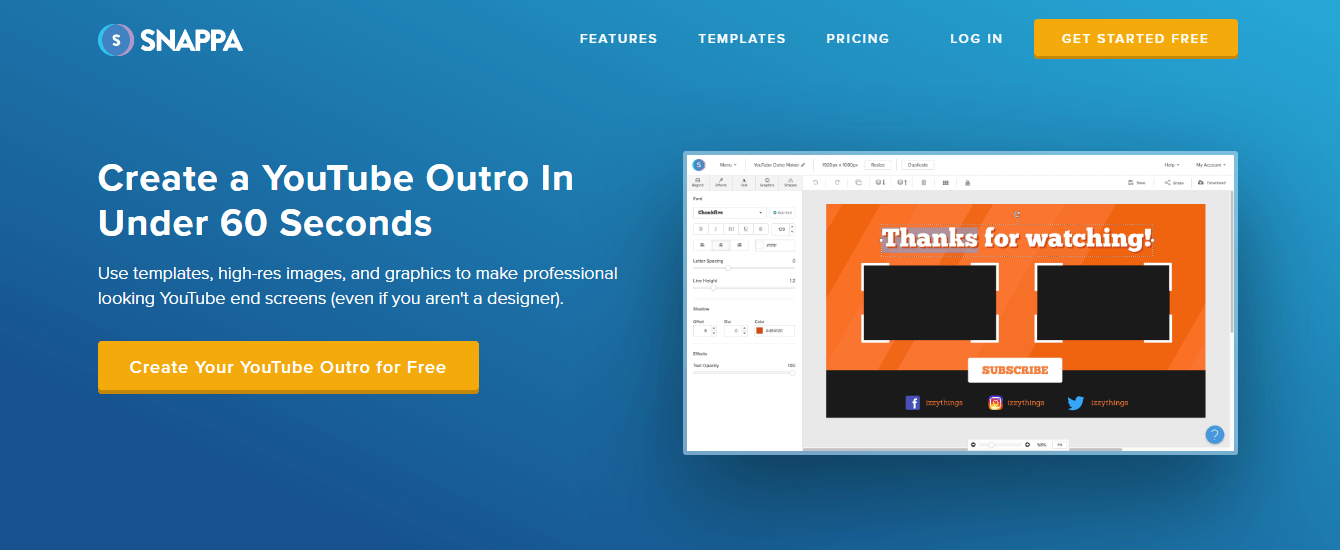 Snappa allows you to create a catchy YouTube supercar in less than 60 seconds. With their well-designed templates, high-resolution images and more, you are able to make a professional looking YouTube outro even if you don't have the skills of a designer.
#2: Tube Arsenal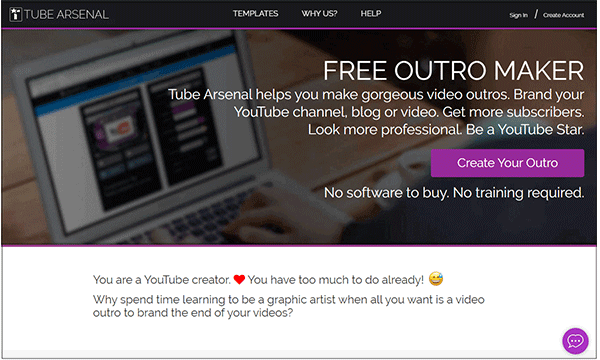 Tube Arsenal is a free YouTube outro maker and it is easy to use it.
It is equipped with the necessary functionality and features so that you can create a great looking YouTube outro which is very catchy. Three simple steps require your YouTube render and get ready. Just in 3 simple steps, you can have your very own, personal, YouTube outro.
#3: Biteable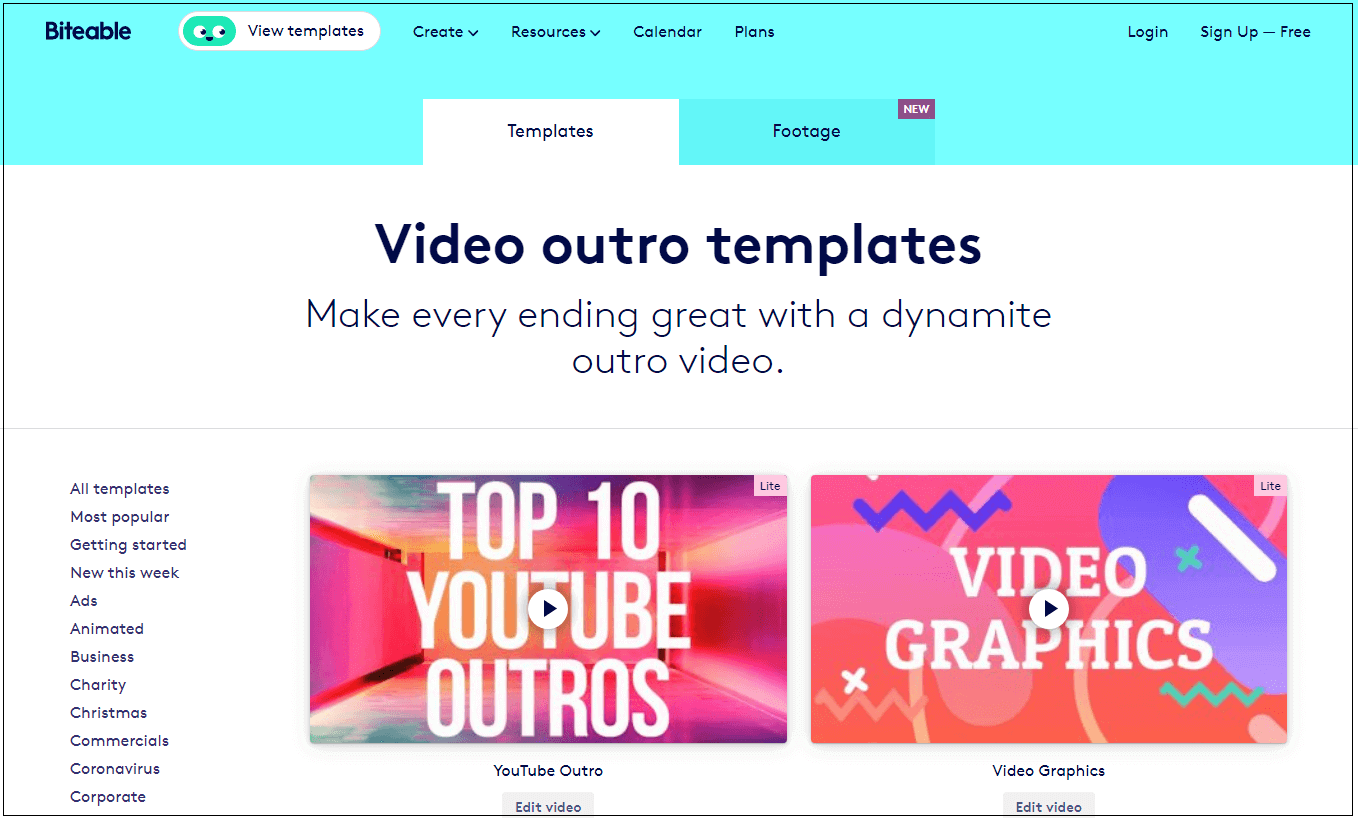 Biteable is also easy to use and it's great for creating various simple and effective YouTube.
You can try it for free with no credit card required. The free plan limits the number of video projects to five per month, for a total of 1GB of storage. This plan will include branding and you can only share the video to YouTube and Facebook.
So, you may want to upgrade. The monthly plan is $29 per month. It unlocks more features such as note watermark branding, unlimited videos and more.
Both plans are secure and private with no spam emails. Just choose one that works for you.
#4: Outro Maker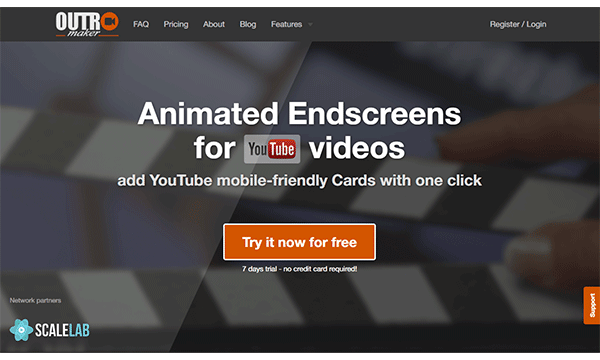 Outro Maker helps create animated end screens for YouTube videos. It offers 7 days trail with no credit card required.
With it, you won't have to spend time looking for templates for your video editing software or digging through your hard drive for old videos. You won't have trouble cutting, edit and placing your videos on the timeline.
YouTube Outro Templates
If you want to create your YouTube Outro quickly through customizations, doing that by using YouTube outro templates is the best choice. Most YouTube outros can be edited in software like Blender, Sony Vegas, Cinema 4D, Photoshop and After Effects.
Even if you don't have these tools, you can still use tools like Canva to do that. If you need some great YouTube outro templates, you can try out these great resources right now:
Velosofy: You are allowed to download almost 200 pre-made YouTube outro templates. All these templates are editable in various tools.
Storyblocks: This is another amazing resource for you to obtain high-quality YouTube outro templates.
EditorsDepot: It provides you with 23 video outro templates. Most of them are designed for gaming channels and a few are professional outros for all sorts of channels.
Hire a Professional to Create the YouTube Outro
Sometimes the YouTube outro maker or YouTube outro template is not the best choice. The customization is limited and the templates are freely available online, so everyone can get easily get a YouTube outro like you and your YouTube outro may look a lot like someone else's.
If you need a more professional and customized YouTube outro, hiring a professional video maker could be helpful a lot. You can find many of them on freelancer websites like Fiverr and Upwork. The quality varies according to their skills, so you'd better do some research and look at the examples they have offered.
Bottom Line
This post has shown what a YouTube outro is, some useful YouTube outro makers and some YouTube outro templates. After reading this post, you should be able to create your YouTube outro successfully now.