If you want to get the latest news around the keep you up to date with the day's news and issues, you need to know some YouTube news channels. This post from MiniTool will introduce you 8 news channels in detail. If you have a need, read this post. Hope it can help you.
If you don't have cable TV, or you don't have time to watch a lot of broadcast TV, you may miss how the morning or evening news broadcasts keep you up to date with the day's news and current events. However, YouTube can help you fill in the gaps. This post will show 8 news channels on YouTube.
#1: CNN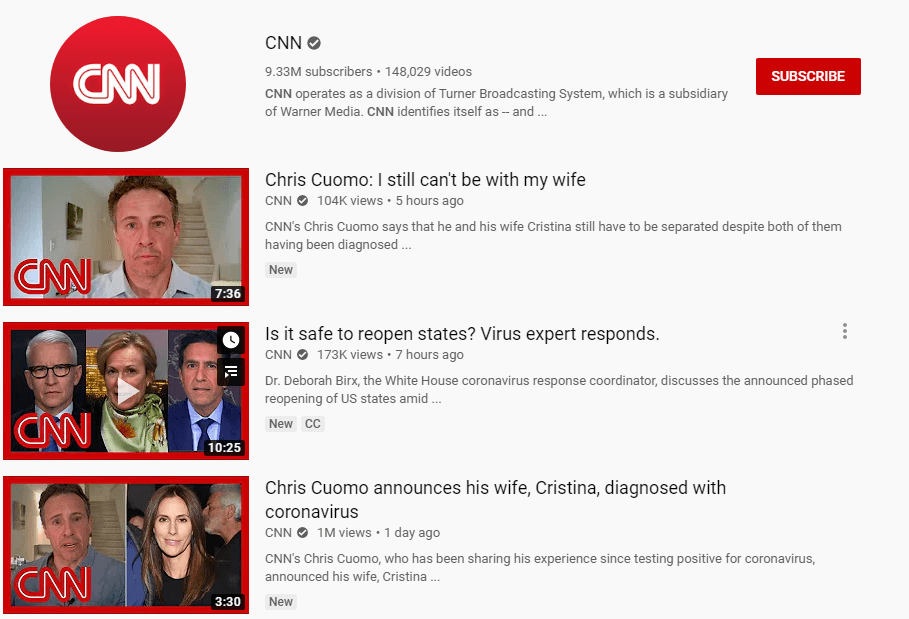 One of the best YouTube news channels is CNN. It is widely known to be the most trusted source for news and information. Its CNN Digital Network is the top network of news Web sites in the United States, and its CNN Newsource is the world's most extensively syndicated news service. CNN brings you up-to-the-minute news from around the world.
#2: The New York Times
The New York Times, one of the best YouTube news channels, offers the high-quality journalism and rich, interactive multimedia storytelling. You might not think of The New York Times as a video medium, but their YouTube channel is full of video content that complements their textual reporting.
Every day you see new videos that cover a wide range of topics: some breaking news, but more about fashion, cooking, entertainment, politics, or anything else you can think of.
#3: BBC News
If you want to get the global news with an impartial perspective or you want to see behind-the-scenes clips and footage directly from the front-line, BBC News channel on YouTube has all this and more. It brings you specially selected clips from the world's most trusted news source.
#4: The Young Turks
If you're looking for something more modern, The Young Turks may be what you're after. The network produces original online news programming and already has more than four million YouTube subscribers.
The Young Turks is hosted by Cenk Uygur & Ana Kasparian. It's a rare show that brings all the news that people care about into one place. It is not afraid to talk about politics, entertainment, sports and popular culture
#5: ABC News
If you're looking for traditional TV news, ABC News is the best online programming.
On this channel, you'll find a steady stream of about a dozen TV shows a day, including the latest news and features of ABC's hit shows. All of these videos are minutes long news clips taken directly from ABC News television programming, so you'll get the kind of programming and quality you get on TV.
However, you won't find any of the complete shows here, only the clips that ABC News considers most important. You will find it a good way to keep up with the news without ads and extras. In addition, you will see a lot of celebrity and gossip news.
#6: RT
RT is a global news channel broadcasting from Moscow and Washington studios. RT news channel has almost four million subscribers worldwide. It covers the major issues of our time for viewers who wish to ask more questions.
#7: Zee News
Zee Media Corporation Ltd is the largest news network in India. It offers a series of national and regional news channels for more than 150 million Indians.
Zee News is the flagship channel of the company, and its "Soch Badlo Desh Badlo" tagline shows a focus on core and serious News. The programmes of Zee News have won several prestigious national and international awards.
#8: The Next News Network
The Next News Network is the most trusted liberty media channel. It provides original commentary on geopolitics, government corruption, police states, global conflict, U.S. elections, economic turmoil, constitutional issues, and national headlines. If you are interested in these aspects, you can browse this channel.
Bottom Line
To sum up, this post has shown you 8 YouTube news channels. If you need to get the latest news, these news channels can help you.