When you see a YouTube video, you may discover that you see the important part after the video starts for a long time. When you want to share it with others, you want they can directly see from the important part. YouTube link time is useful in this situation. You can share a link to a special time in a YouTube video. This MiniTool post will show you how to do this job easily.
YouTube allows you to link to a special time in a YouTube video and then you can start that YouTube video at your specific time. You especially need to use this trick when the YouTube video is too long and the segment that you want to share just starts several minutes after it starts playing.
On the other hand, you can also create a YouTube timestamp link to start YouTube video at a certain time.
In this post, we will show you how to add a YouTube link time and how to timestamp YouTube. If you don't know how to do the jobs, you can read this post to get some useful information.
Tip:
Perhaps, you can just
download your needed YouTube videos
to your computer. Then, you can watch it even the internet connection is disabled. You can also drag the timeline to anywhere according to your own needs. MiniTool uTube Downloader, a professional
YouTube video downloader
, is a good choice for you.
How to Add a Link to a Specific Time in a YouTube Video on PC?
Before, you need to make sure the time you want the video to start from. Then, you can follow these steps to create a YouTube link time:
1. Go to find and open your needed YouTube video.
2. Click the Share button under the video.
3. You will see the Share There is a Start option at the bottom that is not checked. Here, you need to check it and then set the time you want the video to start from.
4. After inputting the specific time, you can click any black space on the Share interface and then you will find the URL on the line of Copy is different from the original URL. This is because you changed the start time and it is used to tell YouTube to link to a specific time. Then, you need to click Copy to copy the link.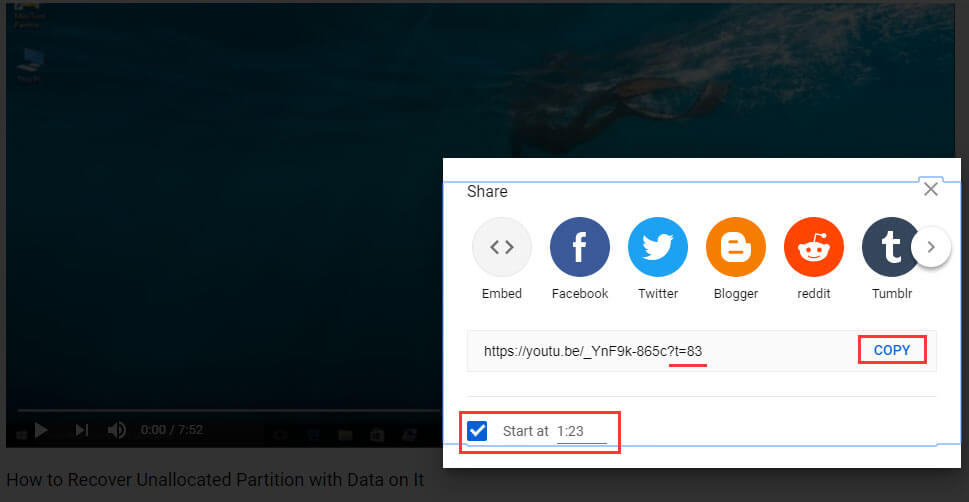 5. Then you can paste the link to anywhere you want or share the link to others. Anyone who opens the link will see the video start from the time you specify.
How to Share a Link to a Specific Time in a YouTube Video on Phone?
You may ask is it possible to create such a YouTube link time on Android? After your access to the YouTube app, you may find that after clicking Share, there is no such a Start option. Unfortunately, the YouTube app on your phone doesn't support this feature. The only way to use this feature is to watch a YouTube video using a web browser on your phone.
You can use your phone web browser to open your needed video on YouTube and then use the same method of creating a YouTube link time on your PC to get the specific link.
How to Timestamp YouTube?
When you add a link to a special time in a YouTube on your computer, you may notice that the YouTube link you get with a special start time is added some regular characters behind the original link.
For example, the original link is https://www.youtube.com/watch?v=_YnF9k-865c, after you specify the start time, the link becomes to https://youtu.be/_YnF9k-865c?t=83. ?t=83 is added in the new link. ?t= is a fixed character. The number behind it is the second value you want the video to start from (1m23s = 83s).
Now, you know the rule to get a YouTube timestamp link. So, you can just timestamp a YouTube video on your own: adding ?t=* (* stands for the seconds you want the YouTube video to start from) behind the YouTube original link.