VOB is often used for movies. So if you have movies in VOB format and can't open them on your computer, this post offers you two ways to play VOB file: play VOB file with VOB file player or convert VOB file to the most popular format - MP4 (If you want to edit MP4 file, try video editor like MiniTool software – MiniTool Movie Maker).
What Is VOB
VOB is a media container, developed by DVD Forum, which contains video, audio, subtitles, navigation contents and DVD menus. Files in VOB format are normally saved in the VIDEO-TS directory at the root of a DVD and they can be encrypted.
Like the MPEG program stream, a VOB file can contain MPEG video but has some restrictions in usage. It also supports Linear PCM, DTS and AC-3 except for AAC, MPEG-4 compression formats.
VOB files can be read on the DVD only if every VOB file is less than or equal to 1 GB. Additionally, they're usually smaller than MP4 files of the same size.
After understanding what is VOB, let's take a look at how to play a VOB file.
How to Play a VOB File
Not all video players can play VOB files, only a few video players can open and edit it, including VLC media player, KMPlayer, GOM Player, Media Player Classic, etc. If you want to choose a VOB file player from them, VLC media player is a good option.
Play VOB File with VLC Media Player
VLC media player is an open source video player that supports playing almost all media file formats as well as video streaming services like YouTube. It's completely free and compatible with all platforms like Windows, Linux, Mac OS X, Unix, iOS and Android.
If you'd like to change its skin, this VOB file player allows you to create your own skin by its built-in skin editor.
To play the VOB file, just in a few steps.
Step 1. Download and install VLC media player, then launch the program on your computer.
Step 2. Choose Media in the menu bar and select Open File from the drop-down list.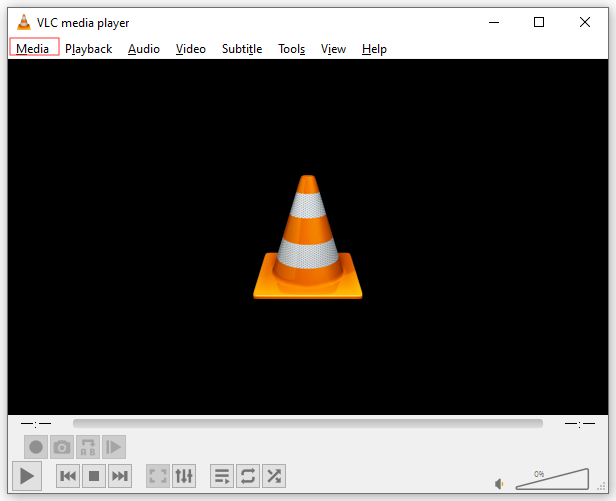 Step 3. Find the VOB file you want to play on your PC and open it.
Convert VOB File with Video Converter
If you want to cut the VOB file and add music to the video by video editor like MiniTool Movie Maker or you want to share the VOB file with your friends and family, then you'd better convert VOB file to MP4 first.
If you tend to use an online video converter to convert VOB file, you may need this tool – Free File Convert.
This VOB file converter can convert all kinds of file types including video, audio, image, ebook, font, presentation and so on. Moreover, it supports uploading files from cloud services.
Here's how to convert VOB file:
Step 1. Head to Free File Convert and input the VOB file from your computer.
Step 2. Click Convert files to: to select the MP4 option, then tap the Convert button.
Step 3. When the conversion process is done, download the MP4 file and you can play it on any device and edit it as you like.
Conclusion
It's so easy to play VOB file on your computer, right? Choose the one and try to open your VOB file!
If there is any problem, comment on this post and let us know.