Some users want to upload an SWF file to YouTube. Can they manage to do that? The answer is No. Why? This lies in the YouTube video formatting requirement. To learn more details, please scroll down. By the way, if you want to download videos from YouTube, you can try MiniTool uTube Downloader, a free and 100% YouTube downloader.
YouTube Video Formatting Requirement
YouTube is one of the most popular video-sharing platforms and many people like to upload their videos to YouTube for sharing or making money.
However, not all file formats are supported by YouTube. The supported file formats include:
MOV
MPEG4
MP4
AVI
WMV
MPEGPS
FLV
3GPP
WebM
DNxHR
ProRes
CineForm
HEVC (h265)
As you can see, the SWF file format is not in the above list. Therefore, you can't upload an SWF file to YouTube.
But cheer up. You can convert the SWF format to a file format supported by YouTube and then upload the converted file to YouTube.
Upload an SWF File to YouTube
To upload an SWF file to YouTube, you need to:
1). Convert it to a supported file format for YouTube.
2). Upload the converted file to YouTube.
How to complete the two stages? The tutorials are displayed below.
Convert an SWF File to a Supported File Format for YouTube
Which supported file format for YouTube you choose? MP4 could be the top choice.
MP4 (MPEG-4) is a digital multimedia container format suitable for video streaming over the Internet. Featuring less loss of quality with a higher degree of compression, MP4 can store data in video and audio type.
How to convert SWF to MP4? You can try Online-Convert. As its name replies, it is an online converter for audio and video conversion.
Steps to convert SWF to MP4 using Online-Convert:
Step 1: Open the Online-Convert website page.
Step 2: On the website page, click the Choose Files button to import your SWF file.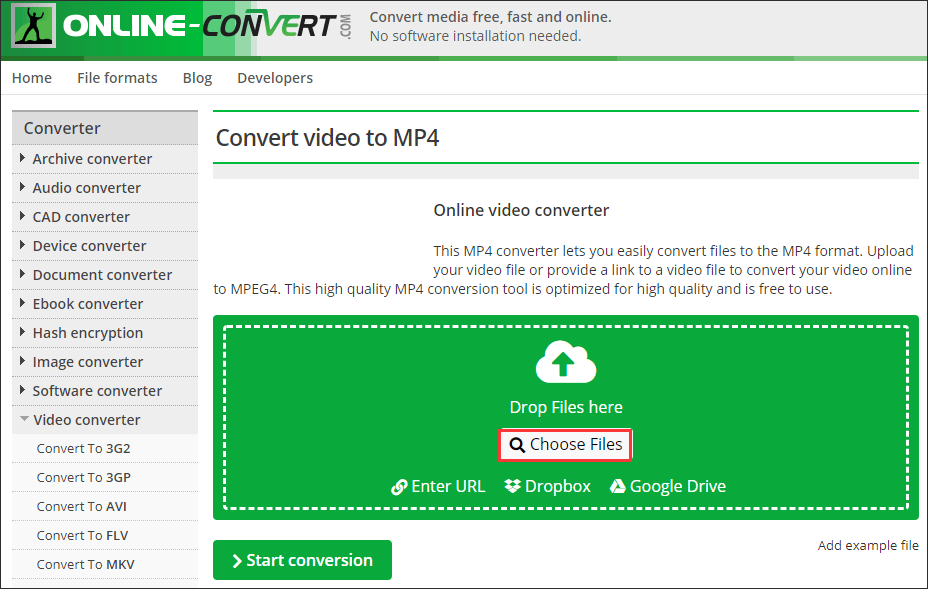 Step 3: Wait for a phase until the SWF file is uploaded. Then, click the Start conversion button to start converting.
Step 4: Several seconds later, you should see a Download button. Click it to save the converted file to your device.
There are other SWF to MP4 converter. If you wonder what they are, please read: 6 Best SWF to MP4 Converters of 2020.
Upload the Converted File to YouTube
The conversion should be successful. Find the file on your device and then start uploading it to YouTube.
If you want to upload the file from your computer, the basic steps are:
Go to the YouTube website page and sign in to your YouTube account.
Click the upload icon on the website page and select the Upload video option.
Import the converted file.
On the current page, fill out all information.
Press the Publish button.
If there is something unclear in the above tutorial or you want to upload the file from your phone, please refer to the following detailed guide.
Bottom Line
Can you upload an SWF file to YouTube? The post has answered the question. You are unable to directly upload an SWF file to YouTube, but you can convert it to a supported file format for YouTube and upload it.
If you have further doubts about SWF to YouTube, you can tell us in the following comment zone and we will reply to you as soon as possible.