When someone uploads a GIF on twitter.com, it automatically converts to a video. That's why people can't simply right-click on a GIF posted on Twitter and then select "Save Image...". This is very troublesome for those people who want to download GIF from Twitter.
Twitter is a social networking site where users can tweet up to 140 characters. A tweet can be text, image, video and GIF format. However, Twitter does not provide any convenience for users to download such media files.
However, nothing is impossible. So how to download Twitter GIFs? To solve this problem, this post introduces the 6 best twitter GIF downloaders. However, most of them don't support editing GIFs. If you want to more GIF-editing features, try MiniTool MovieMaker developed by MiniTool.
1. Ezgif.com
Ezgif.com is a simple online GIF maker and toolset for editing GIFs. Meanwhile, it is an excellent twitter gif downloader. All of its built-in tools can handle Twitter links, so you only need to paste the tweet link into any one of them, such as GIF Resizer. which will download and display the video.
You can then convert it to GIF format with a single click and download it to your computer or continue editing with the tool. The site enables you to crop, reverse or flip GIF without having to buy and install anything.
2. TwitterVideoDownloader.com
Twitter Video Downloader.com is a web-based twitter gif downloader that downloads Twitter GIFs and videos directly to your computer, Android or iPhone. Twitter GIFs are embedded in tweets, so to download Twitter GIFs online, you need to copy the tweet link and paste it into the box.
This site does not host any copyrighted material or support unauthorized file sharing, all the videos are saved directly from twitter CDN.
3. Twdownload.com
Twdownload.com is also a free online Twitter GIF downloader that can download and save GIFs and videos from Twitter. All you need to do is copy and paste the URL link of any tweet containing a GIF or video in the input box and click the Download button.
This way, you can save downloaded GIFs to your computer and mobile devices for playback and sharing.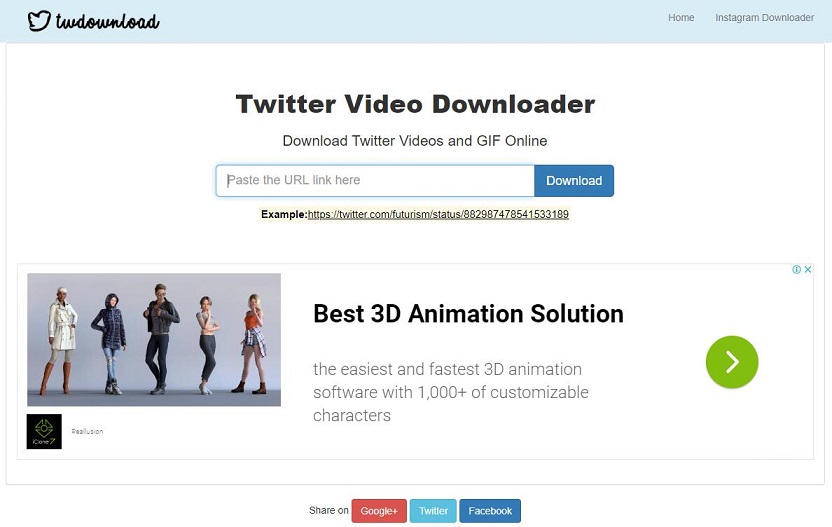 4. SaveTweetVid
SaveTweetVid is a Twitter video downloader, it is a free online tool that can download GIF from Twitter. By using this downloader, you can easily download and convert Twitter videos to MP4, MP3 and GIF files.
This service is available for computers, tablets and mobile devices. You just need to copy the tweet URL and paste it into the text box and SaveTweetVid will extract the Twitter video link from the tweet.
5. Download Twitter Videos – Twitter video downloader
Download Twitter Videos – Twitter video downloader is an excellent Twitter GIF downloader for Android devices, which helps you easily and quickly download Twitter GIFs. This application will save your downloaded GIFs in external storage, so you can play and access from your gallery, file manager, video player and any other applications.
Besides, it offers different video resolution options, display the size of the downloaded video, and also has a built-in sharing function that allows you to easily share the downloaded GIFs to any other social applications such as Gmail, Instagram, Facebook, WhatsApp, etc.
6. Twitter Media Downloader
In order to make it easy for everyone to save their favorite GIFs or videos on the device for offline viewing in the future, Google Chrome provides many useful extensions.
Twitter Media Downloader is one of the useful Chrome extensions for saving GIFs from Twitter. This extension can not only download Twitter GIFs, but also batch download GIF and video files.
Bottom Line
6 best Twitter GIF downloaders have been introduced above. Which one do you prefer? If you have any other Twitter GIF downloaders to recommend, please let us know via [email protected].
Tips:
Need to record your screen or convert videos for a project? MiniTool Video Converter is the reliable software you need!