The protest against police violence and racism has spread all over the world. Some influencers and famous social platforms have shown their supports in different forms. Blackout Tuesday is a movement organized by the music industry. This MiniTool post shows you more information.
What Blackout Tuesday Is
Blackout Tuesday (Black Out Tuesday) is a music industry protest to George Floyd's death in police custody. The campaign aims to protect police violence and racism. This action started from the music industry and now it becomes worldwide.
The organizers asked the industry to "not conduct business as usual" and spend time reflecting on how to support the black community.
Many influencers showed their supports on social platforms.
Rolling Stones frontman Jagger tweeted on Monday as follows: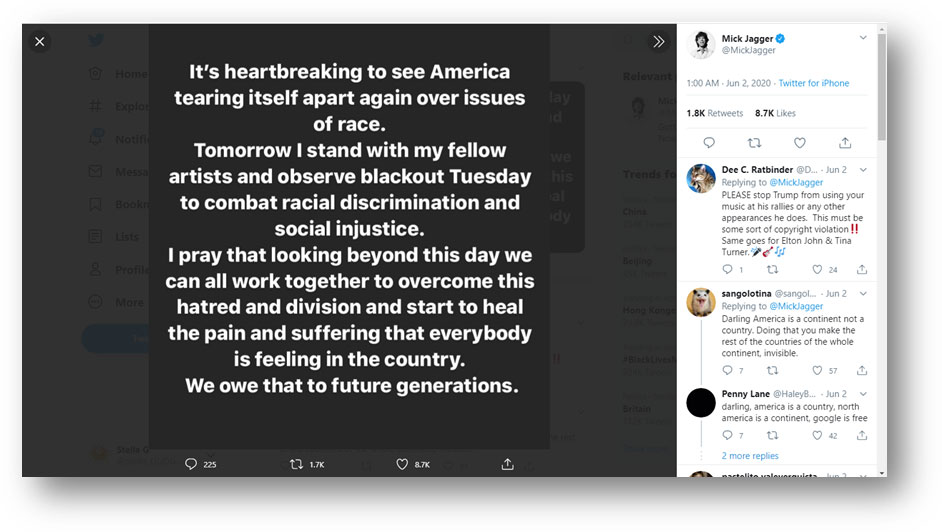 Celebrities like NBA star LeBron James, actor John Boyega and singer Katy Perry just post a black square on their Instagram and Facebook to show support.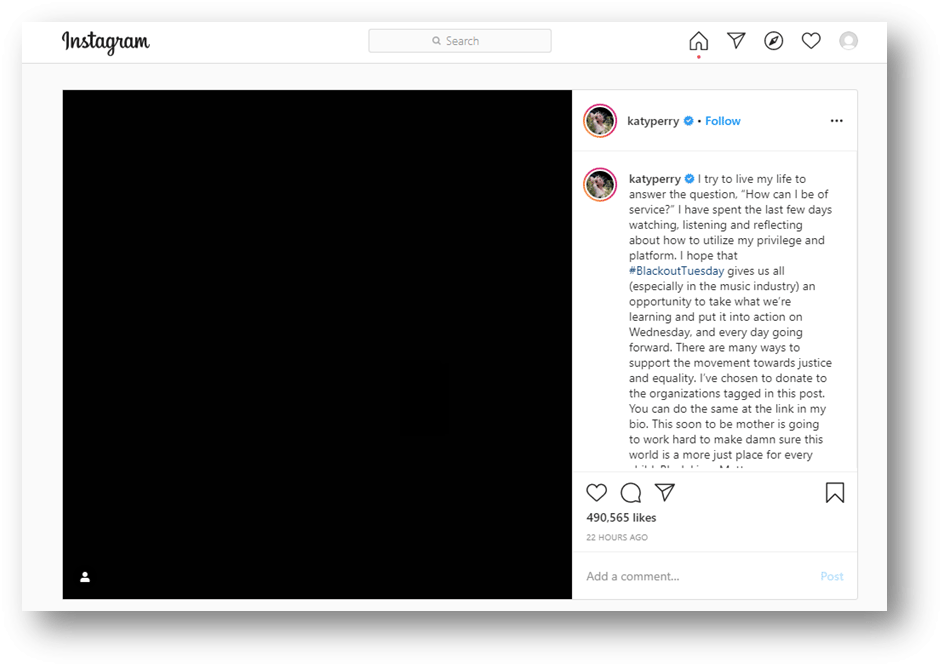 Many music services suppliers have made statements on Twitter to show their supports for Blackout Tuesday. The representatives are YouTube Music, Spotify, Apple Music, and Amazon Music.
Supports for Blackout Tuesday from Major Streaming Services
YouTube Music
YouTube Music posted a statement on Twitter to show its supports for Blackout Tuesday.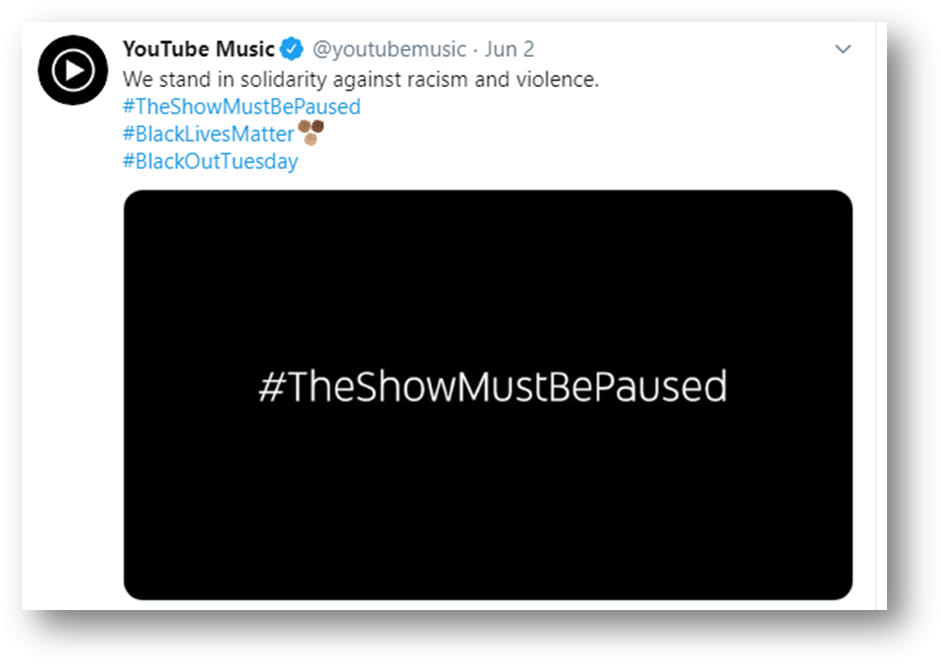 Before this, YouTube pledged to donate $1 million to the Center for Policing Equity.
Spotify
Spotify posted an 8 minute and 46-second moment of silence to select playlists and podcasts on the platform. This length is equal to the time of former Minneapolis police officer Derek Chauvin pinned George Floyd down by the neck with his knee, leading Floyd's death.
Besides pausing all social media publication, Spotify also replaced the headline podcast and playlist images & logos with a blacked-out image. It also prompted music works that were produced by black artists and podcasters by specially curated playlists. Its existing Black History is Now hub.
Moreover, it will donate the donations that are made by employees to organizations that are fighting racism and injustice.
Apple Music
Beats 1 radio programming is an Apple Music's regular program. But, Apple Music has canceled this schedule and alternatively directed all iOS and macOS users to a single streaming station that celebrates the best in black music.
When you visit the regular recommendation and radio tabs, you can discover that there is a single playlist that is called For Us, By Us, and the music files in it are produced by black artists.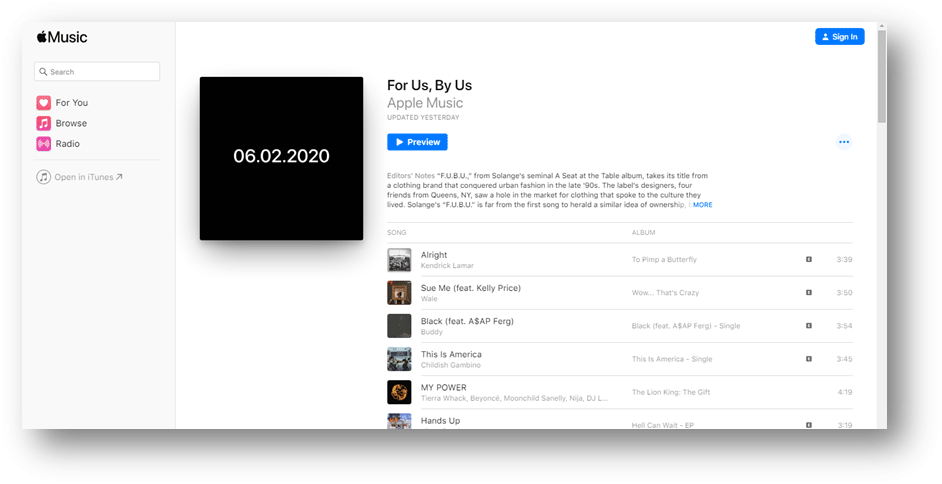 Besides, there is a full page that is shown to some users with supports for this protest movement. However, you can still access your music libraries and the Apple Music catalog normally.
Amazon Music
Amazon Music also tweeted its supports for the Blackout Tuesday movement:
In solidarity with the Black community – our colleagues, artists, songwriters, musicians, producers, and music listeners, Amazon Music will observe Black Out Tuesday to listen, learn, and find more ways we can act in the ongoing fight against racism.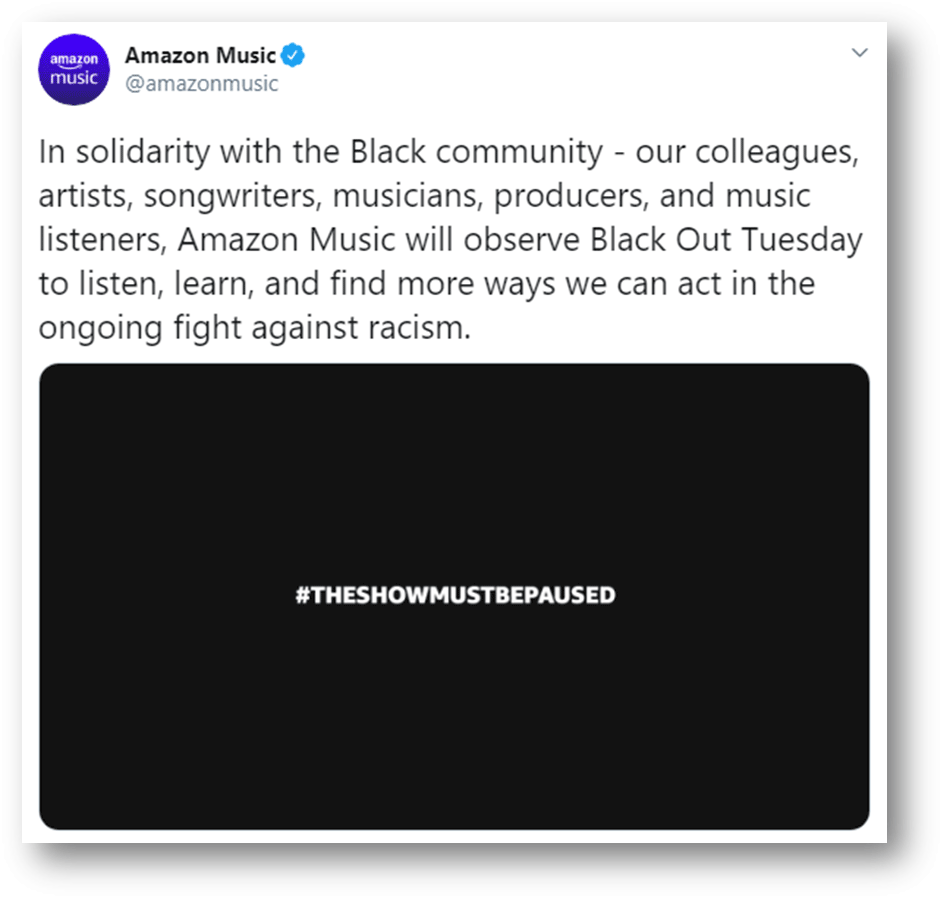 Bottom Line
The movement is still going on. More and more people are doing their best to make this world to be better and fair. Blackout Tuesday movement is not the beginning and it is not the ending.