Have you ever encountered such a situation when you watch the most exciting part of a video, suddenly there is a buffer or play error? This is very annoying and frustrating, but fortunately it can be solved. If you always encounter a notification of an error while playing a video, you should take action.
YouTube is a video sharing website where I always upload my videos made by MiniTool software. And it's frequent to encounter a buffer or play error when playing videos on YouTube. Therefore, how to speed up YouTube videos? This post will tell you the answer.
Tip: Please make sure you've updated to the latest version of YouTube to rule out the slowdown of the video due to version reasons.
Clear your cache
If your browser's cache is too full, it can cause loading issues while you're watching videos. To get the best viewing experience, clearing your cache is the first thing you should consider.
1. If you are using a phone, desktop, or tablet, please open Chrome first.
2. Tap on the three-bar menu.
3. On the computer, click More Tools and Clear Browsing Data. On the phone, tap History and Clear browsing data.
Something You Must Know About Clearing YouTube History
4. If you're using a Mac, PC or Android device, select a time range at the top or choose All time to delete everything.
5. Check Browsing history, Cookies and other site data and Cached images and files.
6. Tap on Clear to execute all operations.
Note: After clearing the data, you may need to re-login to your Google account.
Figure out Why Is YouTube So Slow
YouTube has a tool - Stats for nerds that shows you detailed statistics of your connection speed, buffer health and network activity while you're streaming videos. The tool won't necessarily make your video play smoother, but it may help you figure out where the problem is.
In a Desktop Browser
While watching a YouTube video in a browser, right-click the player.
Select Stats for nerds.
A Stats for nerds window pops up on the corner of the screen. You are able to see the network speed, network activity, frames, optional resolution and so on.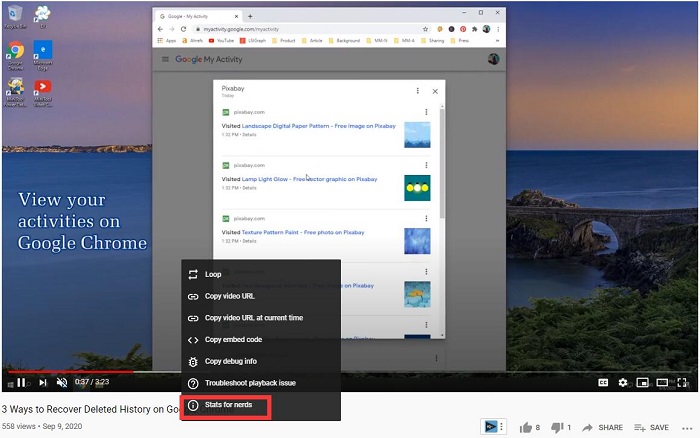 In a YouTube App
On iPhone, please select Settings and turn on Enable stats for nerds. On Android, please tap Settings, General, and Enable Stats for nerds.
Select a video to watch and tap the three-bar menu.
Click Stats for nerds. A window will appear in the middle of the screen, and you can move it anywhere on the screen.
Change the Quality of the Video
Once you see your connection speed, you can make sure whether it matches up to YouTube's recommended sustained speed for acceptable video playback.
It is recommended to choose a lower resolution on the video you're viewing, although the picture quality looks not great.
To change the quality of the video in the YouTube app on your phone, tap the three-bar menu, then click Quality and select a resolution. It you are using a browser, tap the Settings menu, then tap Quality and select a suitable resolution.
Try Using YouTube Premium
If you are still not able to watch the video online, subscribing to YouTube Premium might help you to avoid the buffer or play error. With YouTube Premium, you can download the video and view it offline. More importantly, it provides you with a one-month free trial.
How to speed up YouTube videos? Follow the methods above, and you will find that this is no longer a problem.
Bottom Line
Hope these methods will help you get a better viewing experience on YouTube. If you have any question or suggestion about how to speed up YouTube videos, please let us know via [email protected] or share it in the comments section below.