I made a YouTube video via MiniTool software and it attracts a lot of viewers. Now, how to post a YouTube video on Facebook? I'd like to post this popular YouTube video on Facebook. Do I need to download this YouTube video and then upload it to Facebook?
How to post a YouTube video on Facebook? In fact, posting YouTube videos on many other social media websites, including Facebook, is pretty easy. There is a Share icon under each video of YouTube, and a large number of sharing options can be turned on with a single click.
How to Post a YouTube Video on Facebook
To post on Facebook using a computer, please make sure you are logged in to Facebook, and to post on Facebook via a mobile phone, you must have the Facebook app.
Using a Computer
Step 1. Go to YouTube and log in to your account.
Step 2. Select the video you'd like to share on Facebook.
Step 3. Then find the Share icon under the video player and click it.
Step 4. Select Facebook from the sharing options in the pop-up menu. You can also alter the video's start time by checking the box at the bottom. Alternatively, you can also copy the video's URL, and paste it into a Facebook status.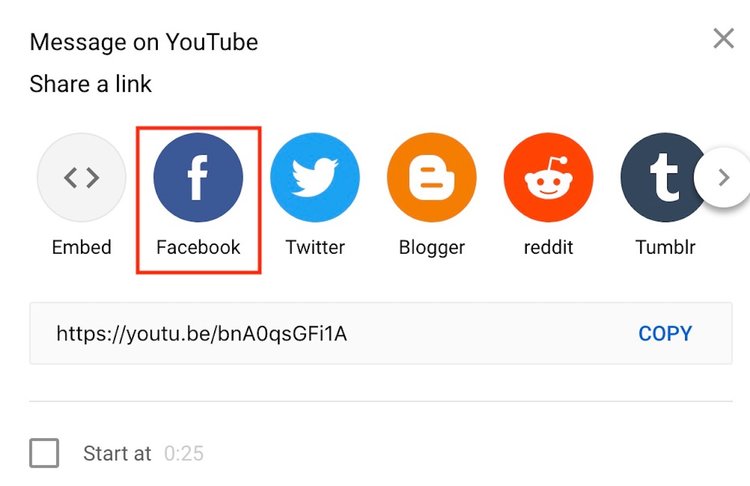 Step 5. If you are already signed into Facebook on your desktop, the video will appear in the post. Select the video post destination by using the drop-down menu at the top of the screen and it always be labeled Share to News Feed or Story by default.
Step 6. Once you've selected the YouTube video's post destination, click Post to Facebook at the bottom of the page.
Using a Mobile Device
Step 1. Launch your YouTube app.
Step 2. Select the YouTube video you want to share on Facebook.
Step 3. Below the video, tap on the Share button.
Step 4. Scroll to find Facebook from the list of apps.
Step 5. Tap Next in the upper right corner and make a comment on the video.
Step 6. Then select the YouTube video post's destination.
Step 7. At last, click the Share button.
How to post a video on Facebook from YouTube without downloading it? Above are the solutions.
Related article: How to Easily and Quickly Download YouTube Video Free
Facebook vs YouTube
Facebook is an American online social media and social networking services company founded in 2003. It is considered one of the four big technology companies along with Amazon, Apple, and Google.
YouTube is an American video-sharing site, founded in February 2005. Google acquired it in November 2006. YouTube allows users to upload, view, rate, share, add to playlists, reports, comment videos, and subscribe to other users.
Video length: Facebook prefers shorter videos while YouTube prefers longer videos.
Topic selection: YouTube is for practical, step-by-step information, while Facebook requires more concept-oriented content to be successful.
Calls-to-action: Facebook doesn't have subscribers or in-video links to other videos.
Long-term ROI potential: YouTube will give you a better long-term ROI because your videos are discoverable for years, not days like on Facebook.
Bottom Line
Have you ever thought to post a YouTube video on Facebook? Now, try these methods. If you have any question or suggestion about how to post a YouTube video on Facebook, please let us know via [email protected] or share it in the comments section below.