GIFs help people express their feelings more clearly and make your Facebook post more vividly. If you want to share GIFs with your friends on Facebook, how to do that? Don't worry, here are four ways to teach you how to post a GIF on Facebook.
How to Post A GIF on Facebook
Facebook allows you to post a GIF in a few ways: in your status update, in comments and in private message. Let's take a look at how to post GIFs on Facebook. If you're interested in making GIF from a video, try MiniTool software – MiniTool Movie Maker.
Share A GIF in Your Status Update
Like Twitter, Facebook also has a GIF gallery for you to use. The GIF gallery has hundreds of GIFs, you'll find what you want there. Or you can upload the existing GIF to Facebook from your phone or computer.
You might be interested in How to Save GIF from Twitter (Computer & Phone).
Here's how to share a GIF in your status update.
Step 1. Open the Facebook website and sign in to your Facebook account to get the homepage.
Step 2. On this page, tap on the three dots next to Feeling/Activity and choose the GIF option.

Step 3. You can browse the most popular GIFs in the GIF gallery or enter the keyword in the search bar to find the GIF you wanted. Then click on the GIF you choose.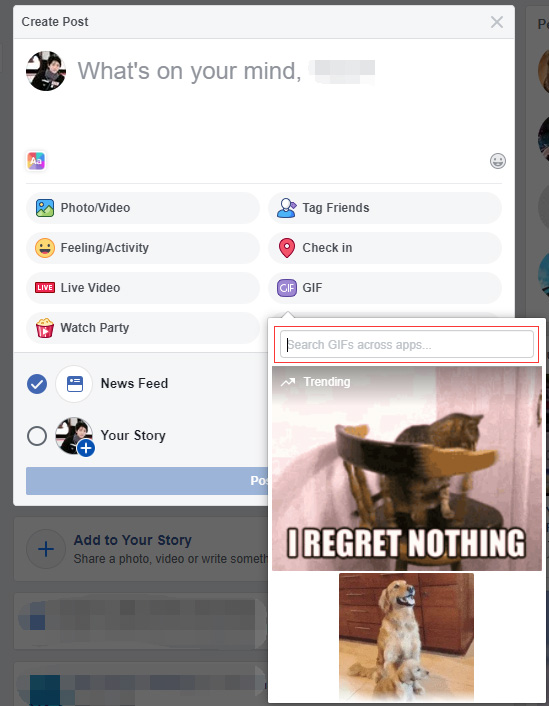 Step 4. Lastly, add captions to the post and hit the Post button to share the GIF in your status update.
Post A GIF on Facebook Comment
You may want to comment on your friend's post using a GIF. Follow the steps below to learn how to post a GIF on Facebook comment.
Step 1. Find the post you'd like to leave a comment.
Step 2. Tap the Comment button under the post and you'll see the GIF icon in the Write a comment box. Click on this icon to pick a GIF you wish to post.
Step 3. After that, tap on the GIF to post it on Facebook.
Recommended article: Free Online Facebook Video Downloader to Save Your FB Videos
Share A GIF in Messages
To share a GIF in Messages, take the following steps.
Step 1. You'll see the GIF icon with other chat options under the Type a message box when you're chatting with someone.
Step 2. Click on it and choose a GIF to share in Messages.
Related article: How to Convert AVI to GIF (Windows/Mac/Online).
Upload A GIF to Facebook from GIPHY
If you can't a suitable GIF to convey your message, you should try GIPHY. It not only allows you to create GIFs, but also enables you to upload it directly to Facebook. Here's how:
Step 1. Go to GIPHY and find a GIF you like. Then click on it to access the GIF detail page.
Step 2. Tap on the Facebook icon located on the right of the GIF.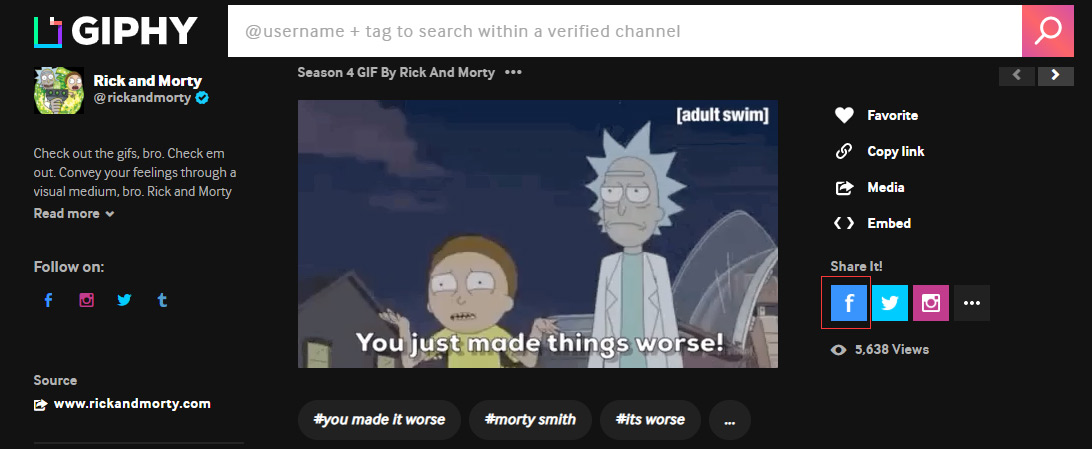 Step 3. Type any text you want and hit the Post to Facebook button to share it on Facebook.
Conclusion
After reading this post, you must have learned how to post a GIF on Facebook. Have a try!
If you have any questions about posting GIFs on Facebook, please comment on this post and let us know.