YouTube users like sharing videos on YouTube, but most of those YouTube users have experienced the same issue – error uploading YouTube videos. We write this post to tell you how to fix it. Besides, if you want to download videos on YouTube, you can try MiniTool uTube Downloader.
Error Uploading YouTube Videos.
When you upload videos to YouTube, you may face an error saying: An error has occurred while sending data over the network. Please check your network connection and try uploading. Here you may ask: "why can't I upload to YouTube?" If you have no ideas about this issue, then let's see this post to find some solutions to solve it.

How to Fix Error Uploading YouTube Videos?
Solution 1. Restart the operating system and YouTube web app
Every now and then your computer and YouTube web app can produce some temporary files or clip files, and those files will bring some temporary problems to your computer or even your YouTube web app. In such a case, you probably can't upload videos to YouTube. To solve this issue, I advise you to reboot your operating system and YouTube web app.
If you try the first solution, this issue may be solved. If this way doesn't work, you can try the second solution.
Solution 2. Check your network connection
If your personal computer is not connected to the network or your network signal is poor, you can still encounter this error. So you'd better go to check the internet and bandwidth you're using to make sure your PC is connected to an available network and your network is good. Here, I introduce one way for you to test your internet connection speed.
Step 1. Type internet test speed in the search box of your Google browser and then press Enter.
Step 2. Click Fast.com: Internet Speed Test from the search results.

After that, you will be guided to a new interface and you will see your internet connection speed there.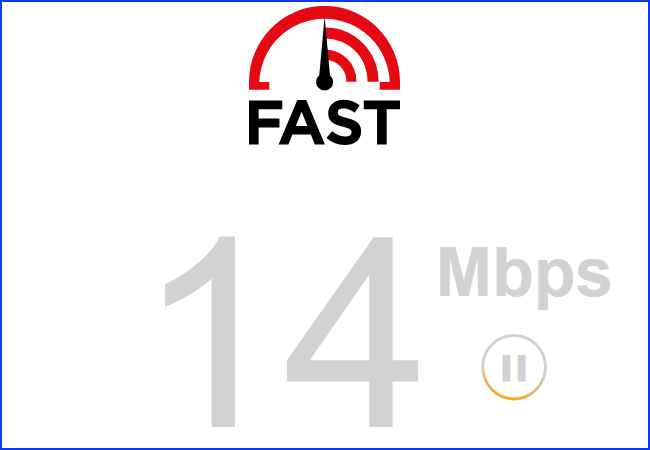 After you try the second solution, this error may disappear at once. If the second way still doesn't work, let's try the third solution.
Solution 3. Check the size of your uploading videos
The length and size of your upload video is another big factor to affect your video uploading. For common YouTube users who own basic accounts are not allowed to upload videos larger than 2GB or longer than 15 minutes. But don't worry about it when your upload video is a little bit larger. You can verify your YouTube account to increase the size of the videos that you want to upload to YouTube. And next your mobile phone will receive a one-time code, this code can help you to verify your YouTube account and increase your video size limit.
Your issue may be solved with the help of the third solution. If all these three ways above can't help you to get rid of this issue, you probably just need more patience to wait for video upload.
Solution 4. Wait patiently until the uploading process ends
The fourth solution is the easiest way to solve this issue because there is nothing you need to do except for being more patient with your YouTube. When a lot of YouTube users want to upload videos to YouTube at the same time, most of those users will face this issue. But fortunately, your partial upload videos will be saved by YouTube for twenty-four hours. This function of YouTube gives you a chance to continue the video uploading process where you left off within that time frame. You may feel surprised about this solution, but it's true and most of the time it works.
Bottom Line
After you read our post you probably know how to solve YouTube upload error. If you have any related issues, you can let us know in the comment.